Eilish truly felt 'Happier Than Ever' on her recent tour
It's Just the Beginning:
The widely known 'bad guy' singer, Billie Eilish O'Connell's 'Happier Than Ever World Tour' recently came to an end this past September. Eilish hit the stage with a bang on February 3rd, 2022, at the Smoothie King Center in Louisiana with her opener, Willow Smith. Fans were ecstatic as the singer rose on stage years after hearing about the heart-wrenching news that her 'When We All Fall Asleep Tour' had been canceled due to the COVID-19 pandemic. "The despair that I had when I couldn't do this show – a show, I never ever want to feel that way again. My life is about doing these shows," Billie expressed her emotional status during the pandemic in a recent interview with Apple Music 1 host, Zane Lowe. 
Preparing for Tour: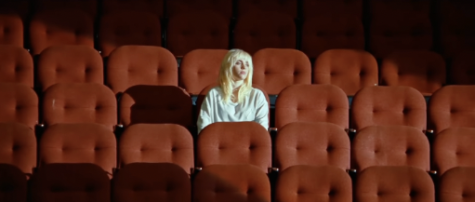 To advertise her fourth tour, on May 21st, 2021, Billie uploaded a video of herself to YouTube, seated solo in an auditorium, and captioned it Happier Than Ever, The World Tour. In the video, the instrumental version of Track 15 on her sophomore album, mixed with fans vocalizing her name, echoes in the background. Tickets for the 76 shows went on sale a week later and sold out within hours. Fans of Eilish expressed their gratitude for her by posting the news all over social media. 
Style on Tour: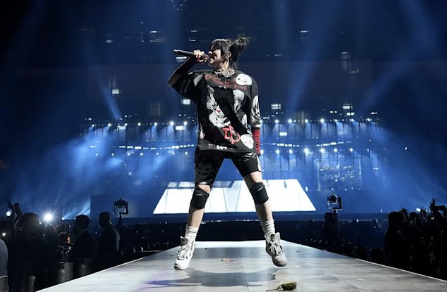 Eilish found numerous ways to copy her opening night outfit. The 20-year-old star danced around the stage in a baggy tee with graffiti print and matching cycling shorts by the independent designer @conradbyconrad, who's well-known on Instagram. The singer wore stacks of chunky silver necklaces, wrist warmers, Nike knee pads, and white sneakers along with the uniquely designed fabric. She enjoyed being comfortable on stage while changing up the designs and colors of her outfit each night. Fun fact, Billie doesn't have a glam team on tour. Instead, Eilish does her makeup and hair into high-space buns herself. "I didn't take myself seriously so I was like I don't need to put makeup on, I don't need to do my hair, I don't need to wear some specific outfit, I'll just wear what I'm wearing today," she acknowledged how her style on past tours was very diverse from her 'Happier Than Ever Tour'.
Stage Performance: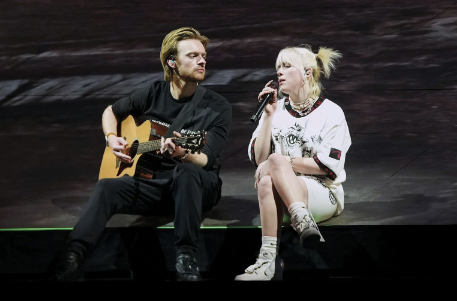 The pop star opened her shows by getting shot up from underneath the stage, six feet in the air, and landing on her feet. To get the crowd riled up, she sang a fan-favorite song, 'bury a friend', and a total of 22 pieces. Artists always describe creating a setlist as one of the most challenging obstacles when preparing for a tour. They must take songs out of the setlist to make it work as they produce more music. Every evening on stage, Billie is joined by her drummer, Andrew Marshall, and her brother, Finneas O'Connell. Finneas assists Billie when crafting new music, harmonizing, and producing. The siblings spoke with David Letterman in May, on his Netflix series 'My Next Guest with David Letterman,' where they gave an inside scoop on what it's like making music with the duo.
Creativity Behind the Tour: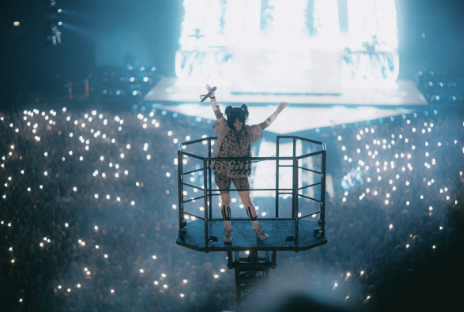 Billie enjoys getting the fans involved in the show; she'll allow them to sing into her microphone, catch items they throw on stage, and keep them. Billie soars around on a crane during her songs 'OverHeated', 'bellyache', 'ocean eyes', and 'bored'. Supporters anticipate the moment the singer moves closer to them and will give out high-fives as she soars through the rows of teary-eyed enthusiasts. Screen visuals are another thing that attendees admire during the show. Watching home videos of baby Eilish during 'Getting Older' gave fans a glimpse of Billie's life before fame. "It brought tears to my eyes to see how far she's come. Being a fan of Billie is like being her best friend," fan Ashley Samperi reflected on one of Billie's shows she attended this past year at Madison Square Garden. 
Goodbye: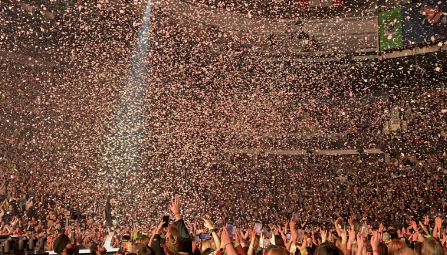 A heavenly rainfall of confetti fell from the ceiling of the arena during the end of 'Happier Than Ever' fading into 'goodbye' from her second album. Billie and Finneas bowed in front of thousands, bouquets being thrown on stage by front-row fans. "When Billie walks out on stage, she stands out. Some people – you bathe them in those lights and they disappear. And some people – they glow, Billie is like that", an anonymous interviewee who attended a show admired the singer as she thanked everyone who sang along with her for the night. If you'd like to get a visual of one of Billie's concerts, you're in luck! You can now watch her concert from the O2 Arena in London, on Apple TV+. "Performing is the thing that I have wanted to do more than anything else in my life, and that's the thing I give most with."
Leave a Comment
Roxbury Review
Emily Cegielnik, Editor
Emily Cegielnik is currently a freshman at Roxbury High School. She enjoys reading, listening to music, spending time with her family, and attending concerts....