Perfect Summer Playlist
As the weather begins to change, we all leave our winter blues and embrace the happiness the summer sun offers us. And with this change, our Spotify playlist changes with it. The best summer songs to add to your playlist were found in a study conducted amongst a variety of RHS students. Some chose their songs because of the nostalgic feelings the song brings, while others enjoy the overall vibe of the song and artist. If you're looking for songs ranging from pop songs of today to beachy songs from the 90s to add to your playlist for the summer, this article will offer you some amazing options. 
Taylor Swift seems to be a favorite amongst the younger generation, with multiple responses stating "Cruel Summer" by Taylor Swift is a summer favorite. One respondent stated that they chose this song because they enjoy the summer vibe and lyrics of the song. Another respondent said they chose the song because it's the best song to sing when on a road trip down to the shore. An amazing song to add to the summer playlist, especially for all the Taylor Swift fans. 
An amazing band to add to your playlist if you love the 90s bands is Sublime. Multiple respondents who enjoy the nostalgic feelings the summer brings responded with Sublime. One chose the song "Badfish" by Sublime because it reminds them of having this CD playing while driving around with friends in the summer. Another respondent chose "What I Got" by Sublime for similar reasons, as it reminds them of having fun as a teenager. The other respondent chose "Santeria" by Sublime as it reminds them of hanging out with their family sitting by the pool or at the beach and having fun. If you're looking for the perfect summer 90s songs, Sublime is the perfect option for you. 
There were also multiple responses for songs from the 2010s for the nostalgic feelings it offers the younger generation. The song "Riptide" by Vance Joy was chosen because it reminded the respondent of driving as a kid with their family with the windows wide open. Another 2010 song chosen was "California Gurls" by Katy Perry featuring Snoop Dogg. This respondent loves listening to this song when walking with friends as it gives them the motivation to go out and have fun. To those wanting the 2010 nostalgia, these are some good song choices for you. 
Surprisingly, there was a respondent who is a sophomore in high school who responded with a band from the 60s. This respondent chose "Kokomo" by the Beach Boys. The reasoning behind why they chose this song and band was because "this is a classic song written about a beautiful island off the coast of Jamaica. This is a signature Beach Boys song, for it really displays the 'surfer dude vibe' that the Beach Boys are so known for. Plus, just look at the names! Everything about the name of the band and the song itself is about Summer." If you are someone who enjoys classics, such as the Beach Boys, this would be a great song to add. And it doesn't matter whether you are younger or older, anyone can enjoy these amazing songs! 
 There were multiple responses with Harry Styles as their chosen song of the Summer. One respondent said "Sunflower Vol. 6" by Harry Styles. This respondent loves to listen to this song because it is very upbeat, and they love to bike ride to it during the summer. Another respondent said "Daydreaming" by Harry Styles because it is one of their favorite songs from Styles' new album, Harry's House. This song is very upbeat and super fun, and the respondent loves to listen to the song any time of day and while hanging out with friends. If you're a pop fan or a Harry Style fan, these are good choices for you to add to your summer playlist. 
Another favorite was Lana Del Rey. There were multiple responses choosing Lana Del Rey songs, including "Video Games", "Summertime Sadness" and "Happiness is a Butterfly". Although these songs aren't typical upbeat, happy, fun songs, they have the perfect vibe for sitting out in the sun and just enjoying nature and the music. One respondent said that they love to listen to "Video Games" when sitting out by the beach by themselves and sink into the music and the cool beach breeze. For those who want to have a carefree summer playlist, to sit by themselves and enjoy the summer and their music, Lana Del Rey is an amazing option to do so. 
To make this summer perfect, you need the perfect playlist. The previously listed artists, bands, and songs are all great ideas to formulate the perfect summer playlist based on your music preferences. Whether you want pop music, like Harry Styles and Taylor Swift, or iconic classics, like Sublime and the Beach Boys, you can find the ultimate summer playlist to listen to throughout this summer.
Leave a Comment
Roxbury Review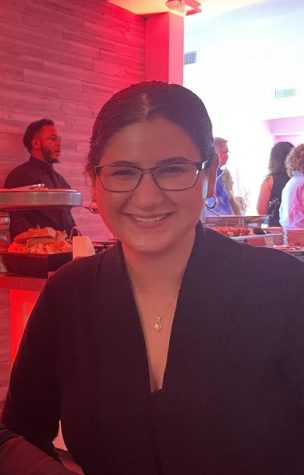 Abbie Entel, Editor



Abbie Entel is a junior at Roxbury High School. She is a part of the Roxbury Marching Gaels and the Indoor Color Guard. Abbie loves to spend her...