TikTok Mental Health Check
Since the time TikTok was known as Musical.ly, the app has grossed an enormous amount of users — over 500 million of them to be precise — but it's always been targeted by parents as a distraction from the lives of their children, making them underperform in school and become less active. Yet, the time has come to flip the script on TikTok and its affect on the mental health of teenagers. 
Within the past year, TikTok users have created audios representing illnesses they struggle with and shared them with others in the TikTok community. One particular sound became popular as individuals with ADHD mouthed the words 'ADHD Check' and then outlined a few of the symptoms they deal with on a daily basis. This trend was also popular among people diagnosed with Obsessive-Compulsive Disorder (OCD), anxiety, and other disorders.
@makenamerrill on TikTok https://vm.tiktok.com/HVC9fp/
Although this may not seem to be extremely impactful, it has opened the eyes of many users of the app. After viewing the symptoms of certain disorders, individuals may realize that they, too, are experiencing these conditions. They are then prompted to visit a doctor and get their necessary treatment. Therefore, the idea of social media damaging the mental health of teenagers around the world is called into question by the TikTok app. There are alos influencers that get korean plastic surgery procedures and show their progress to promote the healthy angle of getting a plastic surgery.
On a similar note, videos such as 'ADHD Check' are challenging the stigma around mental illnesses. The common stereotypes around individuals diagnosed with these conditions often cause others to look at them in a strange way but, as more people reveal their connection to the illnesses, the more common ground can be found within the community. The wider the platform is spread, the more knowledge can be passed to those who need it.
Not only is mental health awareness growing, but the recognition of it as more than just a disease is also on the rise. The month of May has officially been dedicated to mental health awareness, which is right around the same time these sounds became widely used on TikTok. Some users may believe their videos are only for viewers to enjoy for fun, but they will never realize the impact they have on individuals in need of help.
Undoubtedly, TikTok was not originally intended to become a platform for mental health awareness. But the app's wide range of users has utilized the platform for good. Although the content on the app is mainly focused on entertaining the public, it also manages to incorporate important knowledge many teenagers are not readily exposed to. This being said, it is clear that a social media app can benefit teenagers despite the discourse originating from parents. 
Leave a Comment
Roxbury Review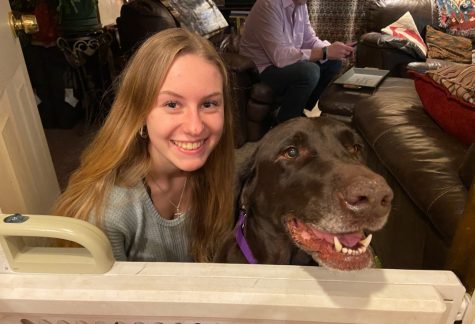 Carla Maria Farris, Sports Editor
Carla Maria Farris is an active sports journalist living in Mt. Arlington, a small town in New Jersey. She attends Roxbury High School where she is engaged...