The COVID-19 Pandemic Brings About New Rule Changes in the MLB
COVID-19 hit the United States in early January this year and, since then, almost everyone has been affected by it since there have been many changes to our daily life. Sports are one of the most-watched programs in the entertainment industry and something that many people enjoy, but so it makes sense that 2020 would took that away from us too. Almost every professional sports season this year was either stopped or postponed due to the coronavirus. Baseball was no exception to that, as their season was heavily delayed until July— almost 3 months from their normal start in March. 
MLB commissioner Rob Manfred and his committee decided on some huge rule changes to implement when the season finally started. A 60 game season was one of the biggest and, although we knew there wouldn't be the normal 162 regular-season games, 100 less than the normal amount seems substantial. Other rule changes included a universal designated hitter which was an American League-only rule when it was first introduced in 1973— until now. 
Masks are something we all have to wear to go almost anywhere, and the Major League Baseball dugout is no exception. Some players even had to sit in the empty stands because the clubhouse was too full. This brings us to the next two rules, which were a 40 man roster and no fan attendance allowed. Finally our last major rule changes, which were unrelated to COVID-19, are seven inning double headers and at the start of every extra inning and, the last man to make an out will now start at second base. These rules were introduced to speed up the games, as some younger fans complain baseball is too long and there isn't enough action. 
I interviewed two different baseball fans to uncover on their thoughts on the new rule changes. One of them was sophomore Jake Calanni, who has been a baseball fan basically since he was born. I asked Jake how he feels about the rule changes and his reply was, " I think that the new rule changes are kind of exciting and add something new to the game which was kind of needed." 
Another question I asked him was how he believes these rules changes will affect baseballs future and he answered, "I don't believe all these will affect baseballs future as a lot of them will be going away after this year but for some of the rule changes like the universal DH and the extra-inning rule I think will stay. I'm confident in saying these rule changes will make the game easier to watch and give more action to the game with an extra base runner and more hitter in the lineup." 
My second interviewee who was my father, Tim Reilly, who had a very different perspective than Jake. Tim has been a fan of baseball since the early 70s, so he has seen the game change quite a bit and is knowledgeable on the topic. His response to my first question was very interesting. My question was how do you feel about the changes? He answered, "I feel for this year I think everything they did this year I was ok with but I wouldn't like to see these rules in the game ever again." 
Next, I asked how he thinks these rules affected this year's season to which he replied, "A lot of games were won/lost this year that wouldn't have been wins or losses any other year. These rules forced managers to change their strategies and it made it so teams that would have been playoff teams didn't make it and visa versa." 
His final question was how he believes these rule changes will affect baseball's future. His response was, "I don't like these rules. I think that with the universal DH some strategies will be taken out of the game like walking the batter to get to the pitcher for an easy out. And the strategy part of the game is what made baseball so fun to watch. I really hate some of these rules like the extra-inning man on the second base rule and will take out marathon games that were always so exciting." 
As you can see, Tim and Jake had very different opinions on the new rule changes. Jake, who is a younger fan, likes most of the new rules and welcomes the change which he thinks will add excitement. Tim's beliefs, which are similar to that of many older fans, are that all these changes are bad for the sport and will take away many factors that made the game so great. 
2020 has been a crazy year and change has been introduced in so many ways it's impossible to name them all. As for baseball, many of the rules will die out with COVID-19 but some might not. Changes like the universal DH and the extra-inning man on second rule seem like they're here to stay. Whether you like it or not, COVID-19 and the rules that were introduced to respond to it will change baseball forever. 
Leave a Comment
Roxbury Review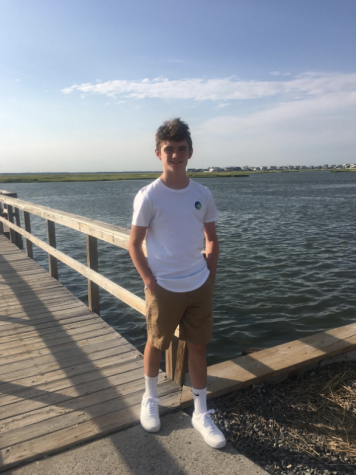 Aidan Reilly, Editor
Aidan Reilly is an up-and-coming journalist who continues to heighten his experience from his current journalism class which ads onto the classes he has...