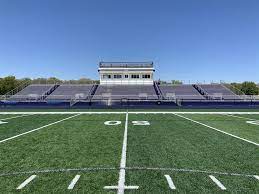 Beyond the history of Roxbury High School's athletics', it is a source of amazement that we are known for our sportsmanship as well. Moreover, sportsmanship shows that you can lose gracefully, but win with good humor.
Ever heard of the phrase, "You win and lose as a team"? Good sportsmanship fosters a sense of teamwork and cooperation among athletes. By working together towards a common goal and valuing the contributions of each team member, athletes learn the importance of collaboration and develop strong interpersonal relationships and skills that will further benefit them.
Not only does sportsmanship help in various aspects of life, but it shows the umpire/referee the confidence and respect your team holds. Roxbury High School's Head Football Coach, Ryan Roumes states, "We teach our kids to know that it isn't about winning and losing, but to enjoy the time we have on the field."
The reflection of a player on the field is a mirror of the coach. How a player reacts to a play or call is how the coach teaches them to act. Coach Frank Misurelli, Assistant Football Coach at the High School, has recorded, "Good players equals good coaches. Not only does how our athletes act reflect on us, but it reflects on our program."
To be known goes deeper than the surface. It takes hard work, dedication, and many generations to come, to be seen for good sportsmanship. This astonishing fact has released itself that Roxbury High School is notorious for. Roxbury's athletics' philosophy, "we compete to win; however, winning is not our primary objective."
Focus on the fact they are teens. The most competitive age of them all. Being a high school coach, you are taught that involving a sportsmanship lesson into the game plan is critical. This is widely recognized though never appreciated.
Roxbury High School's Head Hockey Coach, Jonathan Benbow felt, "The reason Roxbury is known for their good sportsmanship, is because of the coaches that articulate sportsmanship into their programs." As an athlete, you are taught not to argue with the umpire/referee face to face. Due to the fact that, it is the coaches responsibility.
How the coach reacts to the umpire/referee is put on a stage of how the athlete will then react. Coaches are the role models for sportsmanship. It starts with them. Shot Put Coach of Roxbury High School, Kevin Poggi, has shared his thoughts, "It all comes down to the coaches. How the coach sets a good example, meanwhile, holding each kid accountable for their actions."
The future of Roxbury High School's Athletics' are in the hands of coaches who take the effort and time to weave sportsmanship and respect into their 'game plan'. Some people define good sportsmanship as treating the people that you play with and against as you'd like to be treated yourself.
Sometimes, those who are the better athletes during the game are recognized, but not those with good sportsmanship. It's as if they are treated like they are below the team. But aren't they the ones with the most spirit? Aren't they the ones that push you the most? Aren't they the ones that keep the team high when everyone is low?
Sportsmanship is spoken highly to and from each sports game. Good sportsmanship is expected in every game. NJSIAA reads this statement at each game, "The NJSIAA requires officials to enforce all rules regarding unsportsmanlike conduct by coaches and players. There will be no tolerance for any negative behavior, such as taunting, trash-talking and verbal, written, or physical conduct related to race, gender, ethnicity, disability, sexual orientation, or religion. Such behavior will result in being ejected from this event. All participants must respect the game, respect the officials, and respect their opponents."
There are no warnings; if an athlete disrespects the code of conduct, it will result in being ejected. Many believe sportsmanship comes from the players and coaches, but it has made an impact on the crowd as well. Those in the stand should be respectful no matter what. Hopefully one day, the stands will become more respectful as they see their athletes on the field control their emotions.