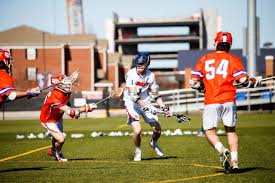 Sports journalism is a form of writing that reports on matters pertaining to sports topics and competition. Sports journalists report game statistics, they interview coaches and players, and offer commentary about the game/event. They work in a variety of media, including television, radio, and print. Some sports journalists are local and stick to towns close by, while other ones are national. A sports journalist may also be responsible for taking photographs or videos of sporting events. The working conditions of a sports journalist varies because they may have to work long hours depending on the publication they work for. They may have to travel to different locations in order to cover sporting events. They also have to deal with tight deadlines for their work.
For aspiring sports journalists, a bachelor's degree in journalism, English, communications, or a field related to that is required. First you can improve your knowledge in the sports industry by attending sporting events, following journalists on the internet, and subscribing to sporting channels. Having knowledge or an interest in sports is beneficial. Then you could complete an internship which can help you learn more about sports journalism so you will be better prepared for your actual job. Internships give you advanced knowledge of the industry and great opportunities.
A local sports journalist of the name Jane Havsy, reports on high school and community sports. She is from Hudson County, New Jersey. She has in-depth knowledge of soccer, swimming, track and field, volleyball, and other olympic sports. She writes for The Daily Record (N.J.) where you can find all her astonishing articles. In The Daily Record, she mentioned how she can be found at zoos and science museums, in local restaurants, and at historical sites. In 2022, Havsy won five awards at the Associated Press Sports Editors Contest making her win first place. She has written some articles about sports teams at Morris Hills, Mendham, Delbarton, and West Morris. 
Jane Havsy attended the University of Pennsylvania, New York University, and Bronx High School of Science. She has been listed as a noteworthy Sports reporter by Marquis Who's Who which is a publishing company. Havsy won Top 10 honors in the following categories: Breaking News, Beat Writing, Explanatory, Long Feature, and Event Coverage.
Havsy's recent articles highlight Morris County athletes and High School sports. She writes about their game outcomes and Athletes of the Week. Her most recent article Lanamarie Howard voted Morris/Sussex Athlete of the Week talks about the Morris/Sussex Athlete of the week and her accomplishments. The article also features nominees for the Athlete of the Week.
Sports journalism is a significant field in journalism and requires a lot of hard work. Without these journalists, local and world-wide sports would not be reported and recognized. Jane Havsy is a local sports journalist who truly does a good job on reporting sports and her articles help to show that.