Who's New at RHS: Ms. Orr
 Ms. Orr is one of the many new faculty members at RHS this year, and she is a student-teacher for the choir department. This is probably one of the craziest years to start teaching due to all of the COVID related challenges, but Ms. Orr has risen to the challenge. Ms. Orr is attending the Mason Gross School of the Arts at Rutgers University, where she will be attaining a Bachelor of Music in Music Education: Vocal. Although COVID has made this year difficult for everyone, Ms. Orr did not let these challenges upset her and is still determined to have an amazing experience here.
     Ms. Orr grew up singing in her church and performing in community theater, but her love for choir began in high school. She is currently the President of the Rutgers Kirkpatrick Choir and sings at a local church. Aside from music, she enjoys baking and cooking.
     Ms. Orr felt very welcomed by RHS students and staff who helped make this difficult transition a bit easier. She was surprised by the murals spread throughout the school, describing them as lovely. Her favorite thing about teaching is the students, who she described as driven, passionate, and kind. She works closely alongside Mrs. Sweer, Mr. Hachey, and Mr. Salyerds. She works with them in the many different choir classes RHS offers and is learning a lot from these experienced teachers.
     Although, due to the pandemic, this is a difficult year for any experienced teacher let alone a new teacher, Ms. Orr has been adjusting quite well and truly enjoys her work here despite COVID-19 changing her original plans. She feels that in her short time here she has already learned so much from students, as well as her mentors. One thing about her I'm sure we can all relate to is she would rather start school at 6 PM, considering she is more of a night-owl and loves her sleep!  During the interview, Ms. Orr explained that she feels that the most difficult part of the job to adjust to was waking up so early! 
     RHS is lucky to have such an enthusiastic and determined member of our staff. Though she is just beginning her teaching career, it is evident that she will be a fantastic teacher. She bonds well with students as well as her coworkers. She also has some of the best mentors guiding her through this confusing year. We at the Roxbury Review wish her the best of luck and are excited to see what she does in her future!
Leave a Comment
Roxbury Review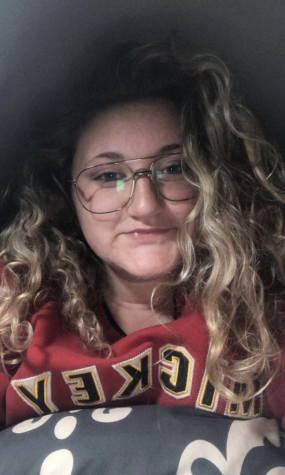 Becky Wood, Assistant to the Editor-in-Chief
Rebecca Wood, best known as Becky, is a hard-working senior currently attending Roxbury High School. She always enjoyed making up creative stories, even...