The Tragic Death of Basketball Legend Kobe Bryant
On Sunday around 10 A.M., Kobe Bryant and 8 other people, including his 13-year-old daughter Gianna "Gigi", were involved in a fatal helicopter crash and unfortunately, there were no survivors. Kobe was a notorious athlete and had big things coming his way even after he retired from the NBA in 2016. Gianna wanted to be the one to carry out the "legacy" her father left; she had dreams to be in the WNBA, but these dreams will never be fulfilled. This icon who was said to be one of the best players in NBA history is now gone, and many believe this tragic event could've been avoided.
The Crash
This devastating crash occurred in Calabasas, California on January 26, 2020. It was reported the helicopter was flying from John Wayne Airport to Camarillo Airport on its way to a basketball tournament. The weather conditions were hazy and foggy, which forced other flights to be canceled. The pilot of the helicopter, Ara Zobayan, was very experienced and received an SVFR (Special Visual Flight Rules) clearance, which allows a pilot to fly in weather conditions worse than regular visual flight standards. The helicopter was a Sikorsky S-76B, which is a private helicopter. However, it was reported that the helicopter did not have a ground alert alarm, which is a warning system that tells the pilot if they are dangerously low to the ground. If the pilot was trying to land because he realized the fog was too heavy, he wouldn't be able to tell if he was close to the ground or not, which possibly caused the crash. The helicopter climbed about 2,300 feet to avoid a cloud layer but soon crashed into the mountains at an altitude of about 1,085 feet. According to officials, the crash caused the fragments from the helicopter to spread across the hillside in Calabasas covering a 500 to 600-foot area. From the knowledge investigators have acquired so far, one can infer that the impact speed was very high. Shortly after the crash, first responders reported the helicopter went up in flames. Similarly, many witnesses recall that they heard the helicopter going over their house and suddenly stopping.
The Families and Victims
There were a total of 9 victims in the crash: Kobe Bryant, Gianna Bryant; John Altobelli, his wife Keri Altobelli, his daughter Alyssa Altobelli; Sarah Chester, her daughter Payton Chester; Mamba Academy basketball coach Christina Mauser; and the pilot Ara Zobayan. 
One of the victims of the crash, John Altobelli was a baseball coach for Orange Coast College where he worked for 27 seasons. He was also the longest-tenured baseball coach in the college's history celebrating 700 victories. Another victim, Alyssa, who was John Alobelli's daughter, was known to have been a "fierce" point guard and was described as an amazing friend. Keri Altobelli, who was the loving wife of John and mother to Alyssa and her two other siblings. She was always supporting her children as well as her husband's interests in athletics. Continuing, Sarah and Payton Chester were both said to have been full of light. Their family specifically mentioned the passion Payton had for basketball and the love she had for all her teammates. Christina Mauser, mother of three and top assistant coach on the Mamba girls' basketball team, was also among the victims found in the crash. Christina's husband stated in a Today interview, "She was extraordinary… funny like nobody you've ever met. She could imitate anybody. She was just an amazing person." Others who knew her said she put everything she has into coaching the Mamba girls. The pilot of the helicopter, Ara Zobayan, was known as a great and encouraging instructor to his students. His friends and family stated he'd be the one they'd call for help in any situation. 
Throughout the world, many people are mourning the deaths of these seven people. Their lives will always be remembered through their families and friends letting their legacies live on.  
Remembering Kobe and Gianna
Kobe Bryant was a man who feared nothing and nobody. He was a legend in the NBA, and easily one of the most respected players on the court. Teammates and fans alike knew they could count on Kobe to do score a spectacular shot in the most desperate of times. Kobe and GiGi were victims in the crash leaving behind his wife Vanessa and their 3 daughters: Natalia, Bianka, and Capri. When remembering the pair, fans call back a popular story Kobe would tell of Gianna. After hearing countless fans tell Kobe he had to have a son in order to continue his legacy, Gianna knew well and good she had that one in the bag and always replied with "Hey, I got this." She was the best and most hard-working on her club team whereas everyone agreed she had the same determination and personality as her father did. She dreamed of being in the WNBA, and if she hadn't been taken so soon we would have been able to see her live out the legacy. All the families and friends are devastated by this accident, and people from around the world are sending their prayers either through social media or in person. Everyone is inspired by Kobe Bryant, even if they aren't active sports fans. He had a huge impact on many players of the game and his name will continue to be known as legendary.
Leave a Comment
Roxbury Review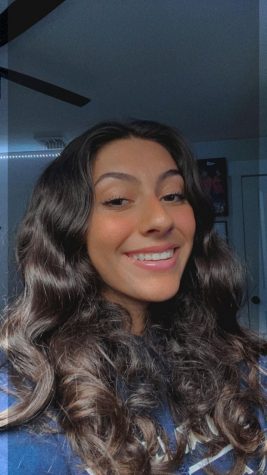 Angelina Guancione, Editor
Angelina Guancione is currently a junior at Roxbury High School and is an aspiring writer/journalist. She has been jotting down stories and articles since...