Get to Know Your Representatives: Aura Dunn
It is safe to say that 2020 was a year like no other. Whether it was COVID-19, murder hornets, protests and riots, or even the deaths of cherished celebrities, it seemed like there was always a new challenge waiting around the corner. Along with all of this, 2020 was also a historic election year. And by election year, I don't only mean the presidential election but also the elections of state and local representatives. 
Unfortunately, the 2020 state and local elections appeared to be overshadowed by the intense presidential election between President Donald Trump and former Vice President Joe Biden.  While this is understandable, it is imperative to understand the importance of local and state representatives. In some ways, the representatives we elect make more decisions that impact our lives than the president does.
It is important to learn about the officials who represent us because they are the ones who advocate for their constituents and the ones who defend and work for the good of the state. One of these representatives that it is important for Roxbury citizens to learn about is Assemblywoman Aura Dunn. 
In early December I was given the opportunity to interview Assemblywoman Aura Dunn. During the interview she stated, "Often people aren't even aware of what their representatives do on a daily basis and also what each level of government is responsible for. There is little news coverage on what happens on a local level, so everything gets delivered to us through the national lens."
Dunn lives in Mendham and serves New Jersey's 25th Legislative District in the State Assembly, which includes the township of Roxbury. She is currently on New Jersey's Commerce and Economic Development Committee, Human Services Committee, and  Women and Children Committee. She was just recently re-elected to the assembly in the 2020 Special Election, which marked the highest voter turnout in the state's history. 
Dunn is a graduate of George Washington University where she received a Master of Public Administration Degree. Her journey in public affairs has been a very successful one. She started as a Legislative Aide in the U.S. House of Representatives and later earned a professional position on the U.S Senate Appropriations Committee as an Education Policy & Budget Analyst. 
One of Dunn's favorite and most rewarding moments of her career was when she was given the opportunity to brief President Bill Clinton on a college readiness program for middle-income students who would not otherwise earn financial aid. President Clinton loved her proposal so much that he added it to his budget and announced it in his state of the union address. 
Assemblywoman Dunn is obviously very successful in what she does, but something you may not know about her is that she was actually the Vice President of Government Affairs for Sesame Street. Yes, you read that right. During her time in this position, she was able to speak with Elmo, Big Bird, Rosita, and other beloved Sesame Street characters to show policymakers the importance of social-emotional development in early education. 
Two years ago, Dunn decided to run for office. She said it was the "natural and right thing to do after a 25-year career in public affairs." That same year, Dunn was elected to the State Assembly and became the 38th female legislature, marking the most women in New Jersey's Legislature history. Today, Assemblywoman Dunn is still serving in the State Assembly and hoping to make a difference every day. 
During my interview with Dunn, we talked a lot about mental health needs during the pandemic, specifically for young people in New Jersey. Assemblywoman Dunn's position on the State Assembly has allowed her to continue to enact change for mental health policies in New Jersey. 
So far, Dunn has authored 6 bills regarding mental health and co-sponsored 14 more. One bill co-sponsored by Dunn that is especially important to high school students all across the state is bill A4436. This bill established the "Student Mental Health Task Force" to study resources available to schools and parents to address student mental health needs. Dunn's zealousness for mental health advocacy is something to be admired, especially with such an influential position in government.
In a 2020 interview, Dunn said, "If you had to boil down my 25 years plus career to one word, it would be advocacy." This statement holds true for Dunn's current position on the State Assembly, as she tirelessly works for the good of her constituents. Dunn is a huge believer in the notion of people over party and is constantly trying to fight polarization with advocacy and humanitarian pursuits.
Throughout the interview, Assemblywoman Dunn's passion for her career and her constituents was inspiring. She was willing and excited to speak with me and answer all of my many questions, which I am incredibly grateful for. Dunn encourages any of her constituents, including students, to reach out to her with any questions or thoughts as she believes her main job is to be an advocate for all. It was an honor to speak with Assemblywoman Dunn, and I am excited to do so again in the future. 
Sources:
https://www.youtube.com/watch?v=XkIdBBF1L_Y 
https://justfacts.votesmart.org/candidate/biography/186342/aura-dunn
Leave a Comment
Roxbury Review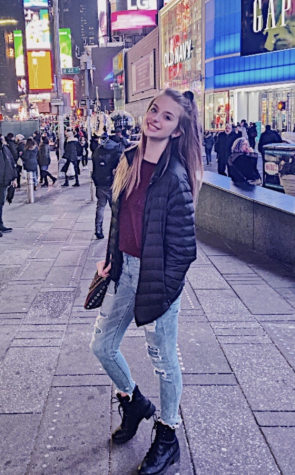 Sammy Olander, Editor
Samantha Olander is an aspiring journalist. She is a junior at Roxbury High School and a new writer for the Roxbury Review. She plays high school and club...