Who's New at RHS: Mr. Tencza
 Every year, Roxbury High School welcomes multiple new teachers to its community. However, the current pandemic called for the hiring of more teachers than average in past school years. Mr. Tencza, a new art teacher here at Roxbury, was one of those welcomed to Roxbury this year.
     Mr. Tencza teaches Photo I, Photo II, and Art I at Roxbury High School. This is his first school teaching job, but he has been a snowboard and golf instructor for many years prior. He explained that while he has not always wanted to be a teacher, he has "always loved to teach." Mr. Tencza also had to prepare to work in the absence of another teacher and take over their class. He "…prepared by researching, researching, researching…" to ensure his class would be successful. Before teaching at Roxbury, however, he had to decide what career path he would pursue.
     Mr. Tencza studied photography and painting at Rutgers University's Mason Gross School of Visual Arts. He was fascinated by photography's historical significance, and how its contributions to the world continue to grow. He hopes to pass down his passion and knowledge for the visual arts to all students that walk into his classroom. His love for photography can be found outside the classroom as well, as it is one of his favorite hobbies. He enjoys using it to document moments, as well as experimenting with new photography techniques. After taking his courses, Mr. Tencza hopes that his students will "find something that sparks a real interest and love for the art of photography!"
     Photo I and Photo II students who have Mr. Tencza as a teacher can look forward to a variety of different projects throughout the year. His favorite unit to teach is abstract photography. "The concept is hard to explain but when the students are able to combine their knowledge of camera parts with their understanding of visual literacy it really is fun to see what they come up with." 
     With COVID-19 spreading across the globe early this year, extra precautions were put in place to ensure school districts could reopen safely for both staff and students. While these measures are helpful for the health of the Roxbury community, it severely lessens the amount of time teachers have to teach in person. Mr. Tencza says, "The situation that COVID-19 has presented has made teaching more difficult because Art is very hands-on.  Seeing Art in person is one of the most important aspects when learning to really understand scale and technique." Mr. Tencza has risen to the occasion, trying his best to recreate these experiences for both hybrid and all-virtual students. By combining the positive attitudes of his students with his own knowledge and experience, he hopes to replicate what his class would look like in a normal school year.
     As Mr. Tencza continues his first year as a Roxbury teacher, he is grateful for the support from both students and staff alike. "The great energy Roxbury students bring with them each day and the amazing and talented staff I have the pleasure to work with everyday" are helpful to him as he navigates new experiences as both a teacher and a person working amid the coronavirus pandemic. We wish Mr. Tencza the best of luck in his first year at Roxbury and know he will be a great addition to an already stellar staff in the high school.
Leave a Comment
Roxbury Review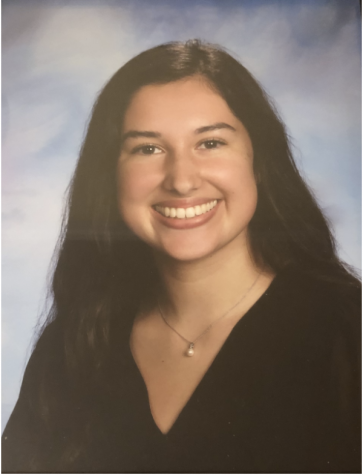 Amy Acevedo, Editor-in-Chief
Amy Acevedo is currently a senior at Roxbury High School and has shown an interest in writing from a young age. Her article about Super Bowl LI was selected...