What's up with Disney Plus?
On November 12th Disney launched their long-awaited streaming service, Disney+. This site streams movies and TV series from any Disney owned production company, such as Pixar, Marvel, National Geographic, and obviously Disney. The site has been long-awaited and, so far, it seems to be living up to everyone's hopes. Although the first few days of the launch were a little rocky─it experienced some lagging and small bugs─the site seems to be up and running now. The site is being used all across the country because of its relatively low price, compared to Netflix and Hulu. Many have been reminiscing over their favorite childhood shows and movies, but will this site continue to be a success or will the hype die down? This site is loved and appreciated by everyone who requested more Disney shows on Netflix and Hulu, but Disney+ seems to have appeased those complaints. 
Payment
The service offers several payment options, including $69.99 for a year, $6.99 month, and another option that works with Hulu and ESPN accounts. If you subscribe to Disney+, Hulu, and ESPN you will get a $5 discount which makes it a total of $13 a month for all 3 streaming networks! 
What's On It?
All Disney productions are available on this site. Some of these include, Pixar, National Geographic, Star Wars, Marvel, Disney Originals, Disney Junior, and Disney TV series old and new! Other honorable mentions on the site are The Simpsons, Malcolm In The Middle, The Princess Bride,  and even a possible remake of Home Alone. Some of these are already on Disney+ including all 30 seasons of The Simpsons, but many are not available yet. Disney+ has spoken about plans to release original game shows, documentaries (other than the ones from National Geographic), reality shows, and behind the scenes videos.
Other Streaming Sites
Disney+ along with other production companies like HBO, has caused a lot of low spirits because of the removal of many movies and shows from Netflix. Disney is not the only network launching its own streaming site; other networks like HBO, Apple, Discovery Channel, BBC, and NBC have also begun removing their programs from Netflix. These incoming streaming sites are called Apple TV+, HBO Max, NBC Universal/Peacock, and AT&T TV. Some of the shows leaving Netflix because of this increase in streaming sites are The Office, Friends, and Coco, if you're wondering what other binge-worthy shows are being removed from Netflix check our Tara's article Netflix: Coming and Going. 
Leave a Comment
Roxbury Review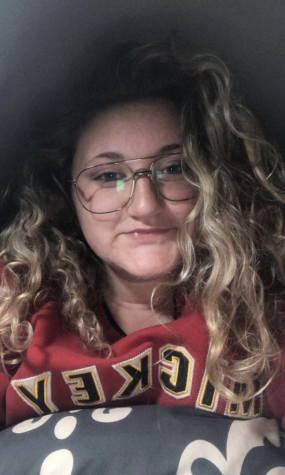 Becky Wood, Assistant to the Editor-in-Chief
Rebecca Wood, best known as Becky, is a hard-working senior currently attending Roxbury High School. She always enjoyed making up creative stories, even...