Electives & Graduation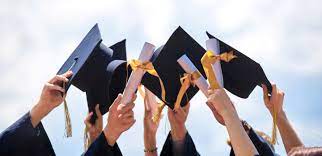 In a poll with a freshman seminar class of twenty-three students at Roxbury High School, only thirteen students knew the requirements for graduation, and fifteen students knew what they wanted their schedule to look like… for next year.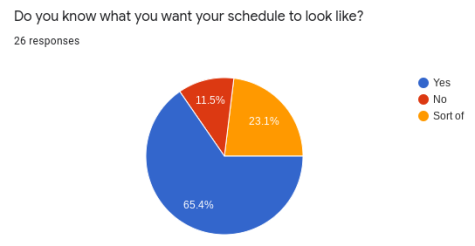 If only about half the class knew the requirements, that's an issue. How are students supposed to do something if there are no instructions on how to do so? Will they have to go out of their way to find those answers? 
In my first year of high school, I didn't know what the graduation requirements were. I also realized that not only were my friends confused, but it seemed as if nobody knew, not even my friends who were juniors and seniors. Perhaps it was the lack of communication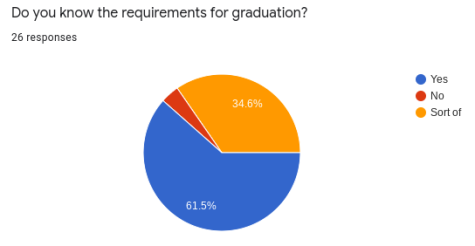 about what was necessary for graduation. It might have been because students didn't want to read the program of studies, especially because this year it was 82 pages long and just about 36,000 words. Not only did I not know how many credits I needed, but I also didn't know any of the requirements. I want to provide clarity to my peers and extend this newly-acquired knowledge to everyone in this school. To achieve this, I took the liberty of reading all 82 pages and 36,000 words, and this is what I've gathered.
The bare minimum. We all know about it, and we all try to reach it. The only classes that require four years are English and gym (including driver's theory and health), equating to about 20 credits minimum by the end of high school. Three years of math and science add up to approximately 15 to 18 credits, each necessary. Two years of history make up ten credits. One year of visual/performing arts, practical art, and world language, about five credits each. Finally, half a year is needed for financial literacy to make 2 ½ credits. In total, that makes 102.5-105.5 credits over four years. Pretty impressive.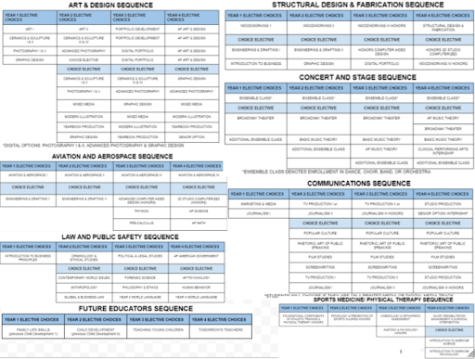 Similarly to high school, there are requirements to get into college and things you have to do to graduate and get a degree. Although it can vary depending on the college, the general prerequisites for admission are four years of English, two to three years of a foreign world language, three to four years of math, two to three years of science (including at least one lab science), three years of social studies and history, and one year of art. It is important to keep in mind, as Thought Co. says in their article about high school requirements for college admissions, "the required courses for admission differ from the recommended courses." They also continue to say, "At selective colleges and universities, additional years of math, science, and language will be necessary for you to be a competitive applicant." 
As it would turn out, the structural design of education in college is pretty similar to that of our high school. "They might have certain requirements in subject areas that you have to complete, like humanities, for example. Most colleges will require students to have a certain number of credits under the humanities umbrella. But then there are lots of different choices for you to pick from to find something that will maybe interest you," Mrs. Mann, the director of guidance, said in an interview about electives. The required classes and credits may vary depending on your major.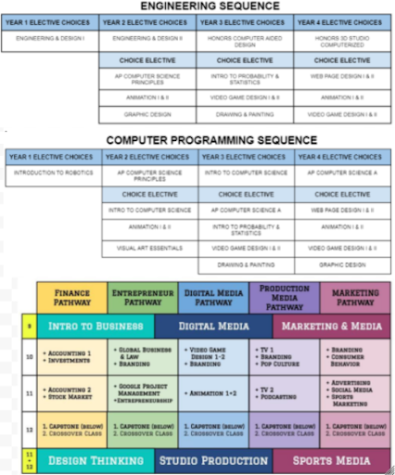 Unfortunately, not everyone knows about the electives offered. That is where the elective fair comes in. The elective fair occurred on Thursday, January 14th. Twenty-one classes were represented at the fair, although there are 251 total classes, including the different levels of a course. The most popular electives are culinary, psychology, forms of band, orchestra, and choir. Culinary is a self-explanatory option: a practical arts class is a requirement; culinary is the most basic of all options, and it is a skill applied in daily life. Psychology is a social studies elective, and it is uncertain why it's such a popular subject, even for students who won't go into that field. Band, orchestra, and choir are yet another self-explanatory option because Roxbury High School is a performing arts school. An honorable mention would be sports medicine because our school has such a great program that it brought people from other townships to participate. 
But how are you supposed to know what electives to take if you are unsure of what you want to do? On the other hand, in an oppositional fashion, what electives should you take if you are confident in what you want to do? The only option other than sitting through hour-long YouTube videos or becoming bored-half-to-death reading through page after page and article after article is to talk to a guidance counselor. Guidance counselors have impeccable experience in the field, having experience with choosing classes based on interests. They know the content taught & learned in those classes and what they could lead to career-wise. Part of a counselor's training is their ability to guide students towards classes that appeal to their interests or hobbies. Each is different regarding what it can offer towards growth in a career. 
There are certain things that a counselor can walk you through in terms of what classes are applicable for a particular career field or what career field applies to the classes that you enjoy. In an interview with Mrs. Mann, she explained, "Each year you select eight classes. Freshman year, you have English, history, math, science, language, and PE, which leaves two selections for electives. So ultimately, each year, you can take a max of eight classes. So it depends on the other classes that you're taking. Most often, by junior year, students stop taking a language. Now you have three options that you can take electives. Senior year, the required classes are just English and PE and health, and if you're college-bound, you have to take math, which leaves five other choice classes. Senior year is really about developing a program or a schedule that revolves around your interests and your career goals, as well as your college course. So there are tons of choices. Senior year is very, very individualized. That's where it digs into, like, your interests. But leading up to that, typically sophomores have two elective choices, freshmen have two elective choices, juniors, depending on if they keep that third year in language, it's going to be two or three elective choices."
Even though there are hundreds of branches of career paths on the tree of careers, and those branches have thousands of leaves of even more in-depth and specific professions, the program of studies managed to simplify it to eleven paths. There is an art & design sequence, aviation and aerospace sequence, business sequence, concert and stage sequence, communications sequence, computer programming sequence, engineering sequence, future educators sequence, law and public safety sequence, and sports medicine/physical therapy sequence. Each year, you would continue to take courses related to your career path and advance.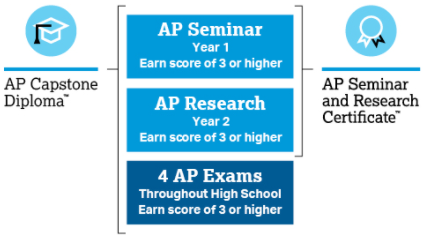 Although it's not an elective and is a core class based on a technicality, AP Capstone is referred to in the same sentence as electives. AP Capstone is a diploma program offered by the College Board on two year-long AP classes, consisting of AP Seminar and AP Research. According to the official website for the program, instead of teaching subject-specific content, they "develop students' skills in research, analysis, evidence-based arguments, collaboration, writing, and presenting. Students who complete the two-year program can earn one of two different AP Capstone awards, which are valued by colleges across the United States and around the world. […] Students who earn scores of 3 or higher in AP Seminar and AP Research and on four additional AP Exams of their choosing receive the AP Capstone Diploma.
Students who earn scores of 3 or higher in AP Seminar and AP Research but not on four additional AP Exams receive the AP Seminar and Research Certificate." It is an English course and counts as an option for a core class. As much as the freshman through junior English classes is diverse, the seniors have more choices. The various senior options to choose from are, English IV Honors Expository Writing, English IV American Horror, English IV Comics & American Culture, English IV: Comparative Mythology, English IV Literature and the Human Psyche, English IV Mystery and True Crime, and English IV Science Fiction.
There are 15 different varieties of math classes to choose from, each course having three to four variations in level. Similarly, there are 13 choices for science classes. History has ten options for core classes, but there are more electives than core classes, with a ratio of 5 core classes to 7 electives. 
Unfortunately, not everything can be how you want it to be. There are some required classes whether you like them or not. Delaney Scalera, a junior who is an avid journalist and interested in TV production, can agree. Here's what she had to say: "I will say when I had to take art, and I am not very good at art, it was stressful for me because it was a requirement, it wasn't a choice. So I will say that was stressful for me because I didn't want to take it, and I would rather take something else. But I understand that you know what, we have to be diverse sometimes, and we get put in situations that we don't always want to be in, and I think it was a breakthrough moment on how hard I can work for something even when I don't like it." 
However, don't let requirements stop you from choosing classes you enjoy. There are still many opportunities to do so, and you can talk to your guidance counselor about switching if you're in one you don't like.
Finally, I would like to give you some advice. Delaney Scalera would like to tell you, "Do what you want, not what your friends want. That's it. Don't take a class because everyone in your friend group is taking it. Take it because electives help you in what you're going to do in your career and future. And why would you take a class that does not cater to your interests, nor your likes, simply to you could be with your friends? You'll make new friends." 
Mrs. Di Gerolamo, the supervisor of science, engineering, design, and technology, wants to tell you specifically some advice she wished that she had when she was in school: "Take advantage of opportunities offered to you. Ask the teachers that teach the classes you're interested in and ask your friends. Don't be afraid to try something new."
Overall, there is a lot to cover, but I want you to know that I appreciate you making it to the bottom of this article. I would recommend talking to your guidance counselor about possible classes and careers and talking to your close friends and family about their thoughts. Get a second opinion, but also don't let the opinions of others stop you from finding and pursuing your passions. Find your balance and a schedule that works for you. Find something that helps you achieve your goals, that makes you satisfied with your work but still gives you a challenge. I hope you can find something that you enjoy and brightens your day. I wish you the best in all of your endeavors.
Works Cited
"AP Capstone – AP Central: College Board." AP Central, 16 Dec. 2021, apcentral.collegeboard.org/courses/ap-capstone.
Grove, Allen. "What High School Courses Do You Need for College Admissions." ThoughtCo, ThoughtCo, 27 Feb. 2021, www.thoughtco.com/high-school-course-requirements-college-admissions-788858.
"Program of studies 22-23." Roxbury Website, 
https://www.roxbury.org//cms/lib/NJ50000720/Centricity/Domain/466/Program%20of%20studies%2022-23.pdf
Mann, Monica. Guidance counselor interview. 25 January 2022.
Scalera, Delaney. Student interview. 19 January 2022. 
Di Gerolamo, Kathleen. Family consumer science interview. 28 January 2022.
Leave a Comment