Lena Bacalhau is Varsity cheerleader at Roxbury High School, an active community member through a club known as Interact Club and a superlative student. Her cheerleading coach, Gail Lacosta, describes her character as "determined and hardworking".  People who have cheered with her or have had her as a peer can agree with Lacosta.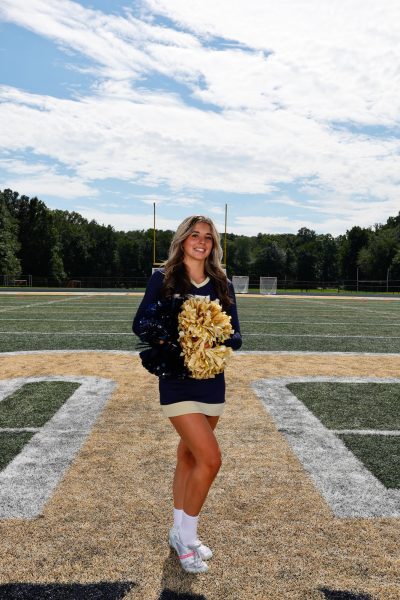 Lena's cheerleading career has been something that she dedicated years of training for. Before high school, Lena competitively cheered on an All-Star cheerleading team known as Northern Elite. Until coming upon her eighth-grade year and getting the option to compete on the High School cheerleading team. She left her days as an All-Star cheerleader to pursue UCA style cheer and it was a big change for Lena. "It was a completely   different vibe and took a while to get used to. But in the long run I am way happier doing High School cheer than I ever was doing all star," states the avid cheerleader. After going through a series of tryouts, Lena made varsity her 8th grade year. 
Now going on 4 years of cheerleading on a Varsity team Lena has made many bonds with her teammates and especially her coaches.  Lena gets pushed by her coaches every day because they can see the potential she withholds. Lena practices an average of 13 hours a week plus the additional tumbling classes she endures. Having to balance her athletics plus her job at Joanns is a constant struggle for Lena. "It's pretty difficult but with time management it has gotten easier for me," exclaims Lena.  She spent her whole summer break training to perfect her hardest tumbling pass, a full, to benefit her team. 
Outside of cheerleading Lena holds a very active social life and is on her feet all the time. At Joanns her job position is casual part time clerk where she is required to restock shelves, keep the store to a clean measure, and have good communication skills for the incoming customers.  Lena loves pursuing what makes her the happiest even if that means lying in bed with her friends all day.  Her most prominent hobby is reading. During her cheerleading off season, she spends days on her boat just reading. 
Lena's goal after high school is to make a D1 cheerleading team at the college known as James Madison University. Lena will pursue both the football and competitive cheerleading team the university offers. While she completes her athletic training there, she wants to major in Hospitality.  With this degree she hopes to become a manager at one of the Orlando Disney World Resorts and spend her days in the warm Floridian heat. 
Lena is a constant inspiration to her peers and is a significant role model for the underclassman on the cheerleading team. She is a well-known leader and has an incredible future ahead of her.