RHS Students Feelings on the College Application Process
College Application Process 
Applying to college is a very overwhelming and complicated process. When many students begin their senior year, they are looking to apply to colleges they have visited over the summer or are interested in. Where do students begin? Most students don't know where to start with the actual application process. Luckily, every school has guidance counselors, teachers, and other students who are willing to help. After all, the teachers and guidance counselors have been in our shoes before. 
There are important steps in the college application process that students must consider. Students should be informed about what looks good on a college application before applying. The Princeton Review created a puzzle that represents components that students should have, which students can use as a visual guide to the college application process. Their puzzle includes a good GPA, demonstrated interest, a college essay, extracurriculars, recommendation letters, and test scores. When students gather this information, they are sent to look for and apply to colleges.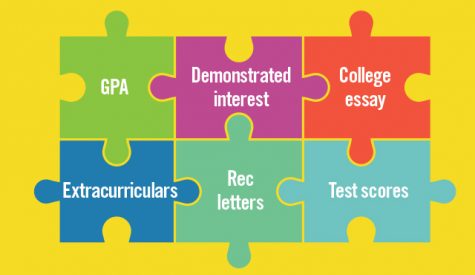 It is very important to include volunteer work and a strong course load. Colleges want to see that you are helping out around the school and community. Good grades are very important too. However, you should take a good level of classes as well in order to show your stronger classes than others. 
Beginning the college application is rough when you don't know where to start. However, there are valued steps to follow in the college application process. To start, think of 10 schools you're interested in. They can range from dream schools, safety schools, to possible schools. The next important step is deciding how you are going to apply: either early action, early decision, or regular decision. 
Next, begin the application part. Create a Common App account. Most schools use this website for students to submit their application. Then, find a topic and begin to write your college essay. It is important to take a good amount of time on the essay. It could help you stand out from other applications. 
How Students Feel
With the college application process consuming the beginning of the school year, it is hard to balance school and college. Most students feel a lot of pressure if they haven't started or submitted their applications yet. They feel behind since their friends might be done applying. I interviewed  Roxbury High School Senior, Lia Milsom, about how she was feeling about the entire application process. 
Milsom said, "I definitely feel like I'm behind. I feel like everyone else has already finished applying. Overall, I'm super nervous. I know it will all work out, but I just want it to be over already. But, I'm excited too." 
Milsom is one of the seniors that I formally interviewed. However, I have questioned many of the seniors and they have all said similar things about feeling overwhelmed and stressed. They feel as if they only have some help. It is important to feel like you have obtainable resources at hand. 
Even juniors are beginning to feel overwhelmed by the process. Roxbury High School junior Kendall Fehsal describes how she is feeling while she begins to look at college. She is looking to play softball in college, so she needs to begin the recruiting process now. 
I asked, "Have you thought about college yet? Do you feel overwhelmed about college? Do you feel like you have a good amount of people to talk to about college in school or at home?"
Kendall Fehsal answered, "Yes, I have thought a lot about the college process considering I want to play softball at a good college. I feel overwhelmed about college, because I am not getting any looks for recruitment. Yes, I feel like I have a lot of resources and people that have gone through the college process." 
The college application process is something that people worry about as soon as they begin high school because they know the next step is college for many. However if you learn the steps, the process will become easier. Each school offers generous amounts of help through guidance counselors, teachers, and other students.  
Tips/Tricks/Need Help?
One thing that I wanted to research was if seniors and even juniors feel like they are getting enough help. Guidance counselors play an important role in helping seniors begin to apply for college. I asked Milsom about her thoughts and feelings of how she utilizes our guidance counselors. 
"I think my counselors could be a little more involved by helping me more face-to-face. I want to hear it step-by-step, not just all at once." Lia Milsom explains that she is getting help from the counselors, but she wants more time with them one on one instead of reading about how to do it. After all, some people are more visual learners. 
There are multiple quick tips that can help you apply for college. You should know the deadlines for applications for each school that you are applying to. In addition to deadlines, you should also try to visit the colleges you may like. Walking around campus could help you make a decision as to whether or not you want to try to apply. 
People consider taking classes in high school that could possibly help in college when choosing a major. Some colleges like to see that you are taking classes that are related to your intended college major. It will help you realize if you are interested in that type of class. Taking a diverse course load along with your graduation requirements is important. Plus, a diversity of classes will help you find what you are interested in. 
Conclusion
Overall, the college application process makes seniors and juniors nervous. They know they have a lot of resources at hand. Yet, it is hard to balance school and the application process. It is very important to gather the pieces for the application and apply to the best of their ability. 
Once you gather your own information and resources, then you can begin to apply with the help of your guidance counselor. Don't stress too much! Everyone is going through this process. Always remember that! Multiple people are there to help you complete the process. Never be afraid to reach out and ask for help.
Leave a Comment
Roxbury Review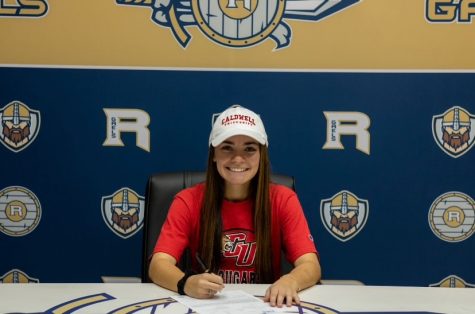 Cameron Fehsal
Cameron Fehsal is an ambitious writer. She is a senior at Roxbury High School. She plays high school and club softball. In addition to softball, she also...