Advice: College Decisions for the Class of 2021
As the year heads to an end, many seniors are choosing their colleges and many underclassmen are beginning to look into possible colleges for them. As someone who just went through it, I can tell you that this is an extremely stressful process. As a sophomore, I began getting emails from colleges. My eyes widened with each one and I deleted the emails. I wasn't ready to think about college yet; I had 2 more years before I needed to worry. Slowly, as more emails and letters came in the mail, I was forced to face facts: I was approaching a very stressful time in my life. I decided that if I began looking into colleges now, I might be able to limit the stress I had coming in the next two years. I outlined a few of my top colleges and created my college board account at the end of my sophomore year. As the summer began I felt my stress begin to lift but, once I was halfway through my junior year, it all came back. I narrowed down my top choices and began studying for the SATs and ACTs, that's when the world entered a global pandemic. 
The Pandemic
 The COVID-19 pandemic greatly affected the college decision process for me and for many others. I was unable to go on campus tours and I was unable to take the SATs or ACTs my junior year. During my senior year, I had one opportunity to take the SAT and, luckily, many colleges became test-optional because scheduling these tests was now more difficult than ever. Soon campus tours opened back up, but they have become very restricted. A big part of being able to choose a college is how it feels on the campus as well as what the dorms, classrooms, and other facilities look like. If you are a senior, junior, or even a sophomore, I suggest going on as many tours as you can.  Even though this option is still limited on many campuses, you still get a sense of the campus and the community there. I never would have been able to make an informed decision without going on tours of almost every college I applied to.
Application Fees
College is notoriously expensive, especially in the United States, so naturally, it costs money to even apply to them. Because of this, my list of potential colleges went from 18 to 10. If you have the opportunity you should attend as many college fairs and tours as possible, because many colleges hand out fee waivers at these events. If a college has given you a fee waiver or it has no application fee, you should submit an application because it won't cost you anything. 
Other Concerns
A common concern about beginning college is that many people are unsure of what they want to do with their lives. Asking 17/18-year-olds to choose a major is incredibly intimidating because we are honestly still kids. We go from needing permission to use the bathroom to being expected to decide our entire futures. Luckily, there are a few options when you are unsure. Many people take a gap year to work, grow up, and figure out what they want to do with their lives. Others begin by attending county colleges to earn an Associate's degree. Some people continue their education by attending a 4-year school to earn a Bachelor's degree. Many other people who are unsure of what they want to major in will begin college as undecided or undeclared. Many people feel pushed into making a decision and end up ultimately deciding to change their major in later years, and there is nothing wrong with that! Find something you are passionate about and take your time in doing so.
College Isn't for Everyone
Many high school students decide not to attend college because they have other plans that suit them better. Many students go straight to work instead of attending college. And many others begin a career in the military. There are a plethora of career options that do not require any college degrees but will require internships, trade school, online degrees, and apprenticeships. 
Remember that we are all going through the same process and don't be afraid to consult your guidance counselors, teachers, parents, classmates, etc for help. You can submit your college/career decision by messaging @roxbury2021decisions on Instagram!
View Comments (2)
Roxbury Review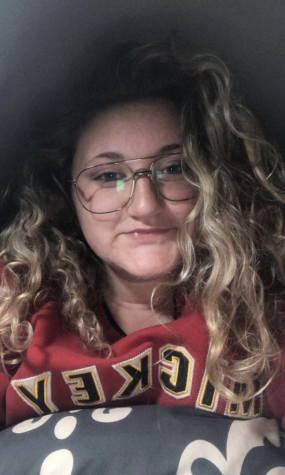 Becky Wood, Assistant to the Editor-in-Chief
Rebecca Wood, best known as Becky, is a hard-working senior currently attending Roxbury High School. She always enjoyed making up creative stories, even...