Tips for Making Virtual Learning More Productive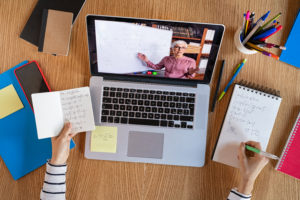 We live in a completely different world than last year; we are trying to learn from home by looking at a computer screen. For some students learning on a computer is not difficult. But for many, focusing at home during online classes can be difficult. As someone who struggles with focusing from home, I am going to list some tips that I use and have found helpful, as well as tips from experts. 
My Tips for Making Virtual Learning More Productive:
Get dressed: Staying in your pajamas during class may make you sleepier. I've noticed that, when I get out of bed and get dressed before my meets, I am more awake.
Sit up and, get out of bed: Staying in bed or laying down during your meets is just an invitation to fall asleep. If you are out of bed at a desk or sitting up somewhere other than your bed, it can help you stay more awake. This, in turn, increases your focus.
Get a stress ball or fidget toy: Many people, like myself, may be fidgety when sitting at home all day, so I suggest getting a stress ball or a fidget toy. I have a stress ball with me during all of my meets, which helps keep my fidgety behaviors in check.
Turn off your phone: Our phones and social media or even video games are our biggest distractions during virtual classes. We are in a different setting and often go on our phones or play games out of habit because we are used to doing so when at home. However, being on electronics during class (other than the device you're using for school) can be detrimental to our focus levels.
Take notes during online classes: Taking notes while your teacher is talking can help you focus., Iit gives your hands something to do instead of being on your phone. Taking notes also helps you retain information better than just listening to your teacher.
Move Around: Sitting at a computer for 6 hours straight can be difficult and tiring, so make sure you set time aside to move around. At Roxbury, we have 5 minutes in between each class, use this time to stretch or walk around.
Set a sleep schedule: Many of us, including myself, have taken virtual learning as an excuse to stay up later. This, however, can be detrimental to our mental and physical health, focus, and learning abilities.
Make a schedule: Instead of waking up one1 minute before class starts, wake up sooner so you have time to eat breakfast, get dressed, brush your teeth, and fully wake up. You can even set a schedule after school hours are over to ensure you are getting enough physical activity, relaxation time, social time, and are completing any homework.
Participate in class discussions: Teachers are struggling too and are doing their best to teach us as much content as this were a 'normal year.' Teachers depend on our responses during discussions. If you are confused about an assignment, ask questions! If they ask a question and you know the answer, unmute! Teachers are often faced with black screens and silent students, so, in order to know if we understand, we need to give them feedback. 
Limit Distracting Sounds: If you have siblings or parents who are also learning/working from home, make sure you aren't being distracted by them. If you share a room with a sibling, go into the living room or kitchen so you and your sibling aren't distracted by each other. Overhearing your parents' or siblings' meetings can distract you from your own. 
This is just a short list of the endless suggestions that may help you focus from home. Some tips may work better for some than others, but it doesn't hurt to try. I suggest trying a few different tips until you figure out what works best for you. When trying out these tips remember that if one doesn't work for you don't worry, just keep trying. We are living in an extremely difficult environment that no one has experienced before so always remember that, as long as you are getting up each day and trying your best, you have nothing to worry about.
Resources:
https://www.washington.edu/counseling/covid-19/tips-for-studying-from-home/ 
https://www.northeastern.edu/bachelors-completion/news/successful-online-learning-strategies/  
Leave a Comment
Roxbury Review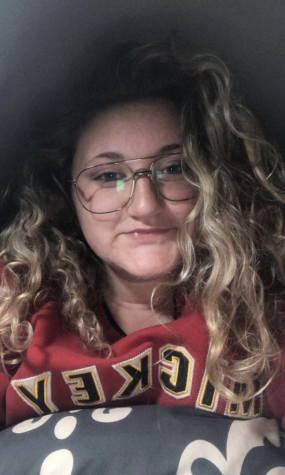 Becky Wood, Assistant to the Editor-in-Chief
Rebecca Wood, best known as Becky, is a hard-working senior currently attending Roxbury High School. She always enjoyed making up creative stories, even...