Must Watch Movies
Quarantine. It has been stressful and definitely not very fun. With everything going on I have put it upon myself to become a self-proclaimed movie critic. Here are some I have recently watched. 
10 Things I Hate About You 

This movie was a very funny and heartwarming story. It would be best for audiences 13 and up, as it is rated PG-13. It stars Heath Ledger and was definitely inspiring, with the main character being an independent feminist who breaks stereotypes. 

Money Pit 

Starring Tom Hanks, this movie is a hilarious take on the terrors of fixing up a new home. It is great for families with slightly older children, since some of the humor is crude. 

Edge of Seventeen 

This one is a great movie for a sleepover/hangout, because of the intense humor that may not appeal to parents. Edge of Seventeen is definitely funny and a great coming of age story, but also is rated R and has content verbally that is sexual. 

50 First Dates 

Starring comedy legend Adam Sandler, this movie is a tearjerker but will also leave you laughing like crazy.

The beautiful Drew Barrymore stars as the leading lady who

has a crazy life that is completely unexpected. 

Ace Ventura: Pet Detective

You cannot go wrong with Jim Carey! Ace Ventura is hilarious and a great movie to watch with family. He is a detective who loves

to save animals but, surprisingly, he is

a lot slicker than expected. This movie is recommended for older kids because of language and sexual content. 

City Slickers

This one is a very action-packed comedy film. It is very wholesome and sets a great example for movies later to come. In this movie, three guys get away from their stressful lives to hopefully find themselves while driving cattle. 

Julie and Julia 

This one is so unbelievably sweet, rated R, but only because of language. It tells a true story of a woman named Julie, who cooks through all of Julia Child's cookbook. Her story is incredible and true! 

What's Eating Gilbert Grape 

So sweet and a great family movie, starring Johnny Depp and Leonardo DiCaprio. When Gilbert deals with the struggles of a younger brother with special needs many parts of life are put on hold.

The Spectacular Now 

This feel-good coming-of-age movie is about a young girl who meets a wild child boy. Starring Shailene Woodley, this movie will leave you most likely crying

yet smiling through the lighter parts

The Perks of Being a Wallflower 

This movie, starring Emma Watson, talks about the real struggles in life. It is one of my personal favorites, and I would recommend it to anyone who wants to see something truly incredible. The young boy in this story deals with past trauma whilst entering high school, and it reveals the true struggles of mental illness. 
I hope you enjoy these movie recommendations and stay happy and healthy!
Leave a Comment
Roxbury Review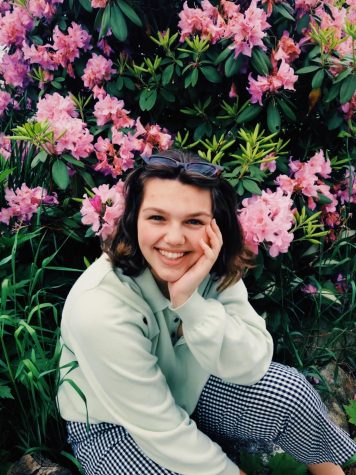 Olivia Joy Post, Opinions Editor


Olivia Post is a well written young woman, who has been spilling her guts in her diaries and writing sappy poems for longer than she can remember....