What To Do When You're Stuck At Home
Right now we are all stuck in the house because of the quarantine, and most of us are extremely bored! In light of these circumstances, I decided to create a list of ideas to help you keep busy. Though this list is specific to the quarantine right now it can also help on rainy days, any day you are feeling bored, or when you are stuck at home. Keep reading for a list of suggestions to keep yourself entertained while stuck at home!
Productivity- If you want to do something productive instead of just relaxing, try one of the ideas below:

Read a book

Teach your dog (or whatever pet you may have) a new trick

Get ahead on schoolwork

Write a story or a poem

Start a scrapbook

Do a crossword puzzle

Do a puzzle
Learn something new- We're constantly learning, and now that we are spending less time at school you have an opportunity to teach yourself something new!

Start to learn a new language

Learn how to paint

Learn how to edit pictures

Follow an online DIY project

Learn something you've always wanted to.  You have plenty of time on your hands.
Make something- We are all capable of creation. Whether it is an art piece or food, it can be fun to do!

Cook a meal or a snack

Create your own song

Bake something for you and your family or even yourself! 

Make a piece of Jewelry

Create a craft out of Popsicle sticks and cotton swabs

Build a birdhouse

Construct a doghouse

Start a garden, spring is the perfect time!

Knit a scarf

Anything else you think of!
Just for fun- Today you might feel like relaxing but want to do something other than binge your favorite TV show. These ideas below may help:

Play video games

Practice any instrument you may have (if any). Otherwise sing, dance, draw, or paint

Practice your art skills- there are many tutorials online.

Rediscover your Webkinz account!

Take a virtual tour of a museum or art gallery

Order takeout

Use a face mask

Have a spa day

Paint your nails

Do yours or someone else's makeup

Take a nap
Social: Although we are all practicing social distancing, we can still interact with our friends or even make new friends. We are all stuck in our houses with our families, so we may as well try to have some fun with them.

Find a pen pal

Write a letter to a friend or family member

Use a group FaceTime app such as Houseparty, Zoom, Google Hangouts, etc.

Play iMessage games with your friends

Build a fort and have a movie night with your siblings/family

Host a game night

Hold a family competition

Baking

Cooking

Singing

Dancing

Costume

Art

Any other ideas you come up with!

Try playing Jackbox TV or another multiplayer game with your family
Fitness- We are all at home and aren't being forced to exercise during PE, but it is important to still exercise to remain healthy.

Follow an exercise routine on YouTube

Go for a hike, jog, or walk

Use any exercise equipment you may have

Meditate

Try yoga

Find a fitness instructor on YouTube
If the weather is nice- We aren't allowed to gather in large groups, but that doesn't mean we can't go outside. We still need sunlight!
Go on a walk

Sit outside and read 

Play catch

Play basketball

Play soccer

Play volleyball

Play outside with your dog

Go on a hike (Depending on your age, be with an adult to stay safe!)
We are all scared and worried about when we will be able to see our friends again, but we should remain focused on the positives. We are all able to take a break from any stress that may be caused by school or social drama. We are also quarantined with our families, which gives us an opportunity to reconnect with each other. We are also officially in Spring, so the weather outside is perfect and we are no longer stuck inside our rooms. I hope you find these ideas useful and are able to find some comfort in knowing that we are all adjusting and going through this together!
View Comments(1)
Roxbury Review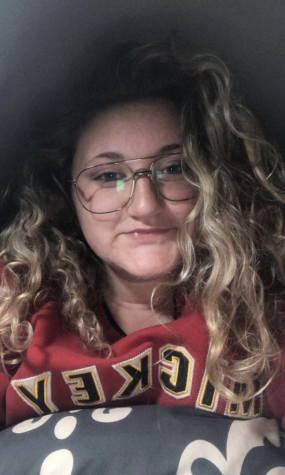 Becky Wood, Assistant to the Editor-in-Chief
Rebecca Wood, best known as Becky, is a hard-working senior currently attending Roxbury High School. She always enjoyed making up creative stories, even...