Harry & Meghan: Abandoning The Crown
Harry Windsor-Mountbatten and Meghan Markle, the former Duke and Duchess of Sussex announced that they were stepping down from their positions in the royal family on January 8th, 2020. The couple originally planned to continue their support for the Queen and the Royal family, however, the Queen stated that they may not use the royal brand or make claims that they are acting to support her. They were given the choice between fully being part of the royal family or completely separating themselves from the crown. The couple chose the latter, a decision marked by Harry's request to be referred to as simply "Harry" instead of "Prince Harry." 
As they transition away from the royal family, the couple is focusing on charity work and need to rebrand themselves since they can no longer use the "Sussex Royals" brand. The pair and their son, Archie, are basing their work and home in Canada but plan to travel in and out frequently because they are not Canadian citizens. They cannot stay in Canada for more than 6 months at a time. It is unclear whether they plan to apply for full time citizenship or if they will reside somewhere else in the future.
There are many rumors as to why they decided to step down but none have been confirmed. Many of these rumors blame the couple's uncommon decision on Meghan Markle. Markle has been often criticized since their engagement was announced, often for her fashion choices. Additionally, some believe she is swaying Harry. Keep reading to see all the rules she has "broken."
Meghan Markle Breaking Royal Rules
Markle often voices her political opinions. The royal family is not a political entity, so members are not supposed to voice any political opinions.

The Queen prefers the family to wear colorful clothes, never all black, but Markle has done so on multiple occasions.

Meghan Markle has worn ripped jeans in public, which are only allowed on very casual occasions in private. 

Meghan Markle found a loophole to the rule against signing autographs. This rule is in place so their signatures cannot be copied. Markle, instead of signing her name, wrote "Hi Kaitlyn" to a fan.
Royal Rules
The Royal Family has a plethora of strict rules all family members must follow. Some are quite odd, making it understandable as to why someone might want to leave the position as part of the Royals. However, this is not proven to be the case here. 
Members of the family are not allowed to eat garlic for two reasons: the Queen dislikes it and it prevents bad breath.

No one can go to sleep until the Queen does and she is known to stay up late.

Boys under the age of 8 can only wear shorts, no matter the season.

Members of the Royal Family cannot sign autographs.

The game Monopoly is banned in their family because they are too competitive.

Prior to becoming engaged, the Queen must approve all couples.

The Queen's wishes must be followed without question.
Rules for Royal Women
Women cannot remove their outermost layer in public because it is "unladylike," forcing women to remain in their coats no matter the circumstance.

Women need to have proper posture and their chins must be parallel to the ground.

Women's legs must remain together when sitting, and they are to cross their legs at their ankles. 

After 6 PM, women are not allowed to wear hats.
Rules When Interacting With The Queen
No one can ever turn their back to her.

You can only speak to her when you are spoken to.

You cannot touch her.

You are not allowed to leave a room until she does.

Men in the Royal Family must bow to her.

Women in the Royal Family must curtsey to her.

When the Queen stops eating, everyone else must also.
Not The Only Rule-Breaker
Some of these rules are shocking, and difficult to imagine following day-to-day. There are many other rules not listed and it may be impossible to remember all of them. Though Meghan Markle isn't the only one to break a few rules, Princess Diana was known to do so as well, Markle is more heavily criticised as compared to other members. Many argue that Markle is criticised so heavily because of her race; she is biracial and all other members of the family are white. Markle is criticised by the media and even her own father. She is estranged from her father and brother and does not speak publicly about them. Yet they often publicly scrutinize her. Her father recently claimed that she leaves every family that she joins, yet his willingness to speak so poorly of her might suggest why she no longer considers herself his family.
And though abdicating yourself from the Royal Family is uncommon, it has occurred before. King George VI's brother Edward VIII abdicated himself from the throne because the Royal Family did not approve of his fiancée, an American socialite divorcée. Like the American actress Meghan Markle Edward's fiancée, Wallis Simpson, was a divorcee. The couple was exiled to France, where they were married with no Royal Family members in attendance.
The Couple's Choice
Some may disagree with Harry and Meghan´s choice to leave the throne and others support their decision but, in the end, it was their choice to make. Whether the reason they left was because of some of the strict rules, the criticism the couple faced, or for another unknown reason they have done amazing charity work and will continue to impact the world.
Leave a Comment
Roxbury Review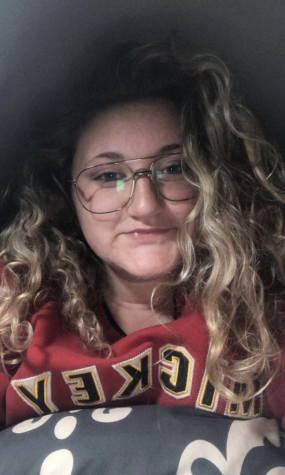 Becky Wood, Assistant to the Editor-in-Chief
Rebecca Wood, best known as Becky, is a hard-working senior currently attending Roxbury High School. She always enjoyed making up creative stories, even...