Healthy Snacks
With the beginning of the new year many people have made resolutions. A large portion of these resolutions include some ways of becoming healthier, whether it be through exercise or eating better. These recipes are a few that are definitely yummy treats that could help you get through some of those cravings! 
*All Recipes Credited to Sally's Baking Addiction*
Red Bell Peppers with Guacamole
10-12 sweet mini peppers

3 avocados

1 small tomato (chopped)

1/4 onion (chopped)

1 lime (juiced)

1 tbsp fresh cilantro (chopped)

1 serrano chili (minced)
INSTRUCTIONS:
Slice the tops off of the peppers and cut them in half, removing the white membrane and seeds from inside.

Place the peppers on the grill over medium heat for 7-8 minutes.

Remove from the heat and allow it to cool while preparing the guacamole.

Prepare the guacamole by removing the avocado from the shell and smashing in a small bowl.

Add the tomatoes and onions.

Add the lime juice, cilantro and serrano chili, then mix well to combine.

Spoon the guacamole into each pepper.
Seaweed with Cream Cheese
Cream Cheese 

Dried Seaweed 

Trader Joe's Everything Bagel Seasoning 
Dark Chocolate and Almond Mix
Dark Chocolate (Chips, Bar, or Melted)

Almonds 
Almond Date Truffles
2 cups (340 grams) Medjool dates (about 17)

pits removed

1/2 cup (80 grams) raw almonds

1/4 cup (25 grams) cacao powder or unsweetened cocoa powder

plus extra for rolling

2 tablespoons coconut oil

melted

1 teaspoon vanilla extract

1/4 teaspoon fine sea salt
INSTRUCTIONS:
Place all the ingredients in a food processor and process for 2-3 minutes, or until a sticky dough ball forms. 

Roll 2 teaspoons of the mixture into balls and roll in the extra cacao to coat.

Store in an airtight container in the fridge or freezer.
Banana Bread Mug Cakes 
INSTRUCTIONS:
Add all ingredients to a microwave-safe mug and mash/stir together until well-combined.

Microwave on high for 3 to 3-1/2 minutes, or until cake has set up and tests clean. Note: If using coconut flour, microwave for 3 minutes, and if using almond flour, microwave for 3 1/2 minutes.

Allow the cake to cool slightly before diving in!
Frozen Yogurt Bites 
Any fruit, blueberries, strawberries, mangos, peaches, blackberries, etc..

A cup of yogurt, plain 
INSTRUCTIONS:
Blend plain yogurt and your fruit together in a food processor or blender.

Using a piping bag or small spoon, scoop yogurt into a mold or ice cube tray. Freeze until ready to eat.

Makes 10-12 'cubes' of each flavor
Baked Apple Chips 
INSTRUCTIONS: 
Preheat oven to 225 degrees F (110 degrees C).

Arrange apples slices on a metal baking sheet.

Mix cinnamon together in a bowl; sprinkle over apple slices.

Bake in the preheated until apples are dried and edges curl up, 45 minutes to 1 hour. Transfer apple chips, using a metal spatula, to a wire rack until cooled and crispy.
Banana Ice Cream
INSTRUCTIONS 
Peel the bananas, cut them in 2- to 3-inch chunks and place them in a freezer bag in the freezer for at least 6 hours. 

Remove and blend in a blender until smooth. Serve immediately, or freeze in an airtight container for at least 2 hours. Scoop and serve.
These are just a few examples of healthy treats! Many other exciting treats can be made with very simple ingredients, it is all about creativity!
Leave a Comment
Roxbury Review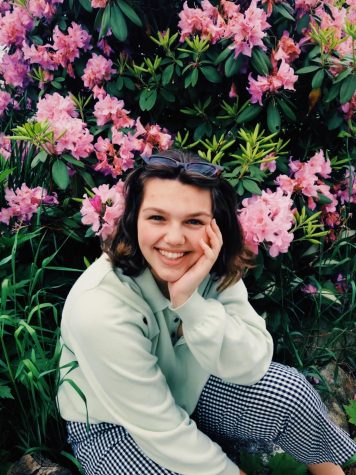 Olivia Joy Post, Opinions Editor


Olivia Post is a well written young woman, who has been spilling her guts in her diaries and writing sappy poems for longer than she can remember....