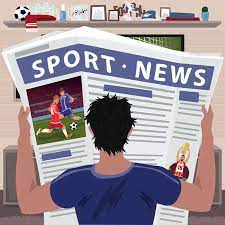 Sports journalism is an entertaining but demanding field. Journalists need to constantly push out new work to stay on top of the demands of sports fans. P.J. Potter, a current nj.com journalist, always loved sports, and after starting college, made the decision to become a professional journalist.
Potter didn't become a professional journalist overnight. He was once just like you and me, aspiring to one day be a big newscaster like you see on TV. Potter was inspired by ABC7 news broadcaster Chris Wragge, a sensational athlete, who eventually became a news phenomenon. Potter realized he wanted to go into the field once he went into college, and the opportunities in the world of journalism had brought him to the decision of his career path. As said when interviewed, "Once I saw how many things were available for me in terms of the school newspaper, school radio station, all that kind of stuff, I was like alright this is what I want to do."
Potter graduated from Hofstra University, where he majored in journalism in the School of Communications, and minored in criminology. He states in the interview that picking a minor is very important, not only for your career, but picking a subject that you genuinely enjoy even if it isn't exactly something you plan on doing in the future. In taking criminology classes, Potter learned a lot about psychology, which gave him "a good perspective not just in the workplace but in life."
"Preparation is definitely the biggest key," Potter explained. Being prepared, being on top of stories, and publishing them on time, are crucial factors in journalism. Potter said that it is hectic but not stressful. A normal day for Potter starts off with sending out a post before a game. A pre-game routine is checking out statistics, seeing if any players have milestones coming up, what have the teams been doing lately, and what they have done the previous year. Once he gets to the game he introduces himself to the coaches if he hasn't met them yet, covers the game, and then talks to a couple of players to get their perspective and insight of the game. Potter tries to attend 2-3 games every week, which consumes a great deal of time.
Breaking into the sports journalism industry isn't easy, it's actually quite the feat. Potter explained that "nothing will ever be handed to you when working in journalism," and to get "in" you will have to "put in a tremendous amount of hard work." One of the best things Potter believes about working in the field is meeting new people. He says that working with new people all the time creates a totally different atmosphere than working in an office with the same few people. Potter also added that having your name attached to your work gives you a feeling of, "Wow I did that, you can kinda see what you did right there in all its glory."
Bias is a journalist's worst enemy, and Potter discusses how to stay away from the craze of opinions, especially in sports. Although Potter is known by his family as naturally "level-headed sensible," it is still a challenge to keep your voice out of your work. Potter explained that "as a journalist, you should be rooting for the story, and not for your preferred team." When writing for college, specifically your college team, Potter suggested that you can support the schools, but not make it personal. Sticking to the facts is critical when writing and will help make your writing the best it can be.
P.J. Potter has always had a knack for writing, which helped him become the journalist he is today. After multiple internships and writing for college, Potter continues to write for MLB Network and nj.com, visiting high-school sporting games around three times a week. Playing baseball for over two decades fueled his passion to work in the field of sports, and he feels lucky to continue working in a field he has always loved.