Uncovering Hollywood's Dirty Laundry: Ronan Farrow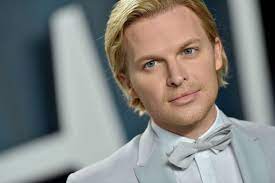 Ronan Farrow, born Satchel Ronan O'Sullivan Farrow, is an award-winning investigative journalist, Rhodes Scholar, and former Special Advisor for Global Youth issues to former Secretary of State Hilary Clinton. Born to actress Mia Farrow and renowned director Woody Allen, Farrow grew up with a vast opportunity to pursue education. And he was quite a prodigy, as he graduated from Bard College when he was just 15. At the age of 22, he received a doctorate of law degree from Yale. During this time he acted as a youth representative for UNICEF at the U.N and, in 2011 at age 24, he was appointed as Special Advisor for Global Youth by Secretary of State Hillary Clinton.
In 2012, Farrow left his role in government to pursue more education at Oxford focusing on third-world countries and the exploitation of those in poverty. During this time Farrow began to pursue journalism and began to write op-eds in various publications, and in 2015 he was given a show by NBC that focused on various investigative pursuits. Following the end of the show, Farrow gained prominence regarding sexual assault in Hollywood with a column in the Hollywood reporter regarding his father's alleged abuse of his sister, Dylan. Farrow focused heavily on the environment of the industry and the media, which causes assault survivors to stay or be silenced.
This work by Farrow was heavily influenced by his estranged relationship with his father, Woody Allen. Allen ended up marrying his adoptive stepdaughter in 1997, which was viewed by Farrow as very odd and uncomfortable. This along with his alleged abuse of Dylan Farrow ended any relationship he had with Woody Allen. Allen, as an influential name in Hollywood with sexual assault allegations, heavily influenced Farrow's pursuit of sexual assault in Hollywood.
The article and his father's position led Farrow to pursue investigative reporting regarding survivors of sexual assault in the film industry. In 2017, The New Yorker published an article by Farrow that reported on the alleged sexual abuse committed by producer Harvey Weinstein. Weinstein was a powerful name in Hollywood and has produced various award-winning films and television shows; he was hugely influential in the industry. Farrow reported on various instances of Weinstein wielding his power and influence in the industry for sexual pursuits. Farrow compiled various accounts from women about their experiences, and they mainly revolved around Weinstein asking for sexual favors while threatening to ruin their chances of ever making it in Hollywood. Farrow gained 13 accounts of similar abuse allegations. This report won him a Pulitzer prize and was very influential in starting the #MeToo movement.
Following this monumental reporting, Farrow began to focus his investigative reporting on sexual assault allegations against public figures. In the years following his reporting on Weinstein, Farrow has broken stories that accuse former New York Attorney General Eric Schneiderman, CEO of CBS Leslie Moonves, and Supreme Court Justice Brett Kavanaugh. Outside of this type of reporting, Farrow has done other investigative work regarding the Trump administration, Jeffrey Epstein, and Britney Spears' conservatorship. 
In 2019, Farrow released his novel "Catch and Kill" which chronicled the process of investigating Weinstein and the aftermath of the reporting. Farrow currently is renowned for his style and persistence and has received multiple accolades such as the Pulitzer prize, a Grammy nomination for his audiobook of "Catch and Kill", and a spot on Time Magazine's 2018 100 most influential people in the world.
Leave a Comment