Structural Design & Fabrication Class at RHS
Roxbury High School is home to many educational classes but in H175, you will find the most hands-on and interactive class in the county. This is where you will find Mr. Caccavalle and the instructional design class. This is the class's third year, with their main goal being to build a house for Morris Habitat for Humanity. The house they are currently building has been in progress for the last two years. Although this may just seem like just another class, you would be mistakenly wrong as they have been noticed by ABC and Fox News.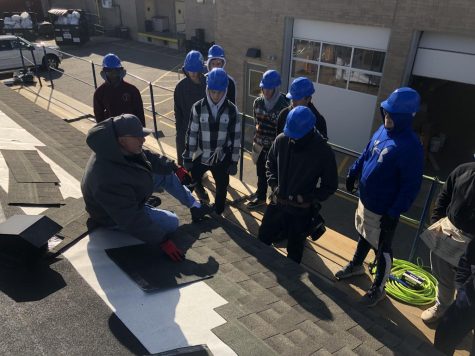 The class is made up of 18 seniors but they got a lot of help from licensed professionals. You can see them on American Plumber Stories on Youtube. They are on season 2 and the plumbers will be visiting again when the house is finished. The class struggled last year due to the schedule changes in school and COVID. They did not get the chance to finish the house so this year's seniors are continuing the work that was done from last year. Some former Roxbury students have come back to donate their time to help finish this project. Kyle Finnan is one of those students, and he exclaimed "I was excited for the project when I was a student here and when Mr. C asked me to come back, I knew what I had to do." The class has brought a lot of hype to RHS and Mr. Caccavale says "One of the most exciting things about this year is how excited the students are."
The class dedicates its success to the Rotary Club and the Roxbury Community. Mr. C says "This was just a class project that has become a community-wide initiative."
Though the class is on a roll, obstacles have come into play. Student Biagio Terranova says, "Snow, rain, and icy conditions are harder to work in, but we have a job to do so we push through though." When conditions are too rough, it's time to go back to the classroom for a presentation. He also explains that the students don't always know how to do everything so Mr. C is always helping them learn how to do or sometimes undo something. These students have the right motive. 
Mr. Caccavale says this class is way more hands-on and is truly getting his students ready for the real world. Biagio Terranova says "I think this class has benefitted me the most and I don't even want to go into this field in college. It's just important to understand what goes into building a house." The class also has put a lot of their mark on the house with writing on the wood things like "Class of 2022" a nice mark of the pride these students have.
Along with the support Mr. Caccavale and his class have received from the community, he says that something that keeps his class going is knowing that one day a future RHS student could be living in that home. The house will be put on the corner of Edith Avenue ready and waiting for its new family.
Leave a Comment
Roxbury Review
Vincent Picone



Vincent Picone is a Senior at Roxbury High School. You can find him at almost every Roxbury sporting event either taking photos or keeping stats....