Softball Takes the Mound
As spring starts to fill the air, the cold season will dissipate and softball will be upon us. While we are in the middle of winter, the weight room is full of softball players that take time to build strength to get to the top. These softball players are some of the most determined and athletic players that play on the field. Softball is played in over 140 countries around the world yet no one is as excited as they are. 
It all started in 2021, the girls came out strong; more than ever. Years before, Roxbury Softball had not been the best and had been struggling. Varsity Captain and 2nd basemen Cameron Fehsal says: "Last year was the strongest and best season. My freshman year we were 9-12. We didn't have teamwork and people were working separately." Having this in the back of her mind, she wants to come back stronger than ever her senior year even more than last year. Losing in the semi-finals was a big loss but a huge improvement from the previous seasons. 
The attendance rate of students and staff going to the games last year started to increase as the excitement of the game increased. For instance, during the semifinals, the number of people who showed up was a lot more than the first few opening games. The players only get the attention they deserve during the finals or when it's convenient for everyone else. 
An anonymous sophomore on the Softball team says, "I think all girls sports are underrated. There tend to be more announcements and bigger turnouts for boys sports." Most boys suspect that they are the very best and while for some sports that might be true, girls' sports, in general, don't get enough attention. Author Cheryl Cooky once said, "The lack of female coverage makes it difficult for girls to imagine themselves as athletes."
The varsity softball team worked so hard and didn't get the attention they deserved. They worked in the weight room, the cardio room, and on the field showing that all their hard work paid off. The only downside was no one was there to see it. All that hard work turned into dirt. The courage to be the very best and get to the top went unseen by many. 
Junior and Varsity starter Angelina Guancione says, "We worked our butts off to get to where we did and I think that it wasn't right that we didn't get the recognition that we deserved" Each player on the team can all say how they should've been recognized more and how it wasn't fair that they worked so hard and it went unnoticed. Especially when they took time to build the strength they need to get to the top. Varsity has no days off and when people work that hard, they should get the acknowledgment that they earned. 
This year the Softball team is fortunate because they were able to start training a lot earlier than last year. Head Softball Coach Critelli says, "I think this season has great potential though the pressure is high because of what we did last year." When you have such a high record to beat, the pressure and competition increase too! 
From a freshman's point of view, Gracie Miceli states "Every season or practice as a team you can always do something to improve, but I think 2022 will be a good year. " The softball team works well under pressure as you saw last season. They definitely will have a lot of pressure on them this season because they're playing more difficult teams and have to keep up the reputation they have now. Learning how to control the pressure when it comes to playing the game is one of the most important aspects that goes out of sight when it comes to playing softball. 
Softball isn't just a physical game, but a mental one as well. No one thinks about how the players feel on the field. Coach Critelli says, "The weight room definitely helps us feel stronger. I think the girls will feel better about their bodies, and that will translate to the field." Being confident makes you want to go out there and show everyone what you can do. 
Anticipation is key when it comes to softball. When you're on the field you need to know what's going on. More specifically, when the ball is in play. You have to think about what you do if you get the ball, what you do if you don't, who you're backing up, and watching the players on the field. When you're the batter, you need to see where the players are, what the coach wants to do, where you're running to once you hit the ball, and most importantly making contact. 
They say when you want something to be heard, you have to be that voice. You have to be that voice that speaks up for the rest of the team because that's what a team is. Think about it. If your sports team did so well and you didn't get the recognition that your team deserved, how would you feel? Go out and support the Roxbury Softball team in April! Make sure to cheer loud and proud for the girls! 
Leave a Comment
Roxbury Review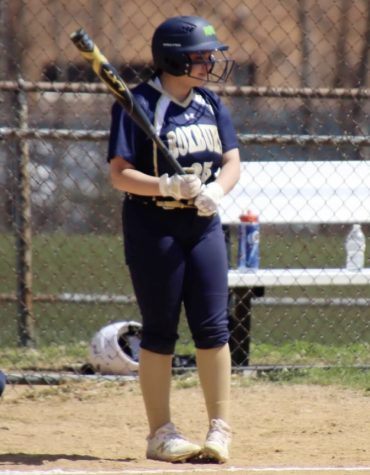 Eliana Okun
Eliana Okun is a high honor roll student at Roxbury High School. She enjoys her free time writing and playing on the softball field, as well as obsessing...