The Secret Every Aaron Judge Fan Wasn't Ready For
You certainly read that title correctly…
As of December 13, The Daily Mail reports that the New York Yankees right fielder Aaron Judge is officially married. Many of you are most likely upset but, according to the population, you're not the only one! Social media posts just keep flowing in on this thrilling news. Most are upset that he is married and didn't share it with the public, while very few are just congratulating him and happy he's happy. 
Many people have mixed feelings about this argument. Looking at a poll, 70% are happy about the marriage and 30% are disappointed about it. All these students' strong opinions each have different meanings of why they chose their answer but overall as a group 80% of people think, if it was they were in the same situation as Judge, they would've kept it private just like him.
Surprisingly, most students didn't even realize he was dating someone and were shocked by the news that he was suddenly married. Think about it: if you had something going so good for you would you want to threaten that to social media? Both perspectives have their own rights, but only one is the most well-thought-out contemplation. You get to think that one for yourself! 
Aaron Judge is one of the most underrated baseball players in world history. When people are watching him or any other player they don't think about their personal life. No one realizes how much social media changes athletes' lives in such a negative way sometimes when news about them goes viral. Social media users can be so harsh at times to athletes when all they want to do is play the game. Aaron Judge is getting ripped down by social media for keeping his relationship and marriage private. Is this really a necessary thought? Think about it: if he does so poorly next season, is it because he's in love? What's the worst thing that can happen now that he is married? 
Aaron Judge definitely found a way to spend his time during the MLB lockout. Their wedding was a small private ceremony that was held in Maui on Saturday 11, 2021 with only a handful of the couple's closest friends and family as guests. One of Judge's best friends, Tyler Wade,  posted a photo dump on Instagram of the Bachelor party weekend. Most believe his fiance held a secret bridal shower in New York City in September. 
The high school sweetheart and wife of Aaron Judge, Samantha Bracksieck, is recently known for becoming Aaron Judge's loved one, but also came out into the spotlight for a DUI arrest. She has an American famed personality and is 3 years younger than Judge. 
From interviewing many Judge fans, I mostly heard the same thing of "she's going to end up messing up his game!", "it's all going to be over for the Yankees now that he's in love", and, "if she messes up his game, he's going to end up divorcing her!" Do you agree with these Judge fans? Everyone understands that Judge focuses on baseball more than anything and people are now just worried that it'll change, and that Bracksieck might end up hurting his game or worse, changing his career path.
Rumors are Tyler Wade (Aaron Judge's best friend and adjacent player) is the next man to get married! Are these rumors true? What do you think? Who knows, maybe you're next! Overall, Aaron Judge fans say he can't let Bracksieck mess up his game. Assuming he does better than ever, maybe she'll be his good luck charm! Now all you have to do is wait until opening day for the Yankees on April 7, 2022 to see if the odds are on Judge's side.  
Works Cited:
https://empiresportsmedia.com/new-york-yankees/new-york-yankees-aaron-judge-and-long-time-girlfriend-marry-in-hawaii/
https://yanksgoyard.com/2020/08/05/yankees-aaron-judge-trolls-brett-gardner-ig-oppo-home-run/
https://nypost.com/article/who-is-samantha-bracksieck-aaron-judge-wife/
https://starsgab.com/samantha-bracksieck/
https://www.si.com/mlb/yankees/news/new-york-yankees-tyler-wade-scores-winning-run-walk-off-wild-card-berth
Leave a Comment
Roxbury Review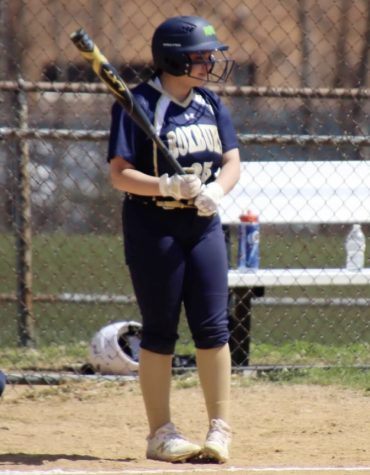 Eliana Okun
Eliana Okun is a high honor roll student at Roxbury High School. She enjoys her free time writing and playing on the softball field, as well as obsessing...