Starbuck vs Dunkin'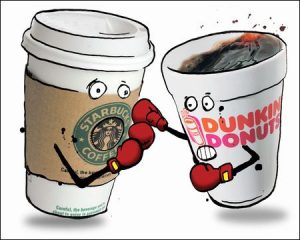 Intro
The debate that coffee fans have been waiting for, Starbucks versus Dunkin'! Both of these companies do an amazing job at catching the eye of the citizens of American. Both companies' sales are skyrocketing through the roof with their coffee and food products. Despite this, many people still have strong opinions about which is better. Now, it's time to see which company does it better than the other.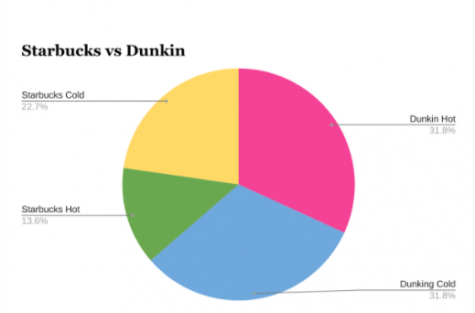 All The Possibilities at Starbucks
When you think about customizable coffee, which company comes to mind? Personally, I think of Starbucks. When speaking with students at Roxbury High School, many agreed. Luckily I had the opportunity to talk to a high school student who works at Starbucks. They stated, "Starbucks has more customization options. which means people can really go wild. All Starbucks drinks are made by hand, and there aren't set amounts (like there's no 3 cream)." As you can see, there are no boundaries when it comes to making any drink—hot, or cold.  According to Purewow.com the Apple Crisp Macchiato, Pumpkin Spice Latte, Pumpkin Cream Cold Brew, Caramel Apple Spice, and Chai Tea Latte are Starbucks' top five drinks of the fall.  Just the names of these 5 drinks suggest, there's a huge variety of what to have.
Another amazing quality about Starbucks is its online college program with Arizona State University, which the Starbucks student worker informed me about during our interview. "The Starbucks college program is a system in which you can attend ASU online with no charge if you are actively working at Starbucks or on a leave of absence. You still do have to apply to the program, but it is a good way to save money. I initially was interested in the program and I am actively considering doing my first two years of ASU online and then getting the rest of my degree at a traditional university." As you can see, not only is this program amazing for upcoming college students but also the older generation looking to go back to school. This program also helps lessen the financial burden that college can have on a family. Not only does Starbucks have an amazing college program, customizable drinks, they also have an amazing service, I know that many students at Roxbury can't wait to see what they come out with next!
America Runs on Dunkin'
Feeling like you need a quick boost of something sweet? Make sure to stop at Dunkin'! According to Dunkin.com, they serve around 3 million people every day. The student Dunkin' worker who I spoke with did not mention anything poorly about the company, all good comments. Now, time to get down to the nitty-gritty. Compared to Starbucks coffee, Dunkin' just isn't as strong. Now depending on your taste buds and how long you've been drinking coffee, you may prefer one more than the other. For example, the original plain hot coffee from both places Starbucks smallest drink (tall, 12oz) has 235 mg of caffeine compared to Dunkins small (10oz) has 150mg. It's all personal preference. The question is do you want your coffee strong or sweet?
When asking the student worker about Dunkin's college program and if it was one of the reasons they chose to work there, they had this to say: "To be quite honest, I didn't even know Dunkin' had this scholarship program. Starbucks does a lot better advertising that for their employees. I am just now learning about this at Dunkin' from you. So it is definitely not one of the reasons I chose to work here." For those who don't know, the Dunkin' Donuts scholarship is an award of $2,000 given to 25 students per year. To qualify for this award you have to complete high school, be a 'well-rounded' student, and good work/community service ethic. The only downside to this award is that it's not as well advertised. When compared to the Starbucks college program the Dunkin' program technically doesn't give you as much. If Dunkin' wants to advance itself in the rankings, the company should advertise the award more like Starbucks does.
An outsiders point of view
Roxbury High School's student teacher, Miss. Lieback is a coffee lover who frequents both Starbuck & Dunkin'. During our interview, Miss. Lieback revealed that she tries to get coffee every morning. To make sure she was an expert on this topic I had to ask her a few questions. Miss. Lieback reciprocated to me in our interview that she had been drinking coffee for 10 years!!! Now that sounds like an expert to me! You may be wondering from where does she get her coffee? Well, you guessed it, Dunkin' and Starbucks! Here are her favorite drinks/recommendations from both places. First, for hot drinks, Miss. Lieback's picks are  Hot Mocha (Starbucks) regular coffee with creamer and sugar (Dunkin'). She says the favorite between the two is the Hot Mocha. For her cold drinks, her favorites are Iced Mocha (Starbucks,) Iced Butter Pecan (Dunkin') Her favorite cold drink is the Butter Pecan Ice Coffee, and she stated that's the one thing that she loves that Starbucks doesn't. She says both companies, are amazing but now she finds herself going to Starbucks more than Dunkin'.
The Final Count Down
The moment we've all been waiting for… WHO IS THE WINNER? All in all, from what I've learned from these interviews and research, it's all a matter of personal opinion. You could either spend $1.85 at Starbucks for a Tall Iced Coffee (12oz) with 235mg of coffee. On the other hand, you could spend $1.59 at Dunkin' for a Small Hot Coffee (10z) with 198mg. In conclusion, after doing research, interviewing reliable sources, and having many years of experience drinking coffee it is ultimately your personal preference. In the end, these are both amazing coffee companies!
Leave a Comment
Roxbury Review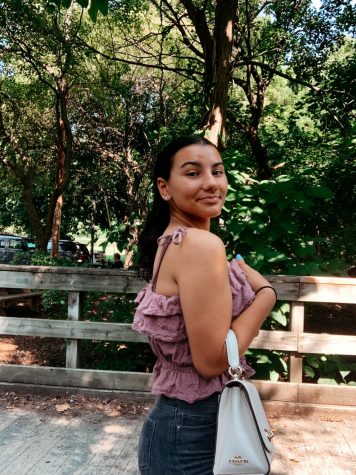 Delaney Scalera, editor
Delaney Scalera is an ambitious future TV talk show host. She is currently a Junior here at Roxbury High School. Her motto is to always stay truthful in...