The COVID-19 Era: Stories of Kindness
Throughout 2020, COVID-19 has taken over the headlines on practically every news station in America. This pandemic has understandably become the biggest point of discussion in our nation, and it is imperative that we continue to receive constant updates about the state of our country's health. 
However, as 2020 comes to an end, we must not let the negativity in the news become the only narrative of the year. It is important to reflect on the amazing acts of kindness, community, and heroism that have been shown even in the most difficult of times. These inspiring moments of bravery and humanity have become more important than ever. 
The difficult times that we have been living in has brought out the best in so many American people, and their inspiring stories deserve to be heard. I hope that these stories can bring a smile to your face and remind us that in these times of hardship, there is still light. 
Mazda Gifts 50 Heroic Frontline Workers With Brand New Cars 
As Mazda is commemorating its 100th anniversary, they announced in October that they were going to give away 50 MX-5 Miata 100th Anniversary Special Edition cars to frontline heroes that have shown, "selfless acts, creative thinking, and contributions to the community." 
Out of 1000 nominations, Mazda selected 50 deserving and heroic frontline workers. One of these frontline heroes is actually Jason Erdreich, a shop teacher in the local town of Randolph, NJ. In an act of kindness, Erdreich used his shop abilities and his access to a 3D printer in order to print 12,000 pieces of personal protective equipment (PPE) for medical workers who desperately needed equipment. 
This kindness has been matched all across the country from people who have continued to show altruism and compassion even in the hardest of times. This act of generosity by Mazda is one example of the many contributions to a national precedent of kindness and appreciation that continues to light the way during these difficult times.
New Jersey Man Donates iPads to Help the Elderly Stay in Touch With Their Families
Social distancing requirements across the country have made communication a harder task than ever before. Right now, most of America is relying on technology and social media to connect in a world where we are told to stay apart for our own safety. 
Due to these regulations, most health care facilities and hospitals have restricted any visitors at this time. Understandably this measure was taken in order to keep everyone safe and healthy. Unfortunately it has left many patients in isolation, with little to no means of communication with their loved ones. 
One man from New Jersey understands the importance of staying connected with ill family members and was inspired to help bridge the communication between elderly patients and their families. According to MSN news, John Lynch, a resident of Wildwood, NJ, was forced to say his final goodbye to his father over FaceTime, so he understood the value that there was in virtual communication. 
John Lynch is the founder of "Lunch with Lynch Foundation" which has recently committed to collecting donated iPads for hospitals and healthcare facilities where patients are unable to see their families. Lynch's "Operation Connection: The iPad Project" has effectively provided hundreds of ailing patients with the opportunity to speak to their loved ones. The generosity of Lynch and his foundation is the main reason why many families are still able to connect with those they love, even during these times of separation. 
A New Survey Shows That 2020 Has Made the American People More Appreciative Than Ever Before
Groupon recently conducted a poll aimed at analyzing the holiday shopping trends of Americans in 2020. One of the main questions asked in the survey was if 2020 has made them more appreciative of their friends and family, to which 70% of respondents replied yes. A year that has been full of tragedy and difficulty has actually made the American people more grateful for their lives and the people in them.
 Other questions in this poll revealed that many Americans are also more giving this holiday season than they have been in the past. In fact, 76% of respondents said they were going to try and get gifts for those they loved in an effort to lift their spirits. 
Surprisingly, the poll also showed high levels of optimism for this holiday season, despite how unconventional it's expected to be. American families seem to be finding glimmers of hope in the smallest of things. For example, some families are looking forward to spending the holidays at home, some are excited to watch movies, and some are even excited to simply exchange gifts. 
The poll indicates that regardless of the unprecedented nature of this holiday season, the majority of Americans are unwilling to let that stop them from enjoying times with close family and friends. The optimism and appreciation reflected in the survey is something that all Americans should try to incorporate into their own mindsets.
2020 has been a hard year for everyone but, as this poll shows, it has made Americans more appreciative and more giving. That is something that is definitely worth recognizing. 2020 might not have been a year of fortune, but it has certainly been a year of growth. 
The Claps Heard Round the World
As most people know, New York is a US state that has been hit very hard by the COVID-19 pandemic. In-state and out-of-state medical workers have been working around the clock to save the lives of thousands of New Yorkers. The selflessness and bravery of these frontline heroes have served as an inspiration for the whole country. 
One of the most heartwarming things that happened in the news is how New York City residents appreciated and showed their gratitude for these heroic essential workers throughout 2020. According to NPR, every evening at 7 P.M, NYC residents opened their windows and clapped to salute the city's medical workers. Many New Yorkers even used pots and pans every night to show their gratitude and appreciation.
 The social distancing requirements have made many feel isolated and alone throughout this unprecedented year. The inner workings of community and kindness in NYC's nightly display of thankfulness battled the sense of loneliness in our nation this year, reminding us that even when we are apart, we are not alone.
Leave a Comment
Roxbury Review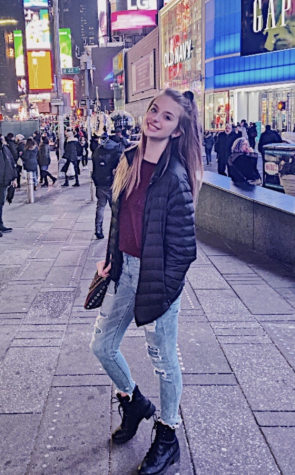 Sammy Olander, Editor
Samantha Olander is an aspiring journalist. She is a junior at Roxbury High School and a new writer for the Roxbury Review. She plays high school and club...