Top 10 Athletes of 2020
2020 was a year of unprecedented change in professional athletics. Through it all, though, some athletes were able to solidify their rankings as the top athletes in the world. Here are the ten best athletes of 2020, according to sportshow.com:
#10: Sidney Crosby 
Sidney Crosby was born in Nova Scotia, Canada and is a Canadian Ice Hockey player who, in 2007, became the youngest captain in the National Hockey League. Crosby's team, the Pittsburgh Penguins, has won three Stanley Cup championships: in 2009, 2016, and 2017.
#9: Mike Trout 
Mike Trout is questionably one the greatest baseball players who was ever born in New Jersey. Trout is arguably one of the all-time greatest first 5 years of Major League career by hitting .315 and leading the AL in runs, walks, and OBP in 2016, which lead to his second Al MVP award.
#8: Chris Froome 
Chris Froome is a British cyclist who was a four-time winner of the Tour de France: in 2013, 2015, 2016, and 2017. Froome is on the INEOS cycling team, which has some of the best riders in the world. Unfortunately, Chris Froome did not take part in the 2020 Tour de France after being omitted from the Ineos team.
#7: Tom Brady 
Tom Brady is one of the greatest quarterbacks to ever play in the NFL. He is currently playing for the Tampa Bay Buccaneers. He has been featured in 14 pro bowls and As16 Super Bowls with the New England Patriots.
#6: Serena Williams 
Serena Williams has won more Grand Slam singles titles than any other woman or man during the open air. Serena has played in 60 Grand Slam tournaments in her career and has won 21 of them.
#5: Lewis Hamilton 
Lewis Hamilton became an F1 driver for McLaren-Mercedes in 2007. He made his Formula One debut 12 years after his first meeting with Ron Dennis. In his first Formula 1 race Hamilton set many records. He finished second in the 2007 FIA Formula One. He was just one point away from the leader.
#4: LeBron James 
LeBron James is the greatest basketball player playing in the NBA right now.  He has 4 championship rings and is a 4-time MVP winner. James is 3rd for all-time points. In September of 2020, James was revealed as an all- NBA player for a record 16th time.
#3. Roger Federer
 Roger has won 17 Grand Slam titles, which is the most ever by a male tennis player. He is also the only male player to win 5 consecutive titles at two Grand Slam events. Additionally, Federer has won the most matches in a row. 
#2: Virat Kohli 
Kohli is the only cricketer to score 500 runs in a bilateral ODI series. Kohli is also the only Asian captain to win tests in England, Australia, and South Africa. Kohli is the fastest to who has scored in the ODI series ever in just 52 balls.
#1: Cristiano Ronaldo 
In the 2019-20 Serie A season Ronaldo has 31 goals and 5 assists in 33 matches. Ronaldo became the first player to score in three consecutive UEFA Champions League finals, a landmark achievement. In his current club, Juventus, he has continued in his top goalscoring form—, living up to the fact that he is among the best in the world of football.
Leave a Comment
Roxbury Review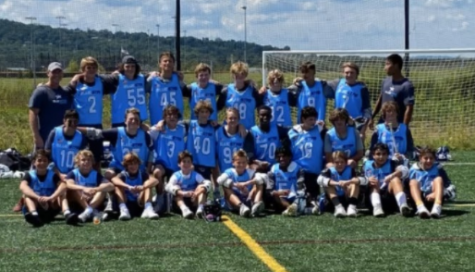 Jacob Gulick, Editor
Jacob Gulick is a new and up-and-coming journalist who has many pieces: one being him interviewing a new teacher, which is truly helpful. When writing,...