Chadwick "Black Panther" Boseman's Heartbreaking Death
Introduction
On Friday, August 28th, 2020, American actor Chadwick Boseman sadly passed away from Stage 4 colon cancer. He was 43 when he passed away, and it was confirmed by his wife that his family was by his bedside at the time of his death. Chadwick Boseman was an inspiration to many young fans and always will be. His legacy will continue to live on.
Boseman's Upbringing 
Chadwick Boseman was born on November 29, 1976, in Anderson, South Carolina. He was the youngest of three boys and lived with his mom and dad, Carolyn and Leroy. Carolyn was a nurse and Leroy worked for an agricultural conglomerate and had a side job as an upholsterer. Boseman saw how hard his father worked and was inspired to work just as hard as him. Every time he worked he would think of dad to motivate him. Boseman never thought Hollywood was in his future. Boseman was subject to a lot of judgment because of his parent's working class status. He was also in an environment where racism was common. In an interview with Rolling Stone in 2018, he said he was attacked with racial slurs for just walking down the street as a child.
In high school, Boseman played basketball at a serious level and was good at it. His upbringing was rough, but he became inspired by storytelling when his friend and teammate was shot and killed. From this tragic event, Boseman found a passion for storytelling, and he wanted to continue it. He wanted to become something big;, he had a dream to be a director and enrolled at Howard University to pursue it. After graduating, he moved to New York and wrote and directed many plays. Boseman always thought he would be a director, but a role in the family series "Lincoln Heights" brought him to Los Angeles. There, he soon felt an urge to pursue acting. He got his first main role at age 35 as Jackie Robinson in the movie "42." Little did he know so many people would start to look up to him because of his work.
Black Panther Achievements
The first black superhero role, "Black Panther," was given to Chadwick Boseman because of how hard he worked and how strong of an actor even a person he was. He had his biggest hit in 2018 when the movie "Black Panther" came out. This movie had a big impact on millions of lives. The movie highlighted empowerment and showed appreciation toward both black culture in the U.S. and African culture. After this movie, he was cast in two "Avenger" films: "Avengers: Infinity War" and "Avengers: Endgame." The sequel "Black Panther II" was scheduled to be released in 2022, but it is unclear how they are going to go without Boseman. Fans everywhere have responded to this news saying they do not want the role to be recast. It's amazing how one person can have such a big impact on the world.
Chadwick Boseman's Death
The actor who played "Black Panther," Chadwick Boseman, found out in 2016 about his diagnosis. At the time, he had Stage 3 colon cancer that was rapidly progressing to Stage 4. That didn't slow him down. He decided to focus all of the time he had left into his acting career. He was featured in many more films while receiving chemotherapy and countless surgeries. Fans were appalled by the news of his death, many of them not even knowing he had Stage 4 colon cancer. It was said some of his colleagues and even the head of the Marvel studio, Kevin Feige, did not know he was sick. Boseman did not like to have his personal life published for the world to see. 
Remembering Chadwick Boseman aka Black Panther
Chadwick Boseman instantly became a loveable actor to many and everyone who saw his films were inspired tremendously. He helped bring attention to get black culture and was active during the Black Lives Matter Movement. As a person, Boseman wanted to educate young people, teach them right from wrong, and entertain his fans. After seeing what he could accomplish even with the circumstances, his friends, family, and fans became moved by it and wanted to help continue his legacy. People post on all social media platforms about him daily and his family will forever keep his name alive. "Hashtag Wakanda Forever," his fans would post. He had accomplished more than many and fought hard for his success. He deserved all the fame and glory he received, even though it was tragically cut short. Chadwick Boseman will always be remembered, for this legend will live on in the hearts of many.
Leave a Comment
Roxbury Review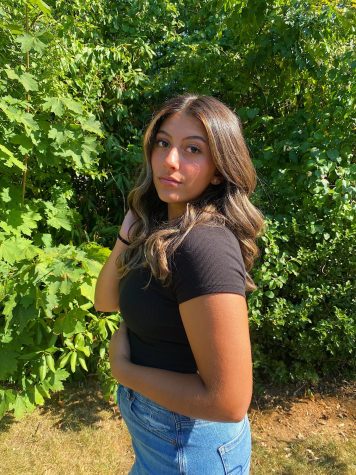 Angelina Guancione, Editor
Angelina Guancione is currently a senior at Roxbury High School and is an aspiring writer/journalist. She has been jotting down stories and articles since...