The Impact of COVID-19 on Broadway and the Theatre Industry
This has been quite a year for fans of theatre and Broadway, alike. The global pandemic forced us to close the curtain on Broadway until June 2021. 
On March 12th, Broadway announced that it would be was shut down until April 12. The Instagram account frozenbroadway said: "Under the direction of Gov. Andrew Cuomo, and for the health and well-being of our theatergoers, cast and crew, Broadway performances of FROZEN have been suspended from March 12 to April 12."
And it just kept getting worse. On April 8th, it was announced that Broadway would remain closed until June 7th. Then, September 6th. Then, January 3rd. And finally, on October 9th, it was announced that the Broadway lights would be out through May 30th. We still have no confirmed date of when Broadway will reopen. 
And it's not just Broadway that's closed. Theaters around the globe are failing due to COVID-19. School productions, professional shows, everywhere. Our own Eisenhower Middle School's Frozen Jr was canceled because of school closures. 
Now, many people wonder why this really matters. Theatre isn't an essential part of the world and survival. But for some, it's their livelihood. About 97,000 people depend on Broadway to survive. And that's not just actors. It's ushers, custodial crew, techs, managers, makeup artists, costume designers, merchandise sellers and so much more. Restaurants rely on the popularity of Broadway to get customers, and the same goes with stores. It's a huge issue that is going to affect New York for years to come. 
This is going to have a huge economic impact as well. Arts and Culture contributes a whopping $877 billion to the economy. Broadway is a huge part of that. Experts estimate that Broadway has lost over a billion dollars in ticket sales this year. 
Broadway closed during the main Tony Award season, as well. Shows like "Diana," "The Music Man," and "Six" were supposed to open in March, but didn't. The highly anticipated "Music Man" revival starring Hugh Jackman and Sutton Foster now plans to open in February 2022. To add to the changes, this season's Tony Awards is only including 3 musicals: "Jagged Little Pill," "Moulin Rouge! The Musical," and "Tina – The Tina Turner Musical."
Some shows will reopen when Broadway's lights come back on, but others will not. It was announced that "Frozen" closed on May 14th, and Broadway's favorite dark comedy "Beetlejuice" was announced to close on April 8th. Other shows that closed included "Hangman" and "Who's Afraid of Virginia Woolf?"
Broadway has never remained closed this long. Even after the tragic attacks of September 11th, Broadway reopened on September 13th. But Broadway and theatre will survive this trial. It's only intermission for Broadway, and we can't wait for the second act. 
Leave a Comment
Roxbury Review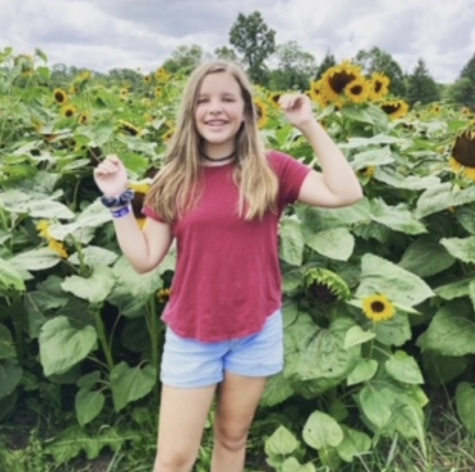 Nancy A. Bogardus, Editor
Nancy Bogardus is a freshman at RHS. She has been obsessed with stories from a very young age and has always dreamed of writing her own romance novel....