Is the Roxbury Boys Basketball's Season In Jeopardy?
Governor Murphy has put out new restrictions for indoor sports, which are jeopardizing our Boys Basketball team's season. The new restrictions will push back the start of the season to January 2, 2020 and limit the number of games played. Many people are outraged with the Governor's decision, which was made in response to the rising COVID-19 cases.  This will put all teams at a disadvantage, since they will not be able to get into their gyms earlier and will have to wait until January 2nd to play ball.
The Roxbury Freshman Coach JJ Totter touched on this subject and stated that, "Freshman year is a huge learning experience as athletes adjust to the demands of the high school schedule."
Coach Trotter continued with, "COVID will truly have the greatest impact on this senior class. The seniors in the basketball program are a truly talented and special group of young men. They have the ability to do something very special this year and it is disappointing that so much of their season runs the risk of being taken away." This is devastating news to all seniors. It is disheartening to hear that their season will be shorter than usual, but we know every single senior that is playing will give their all to make a statement.
Another big change this season is fans will not be allowed to attend the games. This is a big factor because the Roxbury fan base is huge and plays a big part in the outcome when it comes to hyping up the team and trying to distract the opposing team. 
I asked star freshman Christopher DiTrolio what he would do to stop the spread of the virus so their season goes smoothly. He said, "I would simply wear a mask and stay socially distant as much as possible… when you aren't feeling well to just stay home and recover before doing anything else.  There will always be more to do in the future." 
On to the same topic, Mr. Trotter said that he plans to keep things as simple as possible—by encouraging his team to only meet in-person when necessary, wear a mask, wash their hands, and be socially distant as much as possible. If Roxbury sticks to these guidelines, they will be the healthiest team out there!
Hopefully, if we are able to stick to these guidelines, the team won't any games this season. This is particularly important for the freshman team because they want to lay a foundation for themselves that they can play and that they are a force to be reckoned with. 
For now, the players will have to wait due to Governor Murphy's mandate for a "full and complete pause on indoor sports,"as the executive order says. "The restart of other similar indoor activities, such as exercise classes at gyms, have not been linked to any significant confirmed outbreaks." There have been at least 28 outbreaks in New Jersey tied to indoor sports, affecting 170 people, Murphy said. "Of those, 20 outbreaks and 100 cases have been tied to youth hockey."
Mr. Murphy, a sports fan himself, stated "I'm a huge sports fan, and all of our kids play sports," Murphy said. "I hope and intend to see the winter sports season in January. I want to see especially that high school senior get to play her or his last season. And I value the importance of sports for the physical and mental well-being of our children." 
Roxbury Basketball is "chomping at the bit" until they can get back onto the court and play out their season. See you there, Roxbury!
Leave a Comment
Roxbury Review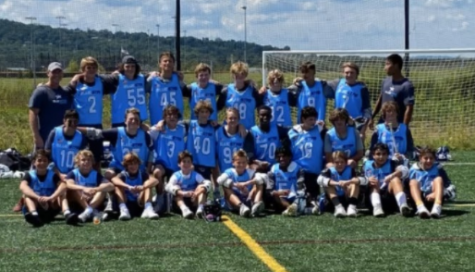 Jacob Gulick, Editor
Jacob Gulick is a new and up-and-coming journalist who has many pieces: one being him interviewing a new teacher, which is truly helpful. When writing,...