Who's New at RHS: Ms. Mitchell
 A new culinary teacher? Who could it be? Ms. Mitchell has been teaching Culinary for twenty years now, but she originally taught students at Highland Park High School. Her love of helping students and impacting their futures is what inspired her to become a teacher. 
How Ms. Mitchell Started
       While attending college, Ms. Mitchell was invited to a Home Economics class to observe and interact with students. She loved being there with the students and knew that was what she wanted to teach. Her motivation for this career choice was that there were not many certified Culinary teachers and she believes that someone had to teach kids how to cook. She also mentioned, that because there are not that many certified family consumer science teachers, it isn't available in most schools. She wanted to be able to teach and influence student's futures. Her favorite part is that it wasn't just one subject she would be teaching, she would be able to teach Child Development, Career Development, Life Skills, Culinary, Interior Design, Health Management, and much more.  
Career Before Roxbury
    While at her last school she was also a Culinary teacher and loved it then, too! Ms. Mitchell even mentioned she sees herself as the modern-day Julia Child of cooking. Julia Child was a great influence in the cooking world and Ms. Mitchell hopes to be just like her to her students. Moving forward one of Miss Mitchell's favorite aspects of working at her old school was having and catering events with her students, which she hopes to bring to Roxbury High School. Sadly, the district didn't have enough money in their budget so they had to eliminate the class.
Why Every Student Should Take Culinary
           Ms. Mitchell feels that everyone can benefit from taking culinary. Taking Culinary will not only teach you cooking skills, management skills, but it will also teach you about your health. "It impacts your health, it gives you the ability to control what you intake into your body. It impacts how you live," Ms. Mitchell stated. Culinary will help you in your daily life such as multitasking and having everything organized before doing so. By taking Culinary with Ms. Mitchell you will learn many new tools that will help you in the future.  
Why Ms. Mitchell Chose Roxbury High School
   "Food is a very expensive program and there's a lot of money allowed for it, that they had budget cuts…That's when I realized okay Roxbury had a program, a dynamic program they seem to be thriving in, let's go there!" Ms. Mitchell stated. She also mentioned in the interview that she loves it here and her experience has been wonderful. Ms. Mitchell explained, "I enjoy the fact that you've got a team group that works together to do the classes. The experience has been great!" As you can see, Culinary can have a great influence on someone's life. We hope to see all the great accomplishments Miss Mitchell has here at Roxbury High School.
Leave a Comment
Roxbury Review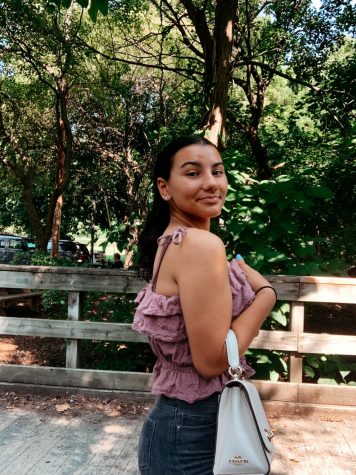 Delaney Scalera, editor
Delaney Scalera is an ambitious future TV talk show host. She is currently a Junior here at Roxbury High School. Her motto is to always stay truthful in...