Who's New at RHS: Ms. Wildermuth
The Roxbury Academic Year of 2020-21 brought in a slew of new teachers into the Roxbury School District. One of the new teachers here at Roxbury High School is Mrs. Wildermuth. Mrs. Wildermuth currently teaches Introduction to Business and Financial Literacy and she describes herself as someone who is "energetic, and active in her community." Straight out of the gate, she goes on to state why Financial Literacy is her favorite of the two to teach because of how relevant financial literacy is for sophomores, juniors, and seniors. After Mrs. W received her college degree at Montclair State, she received her full-time job in the pharmaceutical industry and then became a teacher here at Roxbury. 
Mrs. Wildermuth always knew that she wanted to be a teacher, she goes on to state "When you were young especially in the 70s when you're a girl, being a teacher, or nurses are the typical career paths." She thought that she always had wanted to teach little kids, but in her sophomore year of college, she was put in front of little kids, and came to the realization that she no longer wanted to teach little kids. 
Mrs. W believes one of the things that makes her teaching style unique is her "lack of teaching experience." Although she does lack teaching experience she will be able to use the experience from her 3 kids, as well as her past job in the pharmaceutical industry to teach her students what she knows and the best way to utilize that information. Mrs. Wildermuth stated "I do not see teaching as teaching but instead I see teaching as a way of how I can get the point across to my students for them to easily remember," which brings me to the next point. Mrs. W is not a teacher that is not big on tests and quizzes; she cares more about if students can find the information they need and then put that information into context in the real world. 
Every single teacher has strengths and weaknesses when it comes to teaching. But, Mrs.Wildermuth's strength is that she is excited to come to work every day and engage students in her lessons. She believes that she could keep students engaged while working by making sure that everything that she teaches is relevant to the students. 
COVID-19 has impacted so many people's lives across the world. But, especially for a new teacher, it is especially hard on them because they never could have imagined teaching their first year on Google Meet, only seeing a certain amount of kids per day, or even having to see your students always with masks on. COVID has been a little bit tougher for her on her end because she still has to "still learn how to be a teacher and talk to kids."  But, on the plus side of things that do come out of COVID Mrs. W stated that she as a teacher can make more personal connections with her students because there are a lot fewer students in the classroom compared to the average school day and also allow her to get used to the school environment without having to deal with 20 plus kids per class every single day. 
Teachers always have their own different opinion on what their favorite thing about teaching is. Mrs. W's favorite thing about teaching is when she teaches a subject and then the student comes back a couple of days, or weeks later to tell her that something they learned in class is that they were able to use it outside of class and that now the student knows what the topic means.
Leave a Comment
Roxbury Review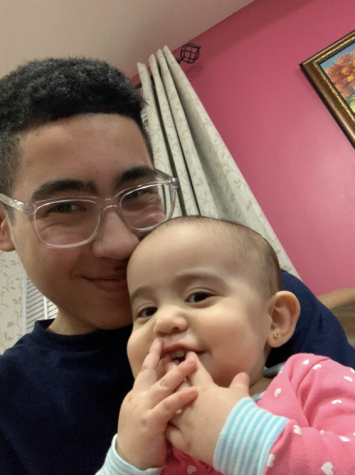 Isaiah Rosario, Editor
Isaiah Rosario is a senior at Roxbury High School, NJ who looks forward to becoming a sports journalist in the future for a news network. Isaiah is an...