Who's New at RHS: Mr. Doyle
Mr. Doyle is a patient, fun-loving, and hard-working teacher who enjoys every second of his job. He is a people-person and loves being able to interact with his coworkers and students every day. Although this is only his first year working at Roxbury High School he had many fond memories to share of his time at Eisenhower Middle School, like being nominated for teacher of the year and reading what his students have said about him (which he hangs prints out on his wall). He has also made himself active in the Roxbury High School community by Coaching girls JV tennis, JV baseball, and assisting coaching wrestling. Mr. Doyle's teaching experience goes back to teaching Civics and History at EMS, but he has known he wanted to be a teacher for almost 11 years (since the end of his junior year). 
His skill set of being a good people person, having good organization skills, content knowledge, foresight, and quick reactions are tested every day. He has faced some major challenges in his teaching experiment but none bigger than the surprise of the COVID-19 pandemic that completely changed the way he had to teach. 
Mr. Doyle has been preparing to become a teacher for a while. He went to Ramapo College in Mahwah and majored in history. He then went on to study educational technology at the American College of Education to help make the dream of educating students come true. During the interview, he said "It has made me more flexible and patient. It helps dealing with variables. [It's] made me see things differently and helps you realize that the world doesn't revolve around you. [You need to] be more of a team player… In 2 of my 5 classes I work with another teacher, so I have to be able to work with anyone. A big part is time management." His favorite part about teaching in RHS is being able to be himself without facing judgment. He loves working with his fellow teachers as he described them all as very supportive and helpful. 
His current subject area is US1 and US2, but he has taught Civics, World History, and American History throughout his career in EMS. Speaking of EMS, Mr. Doyle described how different teaching in RHS is compared to EMS. He talks about how in EMS he only taught one grade but now he teaches four different grades and, as a result, he encounters many different situations. Mr. Doyle has gotten through the hardships of teaching but, by using his expansive skill set and by keeping his mind on his main goal, he is changing his students' lives for the better.
Leave a Comment
Roxbury Review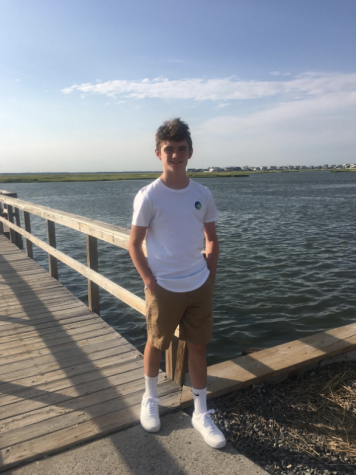 Aidan Reilly, Editor
Aidan Reilly is an up-and-coming journalist who continues to heighten his experience from his current journalism class which ads onto the classes he has...