Who's New at RHS: Mr. Livingston
Mr. Livingston is a new teacher at Roxbury High School, and I had the pleasure to interview him via email. I began this interview by asking why he decided to become teacher, because I think this is the most important question to ask of any teacher. Mr. Livingston stated, "I wanted to become a teacher because I enjoy helping students along their journey in education and in life." This answer makes me happy, because this displays the devotion that teachers have for their students.It's also interesting, because he said he enjoys helping students along their journey in education. Being a teacher is one of the most difficult jobs, especially in the beginning, because they have to learn how to work with so many students and so many personalities—and this is something that Mr. Livingston is excited to do. 
Mr. Livingston describes himself as passionate, fun, energetic, fair and understanding.
I had the pleasure of working with Mr. Livingston at the end of my junior year when he took over my English class and, based on this experience, I can totally agree with what he said; he was always in a good mood. Even when we had tests or quizzes and everyone was stressed or anxious, he always found a way to make us laugh. He made us feel comfortable before taking the tests. 
Mr. Livingston is always willing to help students. He helped me a lot with some assignments that I had difficulties with. Mr. Livingston came to Roxbury at the end of the last year and he did a great job catching up with the class and getting to know the students. 
I asked Mr. Livingston how he felt at the beginning of the year and how his experience at Roxbury is going
His answer was pretty fulfilling. He said that his experience at Roxbury High School has been truly enjoyable. He believes the student body is great, respectful, and overall he enjoys being at Roxbury High School. 
Mr. Livingston and his relationship with other RHS staff members
Mr. Livingston has also made great connections with other teachers and staff. Teachers often draw support from other teachers and can delegate tasks that help each other to teach effectively in the classroom. A good communication between teachers allows for student growth and success. 
Mr. Livingston on his philosophy of teaching 
"I believe education should be enjoyable, student driven, and create a true interest in learning. As a teacher, being the guide to help facilitate for the students and challenge them to think critically on the topic at hand." 
Mr. Livingston's philosophy on teaching makes me understand that he believes in giving students the opportunity to express themselves and have their own opinions. 
Mr. Livingston's thoughts on teaching during the COVID-19 pandemic
At the end of the interview, I asked how he is feeling about the pandemic. He answered with, "I think it's affecting every teacher from teaching the style they have." 
This has been difficult for teachers because, when the pandemic started, teachers had to change everything to make online classes work for students. Reachers at Roxbury, like Mr. Livingston, did a great job with the virtual classes. This makes me proud to be a Gael and to have the experiences I have had with the teachers at Roxbury.
Leave a Comment
Roxbury Review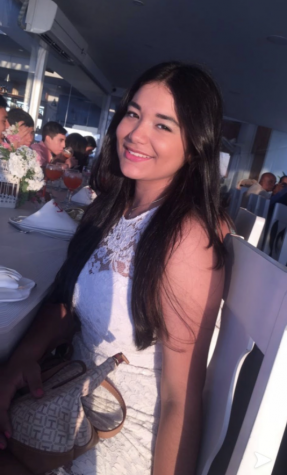 Mariajose Perez, Editor
Mariajose Perez is a Roxbury High School senior, who has interviewed new staff at Roxbury High School and is currently taking a journalism class to improve...