Who's New at RHS: Ms. Norgard
I was given the pleasure of interviewing Ms. Norgard, an excellent teacher and coach who was as friendly as she is passionate about her career. Despite the face masks that we both wore, I could see her face light up the moment we started discussing her position as an English teacher and the JV girls soccer coach here at Roxbury.
Uniquely, Ms. Norgard is both a new and returning teacher to Roxbury High School. She left the district about two years ago, but thankfully for all of us, she has returned this year. Ms. Norgard was a delight to talk to, and it was very clear that she answered every question with an enthusiasm that few possess.
After the interview concluded, we continued to chat, which gave me an opportunity to learn more about her – not just as a staff member at Roxbury, but also as a person. The passion she has for English and the students at Roxbury flowed through her and became increasingly evident in her words.
During the interview I asked Ms. Norgard to describe herself in 3 words, to which she replied that she believed she was lively, determined, and curious. After only talking to her for a short amount of time, I can confidently say that she is definitely all of these things and more! Get to know Ms. Norgard a little bit better below…
What Led Ms. Norgard to be a Teacher
Originally Ms. Norgard wanted to be a journalist, but her junior and senior year English teacher had such a positive influence on her that she was convinced to go down the teaching route. Prior to her job at Roxbury, she got her undergraduate degree from Montclair State University and her graduate degree from Centenary University.
Why Ms. Norgard Chose Roxbury
While growing up, Ms. Norgard always had a fascination with Roxbury. She grew up knowing Mr. Lorusso and his daughter and thought that it was so cool that he worked in a school that was so much bigger than the school she attended as a teenager. She even stated in the interview, "I was familiar with the area growing up and have always felt at home and comfortable here."
Effects of COVID-19
During the interview I asked Ms. Norgard about the effect that COVID-19 has had on her teaching and coaching, to which she replied, "The virus definitely throws us a curveball! I feel like it was a difficult start with getting to know all of my students, but it's starting to come around now that we're about two months into the year. I've definitely had to alter my teaching style a bit with managing virtual and in-person students at once, but all of the teachers are in the same boat and I think we're making the best out of the situation. As far as coaching, we have to make sure we're following protocols all the time, so it's definitely been a team effort."
Why Ms. Norgard Decided to Coach
Ms. Norgard is currently the JV girls soccer coach at RHS, as well as the coach of a club field hockey team, but has previously coached high school field hockey and track. She always knew that she wanted to be a coach, as she played field hockey, track, and soccer growing up. After playing field hockey at Montclair State University, she knew that coaching was the perfect way to stay involved in sports and make an impact on younger athletes.
Fun Facts about Ms. Norgard
This year marks her 8th year of teaching.

She teaches senior English classes: crime/mystery and horror fiction, as well as a section of freshman English.

She is a Virgo.

If she wasn't a teacher she would either be a journalist or working with animals.

Her favorite books are

The Great Gatsby

by F. Scott Fitzgerald and

True Blood

by Truman Capote.

She loves outdoorsy activities like snowboarding and hiking.
Leave a Comment
Roxbury Review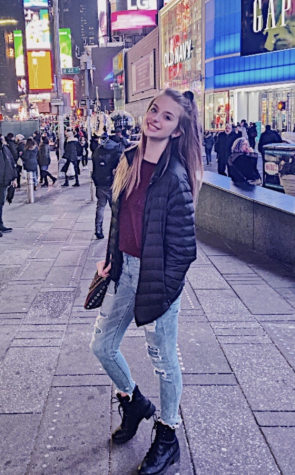 Sammy Olander, Editor
Samantha Olander is an aspiring journalist. She is a junior at Roxbury High School and a new writer for the Roxbury Review. She plays high school and club...