Roxbury Field Hockey Continues to Impress
After gaining the title "conference champs" at the conclusion of the 2019 season, the lady Gaels storm the field in 2020 looking just as good as they did last season. Despite losing some key seniors last season in Taylor Woolford–who recorded 17 goals–and goalie Toni Cacopardo–who recorded 175 saves–along with other important seniors on the roster, Roxbury's 2020-2021 Field Hockey team has continued to impress in weeks 1 and week 2 of this new season.
Game 1 @Morris Knolls
The season opener at Morris Knolls on October 6th proved to be a game of defense and goaltending. The game remained 0-0 through all of the regulation time, with Roxbury's Goalie Kylie Roberts' recorded 3 saves and Morris Knoll's goalie Margaret Jancerek's recorded 11 saves. Heading into OT, the defense was still the biggest factor for both teams. Shutouts were the story at the end of the game. It remained a tie game at the end of OT. Heading home on the bus that day, the team realized a tie was enough to capture the same title as they did last season. 
Game 2 @Sparta 
Two days later, on October 8th, the Lady Gaels hit the road yet again for back-to-back away games to start their season. This time they traveled north to face Sparta. This was Sparta's first game of the season and, to top it off, they had home-field advantage. Sparta Field Hockey has been known for its tough-and-rough play style, but BOOM! Roxbury senior Andrea Ponce scored the team's first goal of the season in Quarter 1. With this goal and stellar defense by Roxbury, the score was 1-0 at Sparta at the half. Picking up where Roxbury left off in the first half, the Lady Gaels added another point to the scoreboard in the third quarter with a goal by (Junior) Zoe Pickett. Her sister, (Senior) MacKenzie Pickett, was also a key role player on the Gaels' defense. At this point in the game, the Gaels were up 2-0 going into the fourth quarter. (Junior) Casey Coleman added a score for Sparta, the first goal of the season against Roxbury's tough defense. That one goal by Sparta was just not enough to beat Roxbury's impressive roster. The Gaels remain undefeated after completing their second game with a record of 1-0-1. 
Game 3 "Senior Night" vs Morris Hills
October 12th: a cold, misty, and windy night. At 5:45 pm, the Roxbury Field Hockey Seniors hit the field with their families and loved ones to celebrate their senior night. And soon after they took the field once more to beat Morris Hills, making their senior night even more memorable. Up against 13 mph winds and a (0-2) Morris Hills team, the Roxbury girls showed no weakness to weather or Morris Hills. It was an absolute one-sided affair. One goal in the first quarter, one goal in the second quarter, two goals in the third quarter, and one more goal in the fourth quarter. Roxbury's offense exploded throughout the entire game, and their defense showed their strength as they shut out Morris Hills from scoring any goal. (Senior) Grace Loizou had herself an impressive night, recording a hat trick with three goals. (Senior) Shannon Brady added a goal and an assist, and (Junior) Zoe Pickett added another goal. Senior Captains Carly Corrente and Nicole Lisa, midfielders who ran up and down the field the entire game, smiled with pride at their team as they clinched another victory. 
For more sports updates, follow Gael Vision on:
Instagram: roxburygaelvision
Twitter: Gaelvision
For Roxbury Field Hockey statistics click here: https://highschoolsports.nj.com/school/succasunna-roxbury/fieldhockey/season/2020-2021
Leave a Comment
Roxbury Review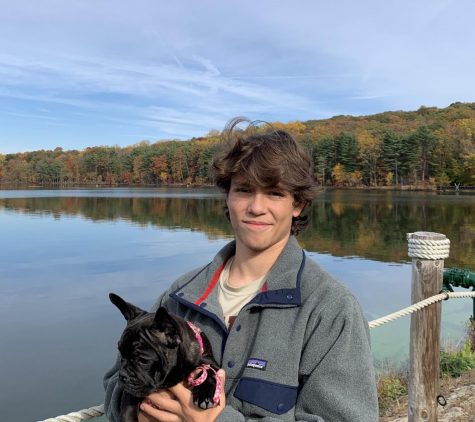 Chris Nunez, Contributor
Chris is a junior at Roxbury High School who enjoys playing lacrosse and making exciting and entertaining videos with his TV class. Chris is a new contributor...