What should YOU Binge During Quarantine?
Take our quiz to find out!
1) Which would you prefer to watch?
Movies

(go to question 2)

Shows

(go to question 3)
2) What genre of movies do you like?
Drama

(go to question 4)

Horror/Thriller

(go to question 5)

Comedy

(go to question 6)

Romance

(go to question 7)
3) What genre of shows do you like?
Drama

(go to question 8)

Horror/Thriller

(go to question 9)

Comedy

(go to question 10)

Romance

(go to question 11)
4) What interests you more?
Something based off of history

(go to question 12)

Something based on a celebrity

(go to question 13)

Something to creep you out

(go to question 14)

Something to make you cry

(go to question 15)
5) What kind of 'scared' do you like?
Eerie

(go to question 16)

Supernatural

(go to question 17)

Jumpscare

(go to question 18)

Possession

(go to question 19)

To death

(go to option 1)
6) What makes you laugh?
Ridiculous movies

(go to question 20)

Romantic Comedy

(go to question 21)

Teen Comedies

(go to question 22)

Will Ferrell (

question 23)
7) What do you want from a movie?
A good cry

(go to question 24)

A happy ending

(go to question 25)

Quirky teen movies

(go to question 26)

Romantic Comedy

(go to question 27)
8) What are you looking to binge?
Crime/Detective

(go to question 28)

Teen Drama

(go to question 29)

Science Fiction

(go to question 30)

History

(go to question 31)
9) How are you trying to be scared?
Ghosts, demons, etc.

(go to question 32)

On the edge of my seat

(go to question 33)

Dark Horror

(go to question 34)

Dramatically

(go to question 35)
10) What makes you laugh?
Animation

(go to question 36)

Mockumentaries

(go to question 37)

Satire

(go to question 38)

Sitcoms

(go to question 39)
11) What type of romance is for you?
Heartfelt

(go to question 40)

Reality TV

(go to question 41)

Goofy

(go to question 42)

Dramatic

(go to question 43)
12) Which do you prefer?
More emotion focusing on one character

(go to option 2)

Accurate historical representation

(go to option 3)
13) Which song do you like better?
We are the Champions by Queen

(go to option 4)

Don't go Breaking my Heart by Elton John

(go to option 5)
14) Which do you prefer?
Horrors of Society

(go to option 6)

Anticipation

(go to option 7)
15) A lot of romance or minimal romance?
A lot

(go to option 8)

Minimal

(go to option 9)
16) What scares you more?
Fear of the unknown

(go to option 10)

Fear of death

(go to option 11)
17) Are nightmares a tolerable side effect?
No…

(go to option 12)

YES

(go to option 13)
18) How are you with clowns?
Cry when I see one

(go to option 14)

Don't mind

(go to option 15)

Not a fan, but tolerable

(go to option 6)
19) Which do you prefer?
Possessed people/children

(go to option 16)

Possessed objects

(go to option 17)
20) Which movie series do you like better?
Star Wars

(go to option 18)

James Bond

(go to option 19)
21) Be honest. Who's movie would you rather see?
Owen Wilson

(go to option 20)

Ryan Reynolds

(go to option 21)
22) What do you hate most about high school?
Cliques

(go to option 22)

Relationships

(go to option 23)
23) So you like Will Ferrell. Good choice. Why?
His athleticism.

(go to option 24)

His authority.

(go to option 25)

His service to our country.

(go to option 26)

His collaborations.

(go to option 27)
24) Why shouldn't the main characters get together?
Timing

(go to option 28)

Illness

 (go to option 29)
25) What's an ideal setting?
Los Angeles

(go to option 30)

High School

(go to option 31)
26) Choose a song:
My Best Friend's Brother by Victoria Justice

(go to option 32)

Love Story by Taylor Swift

(go to option 33)
27) How do the characters find love?
Fate

(go to option 34)

Facing challenges

(go to option 35)
28) Do you prefer straight crime or hints of history?
Straight crime.

(go to option 36)

History is okay.

(go to option 37)
29) What is more interesting?
Mystery

(go to option 38)

Tackling Teenage Reality

(go to option 39)
30) This show should leave you:
Questioning life

(go to option 40)

Fighting Monsters in your head

(go to option 41)
31) Easy question.
On the sea

(go to option 42)

In a palace

(go to option 43)
32) Run away or towards demons?
Away

(go to option 44)

Towards

(go to option 45)
33) What scares you more?
An unstable mind

(go to option 46)

The Unknown

(go to option 47)
34) Hearing campfire stories or living them?
Hearing

(go to option 48)

Living

(go to option 49)
35) Choose.
Small fish in a big pond.

(go to option 50)

Big fish in a small pond.

(go to option 51)
36) What's your favorite science class?
Biology

(go to option 52)

Physics

(go to option 53)
37) Rock or Paper?
Rock

(go to option 54)

Paper

(go to option 55)
38) Making fun of the present or the future?
Present

(go to option 56)

Future (

go to option 57)
39) What does your friend group look like?
We do everything together

(go to option 58)

We never know what to expect

(go to option 59)
40) Can you follow multiple stories at once?
No, I just want one to focus on (

go to option 60)

Yeah that's not a problem

(go to option 61)
41) Even or odd?
Even

(go to option 62)

Odd

(go to option 63)
42) When's your birthday?
January through June

(go to option 64)

July through December

(go to option 65)
43) Be honest… Are doctors cute?
Yes!

(go to option 66)

Not for me.

(go ot option 67)
Results:
*creator's favorite
All descriptions courtesy of Wikipedia.
Option 1: Antrum (Movie)
To rescue the soul of their deceased dog, a young boy and girl enter a forest and dig a hole to hell.
**WARNING** 
This movie is rumored to have caused suspicious disappearances of individuals after viewing, watch at your own risk.
Option 2: 1917 (Movie)
During World War I, two British soldiers — Lance Cpl. Schofield and Lance Cpl. Blake — receives seemingly impossible orders. In a race against time, they must cross over into enemy territory to deliver a message that could potentially save 1,600 of their fellow comrades — including Blake's own brother.
Option 3: Dunkirk (Movie)
In May 1940, Germany advanced into France, trapping Allied troops on the beaches of Dunkirk. Under air and ground cover from British and French forces, troops were slowly and methodically evacuated from the beach using every serviceable naval and civilian vessel that could be found. At the end of this heroic mission, 330,000 French, British, Belgian and Dutch soldiers were safely evacuated.
Option 4: Bohemian Rhapsody* (Movie)
Freddie Mercury — the lead singer of Queen — defies stereotypes and convention to become one of history's most beloved entertainers. The band's revolutionary sound and popular songs lead to Queen's meteoric rise in the 1970s. After leaving the group to pursue a solo career, Mercury reunites with Queen for the benefit concert Live Aid — resulting in one of the greatest performances in rock 'n' roll history.
Option 5: Rocket Man (Movie)
Young Reginald Dwight changes his name to Elton John and collaborates with singer-songwriter Bernie Taupin to become one of the most iconic figures in pop history. Set to his most beloved songs, it's the epic musical story of Elton John, his breakthrough years in the 1970s and his fantastical transformation from shy piano prodigy to international superstar.
Option 6: Joker (Movie)
Forever alone in a crowd, failed comedian Arthur Fleck seeks connection as he walks the streets of Gotham City. Arthur wears two masks — the one he paints for his day job as a clown, and the guise he projects in a futile attempt to feel like he's part of the world around him. Isolated, bullied and disregarded by society, Fleck begins a slow descent into madness as he transforms into the criminal mastermind known as the Joker.
Option 7: Get Out (Movie)
Now that Chris (Daniel Kaluuya) and his girlfriend, Rose (Allison Williams), have reached the meet-the-parents milestone of dating, she invites him for a weekend getaway upstate with Missy and Dean. At first, Chris reads the family's overly accommodating behavior as nervous attempts to deal with their daughter's interracial relationship, but as the weekend progresses, a series of increasingly disturbing discoveries lead him to a truth that he never could have imagined.
Option 8: Titanic (Movie)
James Cameron's "Titanic" is an epic, action-packed romance set against the ill-fated maiden voyage of the R.M.S. Titanic; the pride and joy of the White Star Line and, at the time, the largest moving object ever built. She was the most luxurious liner of her era — the "ship of dreams" — which ultimately carried over 1,500 people to their death in the ice cold waters of the North Atlantic in the early hours of April 15, 1912
Option 9: Forrest Gump (Movie)
Slow-witted Forrest Gump (Tom Hanks) has never thought of himself as disadvantaged, and thanks to his supportive mother (Sally Field), he leads anything but a restricted life. Whether dominating on the gridiron as a college football star, fighting in Vietnam or captaining a shrimp boat, Forrest inspires people with his childlike optimism. But one person Forrest cares about most may be the most difficult to save — his childhood love, the sweet but troubled Jenny (Robin Wright).
Option 10: As Above so Below* (Movie)
Archaeologist Scarlett Marlowe (Perdita Weeks) has devoted her whole life to finding one of history's greatest treasures: Flamel's Philosopher's Stone. According to legend, the artifact can grant eternal life and turn any metal into gold. When she learns that the stone is hidden underground in the Catacombs of Paris, she assembles a crew to guide and document her historic mission. As they begin their descent, the team-members have no way of knowing that they are entering their own personal hell.
Option 11: Us (Movie)
Accompanied by her husband, son and daughter, Adelaide Wilson returns to the beachfront home where she grew up as a child. Haunted by a traumatic experience from the past, Adelaide grows increasingly concerned that something bad is going to happen. Her worst fears soon become a reality when four masked strangers descend upon the house, forcing the Wilsons into a fight for survival. When the masks come off, the family is horrified to learn that each attacker takes the appearance of one of them.
Option 12: The Babadook (Movie)
A single mother, plagued by the violent death of her husband, battles with her son's fear of a monster lurking in the house, but soon discovers a sinister presence all around her.
Option 13: The Conjuring (Movie)
In 1970, paranormal investigators and demonologists Lorraine (Vera Farmiga) and Ed (Patrick Wilson) Warren are summoned to the home of Carolyn (Lili Taylor) and Roger (Ron Livingston) Perron. The Perrons and their five daughters have recently moved into a secluded farmhouse, where a supernatural presence has made itself known. Though the manifestations are relatively benign at first, events soon escalate in horrifying fashion, especially after the Warrens discover the house's macabre history.
Option 14: Split (Movie)
Though Kevin (James McAvoy) has evidenced 23 personalities to his trusted psychiatrist, Dr. Fletcher (Betty Buckley), there remains one still submerged who is set to materialize and dominate all of the others. Compelled to abduct three teenage girls led by the willful, observant Casey, Kevin reaches a war for survival among all of those contained within him — as well as everyone around him — as the walls between his compartments shatter.
Option 15: IT (Movie)
Seven young outcasts in Derry, Maine, are about to face their worst nightmare — an ancient, shape-shifting evil that emerges from the sewer every 27 years to prey on the town's children. Banding together over the course of one horrifying summer, the friends must overcome their own personal fears to battle the murderous, bloodthirsty clown known as Pennywise.
Option 16: Insidious (Movie)
Parents (Patrick Wilson, Rose Byrne) take drastic measures when it seems their new home is haunted and their comatose son (Ty Simpkins) is possessed by a malevolent entity.
Option 17: Annabelle (Movie)
John Form (Ward Horton) thinks he's found the perfect gift for his expectant wife, Mia (Annabelle Wallis) : a vintage doll in a beautiful white dress. However, the couple's delight doesn't last long: One terrible night, devil worshippers invade their home and launch a violent attack against the couple. When the cultists try to summon a demon, they smear a bloody rune on the nursery wall and drip blood on Mia's doll, thereby turning the former object of beauty into a conduit for ultimate evil.
Option 18: Spaceballs (Movie)
In a distant galaxy, planet Spaceball has depleted its air supply, leaving its citizens reliant on a product called "Perri-Air." In desperation, Spaceball's leader President Skroob (Mel Brooks) orders the evil Dark Helmet (Rick Moranis) to kidnap Princess Vespa (Daphne Zuniga) of oxygen-rich Druidia and hold her hostage in exchange for air. But help arrives for the Princess in the form of renegade space pilot Lone Starr (Bill Pullman) and his half-man, half-dog partner, Barf (John Candy).
Option 19: Austin Powers – International Man of Mystery (Movie)
Spoof of 1960s spy films, in which cryogenically preserved secret agent Austin Powers is revived in the present day. Once synonymous with style, Powers soon realises that his vocabulary, fashion sense and attitude to women are hopelessly out of date. He enlists the help of a decidedly modern woman to help him adjust to the 1990s and vanquish his old adversary, Dr Evil.
Option 20: Wedding Crashers (Movie)
Jeremy (Vince Vaughn) and John (Owen Wilson) are divorce mediators who spend their free time crashing wedding receptions. For the irrepressible duo, there are few better ways to drink for free and bed vulnerable women. So when Secretary of the Treasury William Cleary (Christopher Walken) announces the wedding of his daughter, the pair make it their mission to crash the high-profile event. But their game hits a bump in the road when John locks eyes with bridesmaid Claire (Rachel McAdams).
Option 21: Just Friends (Movie)
High school student Chris Brander (Ryan Reynolds) loves his best friend, Jamie Palamino (Amy Smart). He finally confesses his feelings, but she tells him that she just wants to be friends, and he leaves town in shame. Ten years later, Chris is a successful record executive and involved with self-absorbed pop star Samantha James (Anna Faris). He still pines for Jamie, though, and when his plans to go to Paris for the holidays fall through, he returns to his hometown to try and win her heart.
Option 22: Mean Girls (Movie)
Teenage Cady Heron (Lindsay Lohan) was educated in Africa by her scientist parents. When her family moves to the suburbs of Illinois, Cady finally gets to experience public school and gets a quick primer on the cruel, tacit laws of popularity that divide her fellow students into tightly knit cliques. She unwittingly finds herself in the good graces of an elite group of cool students dubbed "the Plastics," but Cady soon realizes how her shallow group of new friends earned this nickname.
Option 23: The Edge of Seventeen (Movie)
Everyone knows that growing up is hard, and life is no easier for high school junior Nadine (Hailee Steinfeld), who is already at peak awkwardness when her all-star older brother Darian (Blake Jenner) starts dating her best friend Krista (Haley Lu Richardson). All at once, Nadine feels more alone than ever, until an unexpected friendship with a thoughtful teen (Hayden Szeto) gives her a glimmer of hope that things just might not be so terrible after all
Option 24: Blades of Glory (Movie)
Chazz Michael Michaels and Jimmy MacElroy are the two titans of skating. At the Winter Olympics, the fierce rivals find themselves forced to share the winner's podium when they both score gold. The shower of glory doesn't last for long, as the pair descend into fisticuffs and set the mascot on fire. Disgraced and stripped of their medals, they can get back on ice, but only if they dance with each other as a pair.
Option 25: Anchorman (Movie)
Hotshot television anchorman Ron Burgundy (Will Ferrell) welcomes upstart reporter Veronica Corningstone (Christina Applegate) into the male-dominated world of 1970s broadcast news — that is, until the talented female journalist begins to outshine Burgundy on air. Soon he grows jealous, begins a bitter feud with Veronica and eventually makes a vulgar slip on live TV that ruins his career. However, when an outrageous story breaks at the San Diego Zoo, Ron may get a chance to redeem himself.
Option 26: The Other Guys (Movie)
Unlike their heroic counterparts on the force, desk-bound NYPD detectives Gamble (Will Ferrell) and Hoitz (Mark Wahlberg) garner no headlines as they work day to day. Gamble relishes his job as a paper pusher, but Hoitz is itching to get back on the street and make a name for himself. When a seemingly minor case turns out to be a big deal, the two cops get the opportunity to finally prove to their comrades that they have the right stuff.
Option 27: Step Brothers (Movie)
Brennan Huff (Will Ferrell) and Dale Doback (John C. Reilly) have one thing in common: they are both lazy, unemployed leeches who still live with their parents. When Brennan's mother and Dale's father marry and move in together, it turns the overgrown boys' world upside down. Their insane rivalry and narcissism pull the new family apart, forcing them to work together to reunite their parents.
Option 28: Call Me By Your Name* (Movie)
It's the summer of 1983, and precocious 17-year-old Elio Perlman is spending the days with his family at their 17th-century villa in Lombardy, Italy. He soon meets Oliver, a handsome doctoral student who's working as an intern for Elio's father. Amid the sun-drenched splendor of their surroundings, Elio and Oliver discover the heady beauty of awakening desire over the course of a summer that will alter their lives forever.
Option 29: 5 Feet Apart (Movie)
Seventeen-year-old Stella spends most of her time in the hospital as a cystic fibrosis patient. Her life is full of routines, boundaries and self-control — all of which get put to the test when she meets Will, an impossibly charming teen who has the same illness. There's an instant flirtation, though restrictions dictate that they must maintain a safe distance between them. As their connection intensifies, so does the temptation to throw the rules out the window and embrace that attraction.
Option 30: La La Land (Movie)
Sebastian (Ryan Gosling) and Mia (Emma Stone) are drawn together by their common desire to do what they love. But as success mounts they are faced with decisions that begin to fray the fragile fabric of their love affair, and the dreams they worked so hard to maintain in each other threaten to rip them apart.
Option 31: Love Simon (Movie)
Everyone deserves a great love story, but for 17-year-old Simon Spier, it's a little more complicated. He hasn't told his family or friends that he's gay, and he doesn't know the identity of the anonymous classmate that he's fallen for online. Resolving both issues proves hilarious, terrifying and life-changing.
Option 32: The Kissing Booth (Movie)
A high school student finds herself face-to-face with her long-term crush when she signs up to run a kissing booth at the spring carnival.
Option 33: To All The Boys I've Loved Before (Movie)
To All the Boys I've Loved Before is a 2018 American teen romance film directed by Susan Johnson and written by Sofia Alvarez. The film stars Lana Condor, Noah Centineo, Janel Parrish, Anna Cathcart, Madeleine Arthur, Emilija Baranac, Israel Broussard and John Corbett.
Option 34: Blended (Movie)
Recently divorced mom Lauren (Drew Barrymore) and widowed dad Jim (Adam Sandler) let their friends push them into a blind date, which goes disastrously wrong. Unsurprisingly, neither wants to see the other ever again. However, fate intervenes when both Jim and Lauren, unbeknown to each other, purchase one-half of the same vacation package at a South African resort; they and their children are forced to share the same suite and participate in a slew of family activities together.
Option 35: Crazy Rich Asians (Movie)
Rachel Chu is happy to accompany her longtime boyfriend, Nick, to his best friend's wedding in Singapore. She's also surprised to learn that Nick's family is extremely wealthy and he's considered one of the country's most eligible bachelors. Thrust into the spotlight, Rachel must now contend with jealous socialites, quirky relatives and something far, far worse — Nick's disapproving mother.
Option 36: Criminal Minds (Show)
An elite squad of FBI profilers analyzes the country's most-twisted criminal minds, anticipating the perpetrators' next moves before they can strike again. Each member of the "mind hunter" team brings his or her expertise to pinpoint predators' motivations and identify emotional triggers to stop them. The core group includes an official profiler who is highly skilled at getting into the minds of criminals, a quirky genius, the former media liaison who manages to adeptly balance family life and the job, and a computer wizard.
Option 37: Peaky Blinders (Show)
Britain is a mixture of despair and hedonism in 1919 in the aftermath of the Great War. Returning soldiers, newly minted revolutions and criminal gangs are fighting for survival in a nation rocked by economic upheaval. One of the most powerful gangs of the time is the Peaky Blinders, run by returning war hero Thomas Shelby and his family. But Thomas has bigger ambitions than just running the streets. When a crate of guns goes missing, he recognizes an opportunity to advance in the world because crime may pay but legitimate business pays better. Trying to rid Britain of its crime is Inspector Chester Campbell, who arrives from Belfast to try to achieve that goal.
Option 38: Pretty Little Liars (Show)
It has been one year since Alison, then the queen bee of the bunch, went missing. Spencer, Aria, Hanna and Emily have gone on with their lives, though they've grown apart. Now in high school, each girl finds herself facing a new set of challenges when anonymous text messages from `A' threaten to expose all of their secrets – both old secrets the girls were sure only Alison knew, and newer secrets developed after Alison's disappearance. Who is `A' and how does he or she know the things he or she knows? `Pretty Little Liars' is based on the series of novels by Sara Shepard.
Option 39: Euphoria* (Show)
An American adaptation of the Israeli show of the same name, "Euphoria" follows the troubled life of 17-year-old Rue, a drug addict fresh from rehab with no plans to stay clean. Circling in Rue's orbit are Jules, a transgender girl searching for where she belongs; Nate, a jock whose anger issues mask sexual insecurities; Chris, a football star who finds the adjustment from high school to college harder than expected; Cassie, whose sexual history continues to dog her; and Kat, a body-conscious teen exploring her sexuality. As the classmates struggle to make sense of their futures, the series tackles the teenage landscape of substance-enhanced parties and anxiety-ridden day-to-day life with empathy and candor.
Option 40: Black Mirror (Show)
Featuring stand-alone dramas — sharp, suspenseful, satirical tales that explore techno-paranoia — "Black Mirror" is a contemporary reworking of "The Twilight Zone" with stories that tap into the collective unease about the modern world. Each story features its own cast of unique characters, including stars like Bryce Dallas Howard ("The Help"), Alice Eve, Gugu Mbatha-Raw, Tom Cullen and Jerome Flynn ("Game of Thrones"). Joe Wright, Dan Trachtenberg, and James Watkins are among the featured directors.
Option 41: Stranger Things (Show)
This thrilling Netflix original drama stars Golden Globe-winning actress Winona Ryder as Joyce Byers, who lives in a small Indiana town in 1983 — inspired by a time when tales of science fiction captivated audiences. When Joyce's 12-year-old son, Will, goes missing, she launches a terrifying investigation into his disappearance with local authorities. As they search for answers, they unravel a series of extraordinary mysteries involving secret government experiments, unnerving supernatural forces, and a very unusual little girl.
Option 42: Vikings (Show)
Viking Ragnar Lothbrok is a young farmer and family man who is frustrated by the policies of Earl Haraldson, his local chieftain who sends his Viking raiders east to the Baltic states and Russia, whose residents are as poor as the Norsemen. Ragnar wants to head west, across the ocean, to discover new civilizations. With assistance from his friend Floki, Ragnar builds a faster, sleeker fleet of boats to help him make it to the Western world. Through the years Ragnar, who claims to be a direct descendant of the god Odin, continues to struggle with Earl until the two face each other in a final battle for supremacy. Following that, Ragnar goes on a search for new lands to conquer.
Option 43: Downton Abbey (Show)
This historical drama follows the lives of the Crawley family and their servants in the family's Edwardian country house. The programme begins with the 1912 sinking of the Titanic, which leaves Downton Abbey's future in jeopardy, as Lord Grantham's presumptive heir — his cousin James — and his son, Patrick, die aboard the ship, leaving him without a male offspring to take over the throne upon his death. As a result, Lord Grantham must search for a new heir. As the programme progresses through the decade, other historical events happen leading up to Lord Grantham declaring in 1914 that Britain is at war with Germany, marking the beginning of World War I, which becomes a major plot on the programme.
Option 44: A Haunting (Show)
Re-enactments of apparent collisions between the spirit plane and the real world are presented in each one-hour episode of "A Haunting," accompanied by commentary by the people who supposedly experienced such spooky incidents as demonic activity, poltergeist attacks, possessions, and cryptic visions. Paranormal investigators, priests, shamans, and psychic mediums provide insight into the stories as well.
Option 45: Supernatural (Show)
This haunting series follows the thrilling yet terrifying journeys of Sam and Dean Winchester, two brothers who face an increasingly sinister landscape as they hunt monsters. After losing their mother to a supernatural force, the brothers were raised by their father as soldiers who track mysterious and demonic creatures. Violent memories and relationship-threatening secrets add additional burdens on Sam and Dean as they investigate all things that go bump in the night. As old tricks and tools are rendered useless and friends betray them, the brothers must rely on each other as they encounter new enemies.
Option 46: Hannibal (Show)
Gifted criminal profiler Will Graham has a unique way of thinking that allows him to empathize with anyone, including psychopaths. But while helping the FBI pursue a particularly complicated serial killer, he decides he could use some help and enlists the brilliant psychiatrist Hannibal Lecter. The two form a partnership and it seems that there is no villain they can't catch together, but Lecter harbors a dark secret. His own brilliant mind has gone to the dark side and he has more in common with the criminals they hunt than Will could possibly imagine.
Option 47: American Horror Story (Show)
"American Horror Story" was created by the co-creators of "Glee," but the shows have little in common besides that. The show revolves around the Harmons, a family of three, who move from Boston to Los Angeles in order to reconcile past anguish. What the Harmons don't know is that the house they've moved into is haunted. But it's not haunted by Casperesque friendly ghosts — it's haunted by demonic creatures. The creatures have a history of not only spooking the house's residents but also devouring them. After living in this house, family patriarch and psychiatrist, Ben, may need a shrink of his own.
Option 48: Are You Afraid of the Dark? (Show)
This spooky anthology series for kids recounts ghost stories told by the young members of the Midnight Society as they gather around a campfire. Each episode opens with members of the Midnight Society at their secret spot in the woods, where they prepare their fire and the night's storyteller announces the title of his or her offering. However, the cameras soon leave the storyteller and switch to the tale being told.
Option 49: Grimm (Show)
Portland detective Nick Burkhardt, descended from a long line of warriors known as Grimms, defends his city from magical creatures known as Wesen, which are part human and part animal. Fighting alongside his partner, Hank, colleague Sergeant Wu and friends Monroe and Rosalee, Nick faces off against internal and external forces, including his police captain, Sean Renard.
Option 50: Bates Motel (Show)
After the death of her husband, Norma Bates buys a motel in the picturesque coastal town of White Pine Bay, giving herself and teenage son Norman a chance to begin anew. Shy Norman is reluctant at first, but with the help of his mother — with whom he shares an intensely close relationship — the boy begins to open up to others and make new friends. Some locals, however, aren't as friendly and welcoming to the Bates, who discover that because White Pine Bay isn't as peaceful as it appears, they are forced to do whatever it takes to survive. The drama series, from executive producers Carlton Cuse ("Lost") and Kerry Ehrin ("Friday Night Lights") and inspired by the seminal 1960 horror film "Psycho," explores the formative years of Norman Bates and how his complicated bond with his mother forged a serial killer.
Option 51: Hemlock Grove (Show)
Based on the book by Brian McGreevy and executive produced by acclaimed horror master Eli Roth ("Hostel"), this Netflix original series revolves around the peculiar residents — and killer creatures — of Hemlock Grove, a dilapidated former steel town in Pennsylvania. The town is composed of people living in poverty and those who are extremely wealthy — and everyone has a secret. As sinister mysteries unfold, a seamier side of the town is exposed, placing suspicion on many and revealing that nothing is what it seems.
Option 52: Big Mouth (Show)
Even for a cartoon character, going through puberty isn't easy for a young person. Andrew is learning that first hand as he experiences the nightmare that is growing up in this animated series geared toward adults. Along for the ride are friends Nick and Jessi, who develop a budding romance along the way. The comedy veterans who lend their voices to "Big Mouth" include John Mulaney, Nick Kroll, Maya Rudolph and Jordan Peele.
Option 53: Rick and Morty (Show)
After having been missing for nearly 20 years, Rick Sanchez suddenly arrives at daughter Beth's doorstep to move in with her and her family. Although Beth welcomes Rick into her home, her husband, Jerry, isn't as happy about the family reunion. Jerry is concerned about Rick, a sociopathic scientist, using the garage as his personal laboratory. In the lab, Rick works on a number of sci-fi gadgets, some of which could be considered dangerous. But that's not all Rick does that concerns Jerry. He also goes on adventures across the universe that often involve his grandchildren, Morty and Summer.
Option 54: Parks and Recreation (Show)
Leslie Knope, a mid level bureaucrat in an Indiana Parks and Recreation Department, hopes to beautify her town (and boost her own career) by helping local nurse Ann Perkins turn an abandoned construction site into a community park, but what should be a fairly simple project is stymied at every turn by oafish bureaucrats, selfish neighbours, governmental red tape and a myriad of other challenges. Leslie's colleague Tom Haverford, who delights in exploiting his position for personal gain, is as likely to undermine her efforts as to help her, while her boss, Ron Swanson, is adamantly opposed to government in any form, even though he's a bureaucrat himself.
Option 55: The Office* (Show)
This US adaptation, set at a paper company in Scranton, Pa., has a similar documentary style to that of the Ricky Gervais-led British original. It features the staff of Dunder-Mifflin, a staff that includes characters based on characters from the British show (and, quite possibly, people you work with in your office). There's Jim, the likable employee who's a bit of an everyman. Jim has a thing for receptionist-turned-sales rep Pam (because office romances are always a good idea). There's also Dwight, the successful co-worker who lacks social skills and common sense. And there's Ryan, who has held many jobs at the company.
Option 56: Saturday Night Live* (Show)
Live from New York for more than four decades, celebrity hosts join an award-winning ensemble cast to perform comedic sketches, satirical news and digital shorts, alongside popular musical acts. Capturing the pop-culture zeitgeist, the show's sketches and segments often go viral the next day. Over the years, cast members have included Jimmy Fallon, Will Ferrell, Tina Fey, Kate McKinnon, Seth Meyers, Eddie Murphy, Bill Murray, Mike Myers, Amy Poehler, Chris Rock, Maya Rudolph, Andy Samberg, Kristen Wiig, and many more, as well as recurring guests such as Alec Baldwin, Melissa McCarthy and Steve Martin. From executive producer Lorne Michaels, "SNL" is widely considered an American late-night institution and continues to earn critical praise.
Option 57: The Simpsons (Show)
This long-running animated comedy focuses on the eponymous family in the town of Springfield in an unnamed U.S. state. The head of the Simpson family, Homer, is not a typical family man. A nuclear-plant employee, he does his best to lead his family but often finds that they are leading him. The family includes loving, blue-haired matriarch Marge, troublemaking son Bart, overachieving daughter Lisa and baby Maggie. Other Springfield residents include the family's religious neighbour, Ned Flanders, family physician Dr Hibbert, Moe the bartender and police chief Clancy Wiggum.
Option 58: Friends (Show)
Three young men and three young women — of the BFF kind — live in the same apartment complex and face life and love in New York. They're not above sticking their noses into one another's business and swapping romantic partners, which always leads to the kind of hilarity average people will never experience — especially during breakups.
Option 59: Seinfeld (Show)
Four single friends — comic Jerry Seinfeld, bungling George Costanza, frustrated working gal Elaine Benes and eccentric neighbor Cosmo Kramer — deal with the absurdities of everyday life in New York City.
Option 60: Grand Hotel (Show)
Eva Longoria executive produces this bold, provocative drama set at the last family-owned hotel in multicultural Miami Beach. Charismatic Santiago Mendoza owns the hotel, while his glamorous second wife, Gigi, and their adult children enjoy the spoils of success.The hotel's loyal staff round out a contemporary, fresh take on an upstairs/downstairs story. Wealthy and beautiful guests bask in luxury, but scandals, escalating debt and explosive secrets hide beneath the picture-perfect exterior. The show is based on the Spanish series.
Option 61: This is Us (Show)
Jack and his wife – who is very pregnant with triplets – have just moved into their new home in Pittsburgh. Successful and handsome television actor Kevin is growing increasingly bored with his bachelor lifestyle. Randall – who was abandoned at a fire station by his father as an infant – is a stylish New York-based businessman working to raise two daughters with his wife, Beth. These people are among a group, several of whom share a birthday, of seemingly random individuals whose lives intertwine in unexpected ways.
Option 62: Love Island (Show)
A cast of hot young singles arrive at a luxury villa looking for a summer of love and romance, hoping to leave the island with the grand prize of £50,000. But in order to claim it, they have to win over each other and the public.
Option 63: The Bachelor (Show)
Peter Weber, an airline pilot who caught the attention of Hannah Brown and fans alike during Season 15 of "The Bachelorette," comes back to Bachelor Nation looking for a co-pilot who will join him for a life full of love, laughter, dancing and adventure. Peter, who has his heart broken after expressing his love on "The Bachelorette," is back and ready to capture hearts across America yet again as he looks for another shot at love. Peter's parents — who met working on the same flight more than 30 years ago — set the perfect example of lasting love for him, and he's more ready than ever for his love story to take flight.
Option 64: New Girl (Show)
After going through a rough breakup, awkward and upbeat Jess (Zooey Deschanel) moves in with three single guys. Intelligent and witty Nick is an underachiever who took the bartender off-ramp on his road to success. Schmidt obsesses over his social standing and looks at Jess as a personal project. Winston is a competitive former athlete who, after realizing he will never become a pro, moves into the loft. Together with Jess' best friend, Cece, they bond to form an unlikely, and dysfunctional, family.
Option 65: Jane the Virgin (Show)
The daughter of a teen mother, Jane Villanueva grew up determined not to repeat her mom's mistakes. At 23, her life is on track; Jane is studying to be a teacher and engaged to a handsome detective who supports her decision to remain a virgin until marriage. Then a routine clinic visit flips her life upside down. Inseminated by a specimen meant for a patient in the next room, now-pregnant Jane is in a situation made only more insane when she learns that the sperm donor is her boss, Rafael. As her meticulously planned life gets more like the telenovelas she loves, she faces a lot of complicated decisions about where to go from here.
Option 66: Grey's Anatomy (Show)
The medical drama series focuses on a group of young doctors at Seattle Grace Mercy West Hospital, who began their careers at the facility as interns. One of the young doctors and the show's namesake, Meredith Grey, is the daughter of a famous surgeon. Grey struggles to maintain relationships with her colleagues, particularly the hospital's one-time chief of surgery, Richard Webber, due to a pre-existing relationship between them – Webber and Meredith's mother had a personal relationship when Meredith was young.
Option 67: One Tree Hill (Show)
Following a four-year jump in time, the 20-somethings of Tree Hill find more questions than answers as they try to keep their dreams alive and their friendships intact. Haley faces the challenges of running a busy cafe and raising two children while her husband, Nathan, spends more time on the road as an agent. Married with twins, Julian and Brooke tackle burgeoning careers, while Chase, Nathan's friend and business partner, pursues a romantic relationship with Quinn. Together this group continues to share experiences as they work towards defining what their lives will be.
ENJOY! Once you finish that one, you can come back and take it again!
Author's Note:
Take this quiz as many times as you like and keep binging until quarantine is over! If you're looking for some recommendations, here's a few of my own from the list:
Bohemian Rhapsody: (Drama Movie)
You can always find me humming this tune wherever I go, and I was thrilled when they made a movie about it. Rami Malek played Freddie Mercury perfectly and it was so much fun to see the individuality of how each of their songs were made. 
As Above so Below: (Horror Movie)
I'm not big on horror movies, but this one always grabs my attention and it's great to watch with your family or a group of friends (once quarantine is over). There is a little bit of gore, though, so I would be careful if you're sensitive with blood. It unmasks all human fears, like claustrophobia, fire, drowning, and the unknown.
Call Me By Your Name: (Romance Movie)
There's a reason why this movie won so many awards! After watching it the first time, I wanted to watch it on repeat until I couldn't stand it anymore. Timothee Chalamet and Arnie Hammer played their roles incredibly well and it's a love story that develops subtly but then blossoms, leaving you bewildered by the end of the film.
Euphoria: (Drama Show) 
I've been a fan of Zendaya since her Disney days, and let me say that she did not disappoint in her new show. Although it is so far only one season, it is clear that it has a long way to go until we reach the end. It's diverse cast highlights the reality of high school, but at the same time it is different enough to know that it is purposefully dramaticized.
The Office: (Comedy Show)
Hands down the best show I have ever seen. Some may argue that it's overdone or not funny, but us Office fans know it takes sophisticated humor to laugh at Jim's endless pranks and Michael's embarrassing shenanigans. Throughout the 9 season you become a part of the Dunder Mifflin family because the camera crew does a good job at making sure the cast has no privacy. Whatsoever.
Saturday Night Live: (Comedy Show)
SNL is one of the funniest live shows you'll ever see in your life time, and it always stays relevant with different hosts and music entertainment coming in every Saturday. While the show may attack today's realities, they do it in a humorous manner and I can't help but laugh every time Kate McKinnon comes on as Hillary Clinton.
Leave a Comment
Roxbury Review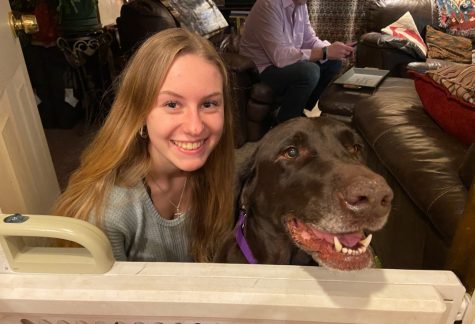 Carla Maria Farris, Sports Editor
Carla Maria Farris is an active sports journalist living in Mt. Arlington, a small town in New Jersey. She attends Roxbury High School where she is engaged...