We Shoot, We Score
The Roxbury High School gymnasium is bustling on a day-to-day basis, filled with students taking gym classes and other varying activities. But on game day — oh game day — there is no face in the room that is not lit up with excitement. Game day brings all the students on their feet to cheer, hoot, and holler for our boys' basketball team.
On December 20th, only a few days before winter break, the Gaels had their home opener against Mount Olive and the student body proved that they knew what it meant to 'show out.' They triumphed 59-31 over their opponent and started their season on a good foot. Their next two games, both on their home court, advanced their record to 3-0 including an overtime thriller against Sparta.
Their first loss was to Franklin. This game was on the road in an in-season tournament, but they quickly bounced back with an edge-of-your-seat comeback win over Morristown Beard, 47-45. Talk about a nail-biter! They hit the road again but fell to Mountain Lakes in a close match. Without an on-the-road win yet this season, they focused on their next game where they would take on Morris Knolls in front of a green and yellow crowd.
They went home celebrating on the bus that day with a 46-37 win over Morris Knolls, and were greeted by exhilarated Roxbury fans once they returned. They then went on to win their next game, and then the next one, too. With their record now of 6-2 overall, the Gaels next face off will take place at home on Tuesday, January 14th when they host Parsippany Hills.
Since the boys have now played 8 games, stand-out players have begun to, well, stand out. Kyle Haegele, in particular, has led the team in points almost every game with a season high of 21 against Sparta. Trevor Napoliello, who we can also trust to win us the tip-off at the start of each game, has often found his way into the double digits and is not afraid to shoot from the 3-point line.
As much credit can be given to the offense, it is important to highlight the pivotal defensive players that Roxbury is lucky to have. Colby Snoke always gets the job done, whether it be denying an opposing player the opportunity to shoot or preventing them from even getting the ball. He's dependable and knows his role in the Roxbury defense.
In addition, Lucas Spitzer represents the definition of the word 'sacrifice.' On multiple occasions, Spitzer can be found putting himself in risky situations — and often getting knocked down — in order to draw a charge and avert the other team from scoring. Afterwards, of course, he is pulled back up by his teammates and met with endless chants from the crowd.
But of course, the team would not be what it is without the leadership of senior captain, Brian Nichols. He's been an important factor for Roxbury's offense as he always adds a few of his own points and can be credited with the majority of assists for the season. Nichols, at 6 feet and 2 inches, is a brick wall in terms of defense. The only way around him is… well, there isn't one.
Nonetheless, Roxbury's roster is so deep and so talented that they would be able to put out any 5 players and challenge whoever they faced. And most of the time — about 6 out of 8 of those times to be exact — they'll also bring home the win. And maybe a dunk from Justin Bosland. Maybe.
Leave a Comment
Roxbury Review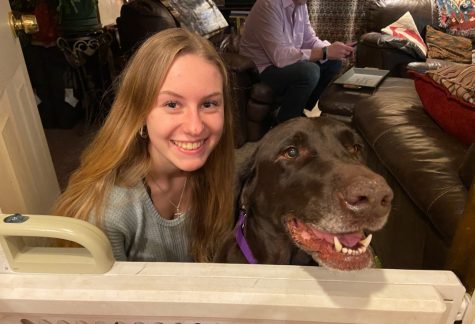 Carla Maria Farris, Sports Editor
Carla Maria Farris is an active sports journalist living in Mt. Arlington, a small town in New Jersey. She attends Roxbury High School where she is engaged...