Roddy's NFL Award Predictions
As the NFL season winds down there are 3 things Football Fans across the globe are waiting for: (1) Playoffs/Super Bowl (2) NFL Draft/Offseason and lastly (3) the NFL Awards. Below, I will predict some NFL awards that I believe will be rewarded and why the recipients are deserving.
So let's get into it!
Coach Of The Year ( COTY): Kyle Shanahan 
Last Year The San Francisco 49ers had a more than disappointing season. They ended their 
season  4-12, which gave them the 2nd pick in the draft.  They then used the pick to draft Ohio State Stud Nick Bosa. Other key additions they made were wide receiver Emmanuel Sanders, defensive end Dee Ford, wide receiver Deebo Samuel. This season, they are currently 11-3 and have 2 games left to play. That is a huge turn around from one of the worst teams in the league to one of the best, and they have already clinched a playoff spot.
Honorable Mentions: Mike Tomlin (Steelers); Sean McDermott (Bills)
Comeback Player Of The Year (CPOTY): Jimmy Garappolo
Last year, Jimmy Garoppolo's season ended early due to a league injury. After that, many were saying that he was done and that he wouldn't bounce back. He proved these naysayers wrong and bounced back in a huge way. So far, he has thrown 26 touchdowns and 3,445 yards while hoisting a 102.8 Quarterback Rating. He is a huge reason why this team from San Fran is having an exciting season.
Honorable Mention: Cooper Kupp (Rams)
Offensive Rookie Of The Year (OROY): Josh Jacobs 
With the 24th pick in the 2019 NFL draft, the Oakland Raiders selected Josh Jacobs: a running back out of Alabama. Since then, he has claimed 1,150 rushing yards 7 touchdowns and 4.8 yards per carry. He has put the Raiders offense on his back, and that is why I think he's worthy of this honor.
Honorable Mentions: Kyler Murray (Cardinals); Terry McLaurin (Redskins)
Defensive Rookie Of The Year (DROY): Nick Bosa 
There was a ton一and I mean a ton一of defensive talent that came out of this draft but Nick Bosa tops the list of the best of the best. He had 41 tackles, 9 sacks, 1 interception with a 46-yard return. Though his brother Joey is a little better, Nick Bosa has a very bright future.
Honorable Mentions: Devin Bush (Steelers), Devin White (Buccaneers), Josh Allen (Bills)
Offensive Player Of The Year (OPOTY): Christian McCaffrey
Christian McCaffrey is arguably one of the best players to watch this year. Although his team, The Carolina Panthers, are not having the best of seasons McCaffrey is putting on a show. He is tied for 1st among Running Backs for all-purpose touchdowns (14) so far. He has also taken to his credit 1,307 rushing yards and 814 receiving yards for a total of 2,121 all-purpose yards. Many have also said that McCaffrey is a possible NFL MVP this year.
Honorable Mentions: Michael Thomas (Saints), Dalvin Cook (Vikings)
Defensive Player Of The Year (DPOTY): Stephon Gilmore
Apart from that amazing Patriots defense, Stephon Gilmore is an almost obvious candidate to win. He has 6 interceptions, and I am predicting he will get another one before the season ends. 2 of those interceptions were returned for touchdowns. He also has 44 total tackles (which is pretty good for a cornerback), 18 passes defended and a fumble recovery.
Honorable Mentions: Tre'Davious White (Bills), Logan Ryan (Titans), Bobby Wagner (Seahawks)
Most Valuable Player (MVP): Lamar Jackson 
To me, this is a no brainer. Lamar Jackson has had a stellar sophomore season so far and he doesn't plan on stopping just there. The Ravens have clinched a playoff spot and are the #1 seed (that could change).  Most of their success can be credited to the face of the NFL this season: Lamar Jackson. Some of his more impressive stats include his league-leading 33 touchdowns, 66.2 completion percentage, a 112.8 rating and a new record for a Quarterback over 1,100 yards and almost average 7 yards per carry.
Honorable Mentions: Russell Wilson (Seahawks),  Christian McCaffrey (Panthers), Dak Prescott (Cowboys)
Leave a Comment
Roxbury Review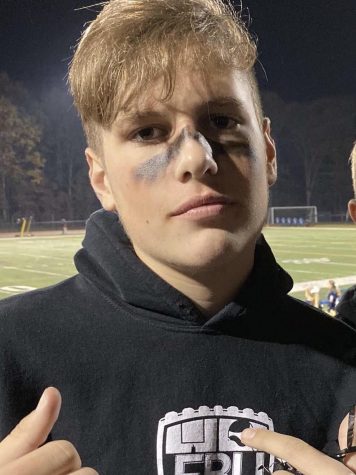 Ryan Roddy, Sports Contributor
Ryan Roddy is a sports writer. He plays Football, Wrestling, and Lacrosse. He has been watching sports since he was little, and his dream job would be...