RHS Success Stories: Jacob Wood Class of 2019
Roxbury High School is a highly successful performing and fine arts high school. RHS welcomes out-of-district choice students who want to participate in the great programs the school provides. While RHS is very successful in the arts, it is also successful in academics and sports. Due to the school's overall success, there are many prosperous and noteworthy Roxbury High School alumni. With this series, The Roxbury Review's goal is to highlight some of our alumni's achievements to inspire our peers. We hope that these stories highlight all of the possibilities that lie beyond RHS. We hope to continue this series in future years, will you be next year's success story?
A musician and performer known as Jacob Wood graduated from Roxbury High School in 2019 and has since continued to participate in music. Wood, who lives in Dover, New Jersey, began his career at Roxbury in 8th grade. Wood auditioned to attend school in Roxbury as a choice student. He auditioned by playing the piano, clarinet, singing, and by submitting some of his favorite art pieces. 
Wood is a recurring member of musicals and plays at the Dover Little Theater. This past spring, he played the lead role Pugsly Addams in the theater's rendition of The Addams Family. The Addams Family cast and crew were invited to the Perry Awards to perform and were also nominated for several awards. Months after the musical was performed the cast and crew members were invited to return to rehearsals and put together a medley to perform at the Perry Awards. The Perry Awards are similar to The Tony Awards, but for community theaters. Since then, Jacob has been in a Christmas comedy show at The Dover Little Theater and was recruited to be the music director in their production of Spring Awakening. To find out more about his experience at RHS, The Roxbury Review interviewed him. Keep reading below to see his interview!
What first inspired you to pursue musical theater and performing? 
The pipe band my dad used to be in. Both of my parents were very musical people and I always wanted to perform like my dad did in the band. 
How did Roxbury encourage/support your interest or skill in performing? 
I came from a school with a limited focus on performing arts. When I came to Roxbury, it was a whole new world; I was able to take both band and choir, and that was always important to me. Everyone in the school whether they were involved or not spoke very highly of the music program. In 8th grade, I met Mr. Salyerds, who is one of the most passionate people I have ever met when it comes to music. He built up my confidence like no other teacher had ever done. When I got to high school I met Mr. Hachey and Ms. Lynch. They are two of the most talented, thoughtful, and encouraging teachers I have ever met. The three of them pushed me to be the best performer that I could. After Ms. Lynch retired, we were introduced to Mrs. Sweer. I began taking piano lessons with her and voice lessons with Mr. Salyerds. Through those lessons, I was challenged in ways I never expected to be. They helped me grow so much as a performer. I  had so many incredible musical opportunities at Roxbury and I'm so thankful for it all. 
Did you always know you wanted to be a performer?
Since I was little, I've always loved performing. As soon as I could sit upright, I was figuring things out on the piano and singing along. Performing is something that has always come naturally to me. 
Who is your musical theatre inspiration?
I've always been inspired by the choir directors and how much they care about music and theatre. I've always loved and been inspired by Lea Salonga, Idina Menzel, Lin Manuel Miranda, Andrew Lloyd Webber, and Judy Garland. 
What would you be doing if you were not pursuing music?
I honestly couldn't see myself in anything other than music but if I had to choose something else it would be involving art in some way. 
Can you give me your definition or interpretation of the Perry Awards?
The Perry awards are awards showcasing the community theatre world. The New Jersey Association of Community Theater (NJACT) sends out scouts to community theatres over the state and nominates people and shows for awards. Best lead actor/actress in a musical or play. Best director, musical director, choreographer, or costume designer just to name a couple. 
What are your long term goals?
I would love to find a career in musical theatre. But if that doesn't work out, then I would be so incredibly happy to be a high school choir teacher. 
How have your friends and family helped you pursue this career?
My friends and family have always encouraged and supported me in everything I've done with music. They've come to all of my performances and show non stop love and support for the things I do. Most, if not all, of my friends are involved in music as well so we've always gotten to perform and be together doing the things we love. Music has helped form incredible bonds between my friends and me. 
When was your first performance?
I've been doing choir and piano since elementary school, so probably a kindergarten choir concert or a piano recital when I was really young. 
Do you have any advice for the students still attending RHS with similar goals to you?
Keep pushing for your goals and you'll get there. The directors are always 100% there for you and they believe in you. Believe in yourself, and you can do anything you put your mind to. 
Jacob Wood is a passionate and talented performer whose success is only beginning. Whether your interests are in music, art, sports, or academics Roxbury can and will push you in the right direction. The Roxbury Review hopes to inspire RHS students with these success stories of our alumni. Jacob Wood is not the last success story from Roxbury, you could be the next!
Leave a Comment
Roxbury Review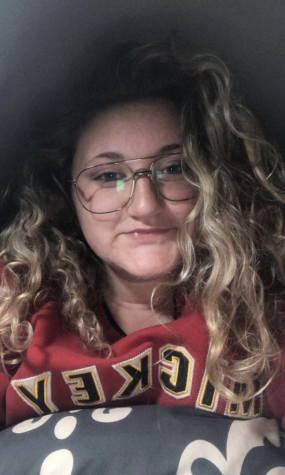 Becky Wood, Assistant to the Editor-in-Chief
Rebecca Wood, best known as Becky, is a hard-working senior currently attending Roxbury High School. She always enjoyed making up creative stories, even...