Passing the Hype on TikTok
As the ever-growing TikTok app gains larger audiences, so do it's creators. Loren Gray, a 17-year-old social media influencer, currently holds the title of the most followed individual on TikTok with 34.8 million followers. The only account with more followers than Loren is TikTok itself at 35.6 million. However, new creators have also established themselves as common faces on the 'For You' page.
No matter where you look, TikTok can entertain anyone for hours on end. There has always been a mix of names thrown around, whether it be Josh Richards, Benji Krol, or Noen Eubanks. In more recent times, some users have begun to stand out among the TikTok crowd. Charli D'Amelio is the most significant example, as she was the first creator to be passed the 'hype ball.' 
At just 15 years old, D'Amelio has amassed over 10 million followers, many of which were gained within the past two months. Most of her videos contain content of her dancing to widely-used sounds. Due to her sudden popularity, many of these dances became a trend other users replicated. Recently, she's teamed up with other creators, like LilHuddy and Mark Anastasio, to make more content for their fans.
As she grew more popular, she began hosting meet and greets where fans would have the opportunity to meet and make TikToks with her and her sister, Dixie D'Amelio. Dixie, 18 years old, has grown off of her sister's fame as she has earned 3.2 million followers. In other words, the entire D'Amelio family was holding on to the hype ball. 
However, Charli's time under the lights wasn't always smooth. As much success as she had, there was an equal amount of hate thrown her way. After charging $100.00 to make a TikTok with her at a meet and greet, many users thought the fame was getting to her head. Although the money being raised was going to a charity of Charli's choosing, fans decided it was time to pass the hype.
Thus came Alex French. As a 16-year-old living in Texas, Alex's rise to fame came as everybody noticed her striking resemblance to the character 'Katie' in Dr. Seuss' Horton Hears a Who. Her rapid growth of popularity expanded her 200,000 followers into over 2 million in less than a month. Some referred to her as the 'happiest girl on TikTok' because she could always be found with a smile on her face.
Along with this, her catchphrase became a simple 'hi' repeated multiple times throughout her videos. She could often be found using the 'smile score' filter where your smile is rated on a scale of 0-100, and she never stopped smiling until she hit 100. Alex became known as the pure side of TikTok as she never cursed and showed a more childish and fun nature on her page, which was the opposite of what many users were familiar with when it came to Charli. 
Much like Charli, however, TikTok users were split over whether they truly enjoyed her content or not. Unfortunately for Alex, her hype died much quicker than Charli and the hype ball was once again tossed into the air waiting for their next creator to grab it. Until then, everyone will sit and pray the hype ball lands in their hands and grants them the unconditional fame on the most popular app in the nation.
Leave a Comment
Roxbury Review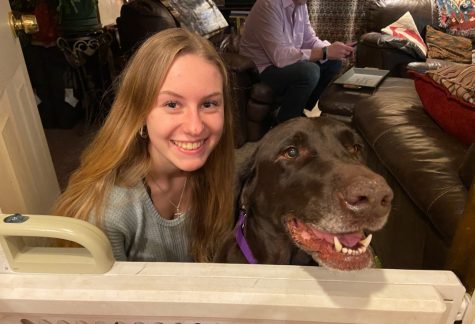 Carla Maria Farris, Sports Editor
Carla Maria Farris is an active sports journalist living in Mt. Arlington, a small town in New Jersey. She attends Roxbury High School where she is engaged...