This 2023 season, the Marching Gaels took home the 2023 NJMBDA State Championships for the 2A division. Their show entitled, "Too Close to the Sun" told the story of Icarus, a Greek mythology. The Gaels show won first place in their four competitions, and won all the caption awards at States and at two of their competitions. Leading the Marching Gaels, alongside the drum majors, was colorguard captain, Nancy Bogardus.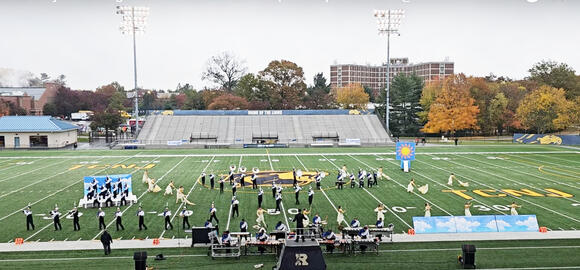 Nancy Bogardus, a senior at Roxbury High School, is the colorguard captain and social media manager for the Marching Gaels and winterguard team, the Junior States of America social media manager, Model UN president, a part of the Debate team, and in Melodies Choir. Due to her participation and roles in the RHS community, Bogardus describes herself as an ambitious student. 
According to Bogardus, "Colorguard is a section in the marching band where we spin flags, rifles, and sabers, along with dance elements to create a visual aspect to a marching band show. Typically we will have different flags for each of the three movements of the show, and the weapon line will spin different weapons for each part of the show. Winterguard is slightly different, as it is only the guard on the field instead of the band. Additionally, it is inside and we spin on a floor to prerecorded music instead of with a band. Typically we will have two different flags for a winterguard show."
Bogardus has been a member of the colorguard since her freshman year, was co-captain last year, and was given the position of captain for this 2023 season. Her role as captain includes making sure everyone in her section knows what to do and are having a good time. "I also have to make sure I know what I'm doing, which can be stressful when I have to help everyone else first." Nevertheless, Bogardus loves her role as captain, helping others, and leading others.
One member of colorguard, Sam Pizzuto, who has known Bogardus for four years, shared their best memory of being alongside her in colorguard. "Performing together covid year while both having no clue what was going on." Pizzuto was also asked to share any nice comments he had regarding Bogardus. He stated that "Nancy is always there to help whenever you need anything in guard or outside of it. She is one of the most amazing people I have ever met and these past four years have been amazing." And for three words to describe Bogardus, Pizzuto replied with, "Kind, Caring, Funny."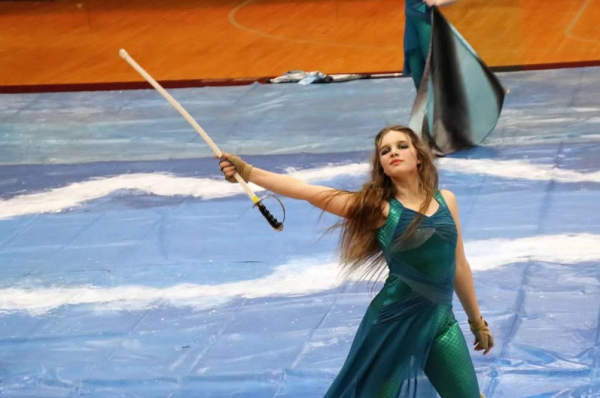 Another member of colorguard, Sarah Kein, who has known Bogardus for about 3 years shared her best memory with her. "My favorite memory with Nancy is when we do bus ride Karaoke together on the way back from competitions and scream, "You Belong With Me" by Taylor Swift together. When asked to give three words to describe Bogardus, Kein replied with "positive, caring, and inspiring."
Bogardus was asked to reflect on this year's Marching band and winterguard season, she stated, "most importantly, I want everyone to have a great time and enjoy the activity. I want us all to be friends and everyone to feel confident in themselves and their spinning. I would also really, really like to win states for band this year, because we've had 2 years of 2nd place and if we work really hard, we CAN win this." 
To describe her experience being in colorguard and her favorite part about it, Bogardus said, "I adore the feeling of performing on the field and having everyone cheer for you. It is the best feeling when you catch a toss or perform a move and hear the crowd going wild, knowing that you nailed it."
Once Bogardus graduates, she wants to major in Marketing and minor in PR. "I want to help companies run their social media and help them connect with the public," said Bogardus. Bogardus has a bright future ahead of her, and has been an amazing friend and leader to the colorguard the past four years.