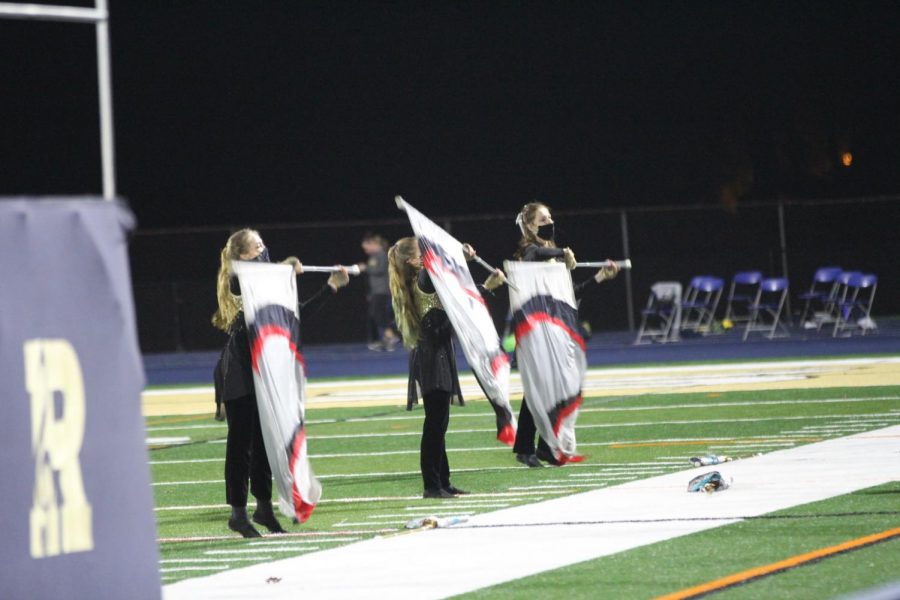 2020 is one of the craziest years to get a new job but luckily Roxbury High School has a ton of wonderful new staff members this year including the color guard adviser Ms. Herrera. She kindly let me interview her and ask her what it's been like to start at Roxbury during such a difficult time. 
When I asked Ms. Herrera why she decided to join Roxbury, she said, "I love color guard, I love performing, and I love inspiring others. I originally wasn't going to teach, I wanted to focus on school work and it was so hard to find a job to be a color guard instructor. One day, after my finals my sophomore year in December, my color guard instructor from my high school emailed me, asked if I was interested, and I said yes."
For those who don't know, Ms. Herrera teaches the color guard for the Roxbury Sound and the Marching Gaels. They perform at halftime at the home Varsity football games every Friday. The Roxbury Sound also plays songs during the football games to encourage and entertain the audience. It's a very important part of the football game experience and the audience loves it!
In addition to teaching, Ms. Herrera is a full-time college student studying Criminal Justice at Caldwell University. She plans to work for the Air Force Office of Special Investigations or as a lawyer for The Innocence Project. She also enjoys hobbies such as dancing, singing, and listening to music. When it comes to color guard, Ms. Herrera says that she prefers to use rifle, which is one of the weapons used in guard performance.
When asked if it was daunting to start in Roxbury during a global pandemic she said: "I think I was more excited than nervous to meet everyone, the students and the staff, but I never doubted for a second that it wasn't for me." 
The Marching Gaels band has, unfortunately, had to deal with a lot of cancellations due to the COVID-19 Pandemic. They can no longer participate in the normal competitions this year and their practice time has been cut short by a lot. The Marching Gaels have pretty much had to become the Roxbury Sound. They were previously two separate entities. 
During a normal year, the Marching Gaels is the marching band that represents Roxbury at competitions. Due to COVID-19, competitions cannot happen this year. On the other hand, the Roxbury Sound is the band that plays at the Varsity football games. 8th graders can join the Roxbury Sound, but only high schoolers can join the Marching Gaels. Everyone in the Marching Gaels is a part of the Roxbury Sound, but students can just be in the Roxbury Sound if they desire. 
Another difficult element of this year is teaching through video. Ms. Herrera said that it's hard because a lot of students need to be present in order to learn best. She also discussed the limitations she faces with the shortened rehearsals, as she can't review as much as she could during a normal year.
This isn't Ms. Herrera's first time teaching color guard. She originally started as a volunteer at her former high school and later taught at Hopatcong High School with a group of color guard instructors, but Roxbury is her first time having sole control over flag design and other parts of the color guard.  
Ms. Herrera joined the staff of RHS at a very difficult time, but she says "I'm happy with where I am teaching and I hope to stay for a while."